xoxoxoBruce Tuesday Jun 3 12:12 AM

June 4, 2008: Impact

From Flickr.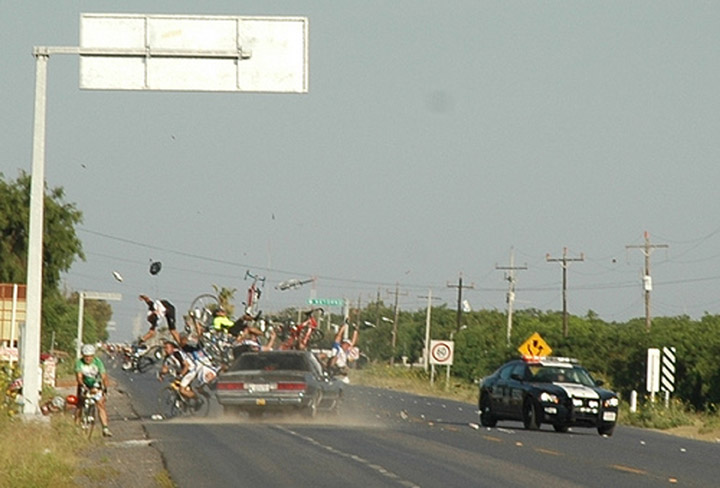 ---

Bullitt Tuesday Jun 3 12:26 AM

Yard sale!!
Also nice work on the cop's part.. don't want to scratch up that new Dodge police cruiser.

---

Cloud Tuesday Jun 3 12:39 AM

wow. knocks out that whole "you can never get a picture of an accident" thing

---

Flint Tuesday Jun 3 01:02 AM

Yeah, good thing that cop was there. Serve and protect.

---

Cloud Tuesday Jun 3 01:07 AM

Remember, these are Mexican cops. More like the Decepticon cop: "to punish and enslave"

---

lumberjim Tuesday Jun 3 01:07 AM

they had it coming. you know these are the schmucks that normally ride on roads that follow creeks through the woods that have no shoulder.....that constantly cause near accidents, and then give you attitude for blowing your horn as you pass them. yet another reason that i wish i kept a paintball gun in my car.

---

newtimer Tuesday Jun 3 01:56 AM

"Really, officer, it was an accident. I was just driving along when suddenly a swan with a broken wing fell out of the sky and landed right on my windshield. It blocked my view!"

---

Kagen4o4 Tuesday Jun 3 03:06 AM

is that some guys helmet coming off or his whole head?

---

jaufrec Tuesday Jun 3 03:55 AM

lumberjim, are you saying that these cyclists are of a type who constantly cause near accidents by breaking the law or riding in an unsafe manner? Or are you arguing that their mere presence on certain roads is unsafe and puts the burden of responsibility on them in case of a collision?

---

SPUCK Tuesday Jun 3 04:54 AM

It looks to me like they were going, or coming in this direction, in both of the wrong lanes..

---

Sundae Tuesday Jun 3 07:13 AM

Ah horrible.
The human body is so vulnerable.
It's so sad that these were people in prime physical condition - probably exercised daily, didn't smoke, didn't drink too much, looked after their bodies and what they put in them.

Then wallop. Just because some arsehole thinks the law doesn't apply to him and he's a safe driver no matter how much he's swilled down, it's all over for one of them. And physical therapy rather than exercise is on the cards for another three.

Amazing picture though.

---

binky Tuesday Jun 3 08:03 AM

---

DanaC Tuesday Jun 3 08:37 AM

They had it coming? Jeez, one of them died. Right there in that picture we are seeing his final moments.

---

dar512 Tuesday Jun 3 09:56 AM

This isn't one of those moments.

---

Scriveyn Tuesday Jun 3 11:45 AM

---

BrianR Tuesday Jun 3 12:31 PM

I occasionally deal with bikers riding on the interstate. Not too hard, just toot the LITTLE horn and pass slowly. Narrow, winding country roads are a different story. I can plaster a cyclist coming from a blind corner far too easily.

Perhaps both drivers and cyclists need to learn about each other. Training is the key here folks.

---

spudcon Tuesday Jun 3 01:13 PM

Why is everyone blaming the cyclists? It's obvious to me that the driver of the car wasn't wearing his seat belt. No wonder they tried to lynch him.

---

newtimer Tuesday Jun 3 01:38 PM

And I hope this came up in court: The car's brake lights aren't on. The driver was plowing right through them, without even slowing down or trying to stop.
Bastard.

---

HungLikeJesus Tuesday Jun 3 01:55 PM

In Mexico, brake lights on cars are optional.

---

spudcon Tuesday Jun 3 03:35 PM

And why has no-one said anything about this post being dated tomorrow?

---

YellowBolt Tuesday Jun 3 04:36 PM

---

HungLikeJesus Tuesday Jun 3 04:45 PM

---

xoxoxoBruce Tuesday Jun 3 10:43 PM

---

hipshot Tuesday Jun 3 11:23 PM

I notice the cyclist to the left on the shoulder and I wonder: Did the driver come back and try to pick up the spare?


---

JuancoRocks Wednesday Jun 4 01:27 AM

From Flickr.


gutierrez88 is no longer active on Flickr.

---

Aliantha Wednesday Jun 4 01:38 AM

I think it's pretty sad that people can view a tragic accident like this and then blame the victims who were competing in a locally sanctioned event.

What about the fuckwit drunk driver? Why isn't this a discussion about how disgusting it is that people still think it's ok to go get themselves tanked then jump behind the wheel of a car?

We all get annoyed when our day is held up (usually) momentarily by cyclists who insist on using more of the road than they possibly require, but I don't think any of them deserve to die for that small arrogance.

I think it's highly possible the police officer moved his car over in order to avoid further collision/s.

Drunk drivers should be put in jail and have their cars crushed. They obviously don't have enough sense of responsibility to be allowed to control a deadly weapon.

---

SPUCK Wednesday Jun 4 05:03 AM

---

spudcon Wednesday Jun 4 12:54 PM

---

nephtes Wednesday Jun 4 03:53 PM

I'd just like to add another voice to the chorus of WTFs at lumberjim's comment.

Of course a group of competitive cyclists on a straight, clear, near-empty road with a police escort had being plowed down by a drunk driver "coming".

Boy's got some issues.

---

Flint Wednesday Jun 4 03:56 PM

---

classicman Wednesday Jun 4 04:34 PM

I thought his bicyclist was killed in the World Trade Center....

---

Gravdigr Wednesday Jun 4 06:11 PM

I don't care if Mexico is across the street, if you go to Mexico to ride a bicycle, you can go take a flying fuck at a rolling donut. (Unless, of course, you come back with your bike tubes stuffed fulla weed, or coke...)


---

jinx Wednesday Jun 4 08:29 PM

Isn't is ironic that people with no sense of humor are hilarious?

---

lumberjim Wednesday Jun 4 08:33 PM

---

lumberjim Wednesday Jun 4 08:45 PM
fisrt off, for all of you who are too stupid to detect irony, I personally believe that the driver should be exterminated for his deeds. These bicyclists were doing it right, and OBVIOUSLY didn't have this coming.

that said......Don't you just fucking hate bicyclists? here's a list of why jinx and I hate them:

1. they always choose 'Creek Rd' to ride on. trust me, there are 3 different Creek Rds near here, and they plague all 3.

2. the sexy little outfits they wear just smack of effort

3. dar512 is a dirty bitch

4. they cop a fucking attitude when you graze them with your passenger side mirror and blow your horn while you flip them the bird and scream. (another joke, dumbass)

5. Aliantha can suck it.

6. They're attention whores who want everyone to look at their asses,.

7. the stick up Dana's ass has a stick up its ass.

8. theyre too cool for the 'bike lane'!

9. nephtes likes little boys

10. eat me.

---

TheMercenary Wednesday Jun 4 09:17 PM

LJ, you have the hots for people in biker shorts. Admit it.

---

lumberjim Wednesday Jun 4 09:18 PM

ah, shut your beer hole.

---

Aliantha Wednesday Jun 4 09:25 PM

lol...touchy touchy.

I'm sure you weren't the only one thinking they had it coming Jimbo. I'm pretty sure you had company in that thought. Take some comfort in that.

---

dar512 Wednesday Jun 4 10:15 PM

How in the world is anyone supposed to see the irony in this? Where is the hint that would tell us this comment was made with a wink and a nudge? I'm sure you could pull this off in person, LJ, but it doesn't come through in text.





'Cause I never would have criticized you like that if I knew it was your time.

---

monster Wednesday Jun 4 10:16 PM

I don't know what you're complaining about, Ali, they're all upside down which must look just right to you.... They're a bit bumpy, thoughy, could probably use a whisk....

srsly though, that cop car sucketh. Surely the reason the baconwagon is there is to warn oncoming traffic and protect the cyclists? Doesn't look like it was doing either. Shoulda been further forwards and more in front.

---

monster Wednesday Jun 4 10:24 PM
I think i need to put those penis tips back.. C'mon. Would anyone -ANYONE- really blame the cyclists? Please.

Oh wait.... let's take a different tack. Maybe, if you took that comment at face value, it means you can see grounds for blaming the cyclists.... maybe, deep down, you really think they HAD IT COMING, but know that's the wrong thing to admit. Maybe you protest too much?



<<<<---- JK smiley hint

---

lumberjim Wednesday Jun 4 10:33 PM

dar, you could become a walking time bomb if that sand does not get released!

---

nephtes Thursday Jun 5 09:42 AMa little boy, is that what you meant?


Otherwise you'll have to spell it out for me, I'm not sure I follow.

---

lumberjim Thursday Jun 5 10:38 AM

that's a cute friggin kid, thar.

---

dar512 Thursday Jun 5 12:41 PM

But I do think LJ has an issue with cyclists. Putting that rant in this thread seemed pretty cold-hearted.

---

Shawnee123 Thursday Jun 5 12:43 PM

What the heck is going on around here? Wait, there's a big fight a'brewin in the Mac n Cheese thread.

---

lumberjim Thursday Jun 5 01:50 PM

---

Shawnee123 Thursday Jun 5 01:55 PM

---

dar512 Thursday Jun 5 02:44 PM

---

BrianR Thursday Jun 5 04:56 PM

Amen, brother

---

dar512 Thursday Jun 5 05:15 PM

How do you handle long-haul driving while having Crohn's disease, Brian? I would think that would be difficult.

---

BigV Thursday Jun 5 05:33 PM

---

classicman Thursday Jun 5 08:44 PM

I thought LJ's rant was hilarious - laugh and move on.

---

dar512 Thursday Jun 5 10:41 PM

*wipes tear*

You're probably right, V. I should know better by now.

---

monster Thursday Jun 5 11:01 PM

---

skysidhe Friday Jun 6 12:21 PM

I actually don't see a rant. I am the only ranter around here.The queen of rants and I'll be the judge of ranting.



I demote it to smart-arting.

---

BrianR Saturday Jun 7 11:46 AM

I also try to maintain some kind of low-res diet. Sorta.
Lots of comfort food in a t/s, but it tends to have onion and spices in it.

It can be done, and when it can't, I sit close to the bathroom and wear diapers.

---

breakingnews Sunday Jun 8 10:07 PM

Here's a sad article about a bad car vs. cyclists accident in San Jose back in March. It was caused by a county sheriff who fell asleep at the wheel, crossed the double yellow line and smashed into three riders riding single file along the shoulder.

http://www.velonews.com/article/73458

This particular article is from a cycling/legal column penned by a pro cyclist-turned-lawyer. He addressed media bias surrounding bike accidents after the initial newspaper stories made it sound as if both the cyclists and the sheriff were equally at fault: Those reports buried many of the details showing the sheriff acted negligently.

I agree that there are idiots out there who don't ride safely and cause accidents - they should be banished from the road. But the majority of riders I share the road with do obey laws and ride very conservatively. Most of the near-accidents I've had or witnessed involved drivers who were too impatient to wait an extra 5 seconds while the group cleared an intersection or passed through a tight stretch of road. Go easy on the gas pedal, please.

---

xoxoxoBruce Sunday Jun 8 10:19 PM

Hey bn, nice to see... uh, read ya.

---

Sundae Sunday Jun 8 10:22 PM

Interesting article, Breaking.

My Daddy was involved in about two incidents a year (mostly near-misses) when he used to cycle to work. A former van driver and motorcyclist (now a car driver again with a clean record) he knew the highway code very well and was a working man, not a kid with something to prove.

He cycled because we didn't have he money for a car, but on at least one occasion I remember he had to replace his wet weather gear (an expense as necessary as it was unwelcome) because he'd come off his bike swerving out of the path of a car that didn't see him in the early hours of the morning.

More than once he had car doors open on him. I've never opened a drivers' side door without checking for cyclists after seeing his grazed face.

---

Gravdigr Monday Jun 9 06:13 AM

---

val5150 Tuesday Jun 10 10:24 AM

When I first saw the image of those cyclist flying through the air, my heart sunk. In the town I grew up in, the cyclists were the biggest bunch of self important jackasses I've ever seen. One even tried to spit on me one day because I was walking in the bicycle lane... nevermind that the sidewalk was under construction. So, while I have no particular love for their breed, they are still human. And what we are looking at in the photo is someones death and destruction. But the ones I feel for the most, are their family members who are left to live with the horrible memories immortalized in that photo. And can you imagine what emotion they will experience if they happen to be subscribers of this forum?

Goddess Bless The Broken Hearted.

---
Your reply here?

The Cellar Image of the Day is just a section of a larger web community: a bunch of interesting folks talking about everything. Add your two cents to IotD by joining the Cellar.