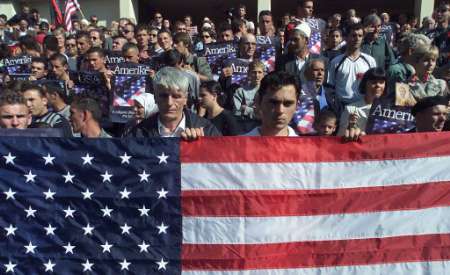 Albania
Ethnic Albanians hold the U.S. flag in Kosovo's capital Pristina, September 12, 2001. Tens of thousands poured into the streets of town waving U.S. and Albanian flags and posters.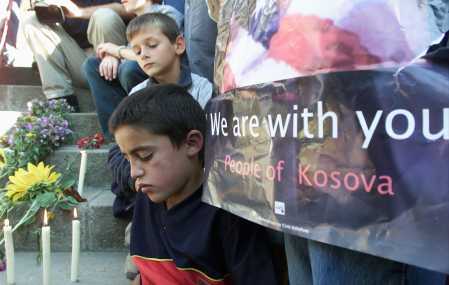 Albania 2
Ethnic Albanian children place flowers and light candles in Pristina for victims and family members of the terrorist attack on the United States on Wednesday, Sept. 12, 2001, after an anti-terrorism protest in which tens of thousands of ethnic Albanian gathered in support of the American people.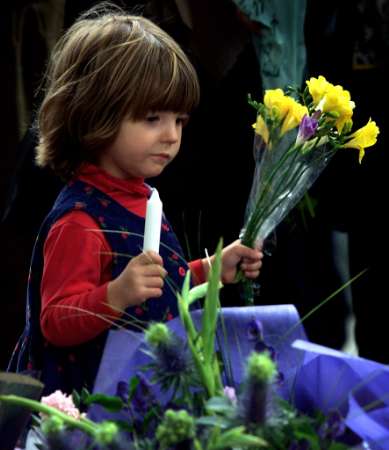 England
A young girl pays tribute to victims of Tuesday's attacks in New York and Washington, outside the U.S. embassy in central London, September 12, 2001. Prime Minister Tony Blair said on Wednesday that Britain and its allies must work quickly with the United States to bring to justice those responsible for the devastating attacks on two U.S. cities.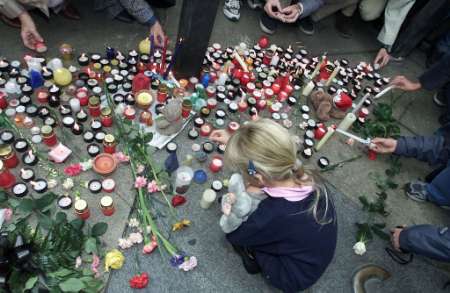 Czech
A little girl tries to light a candle at the St. Wenceslas memorial in Prague's central Wenceslas Square, September 12, 2001. Hundreds of people came here on Wednesday to pay tribute to the victims of Tuesday's deadly attacks in United States.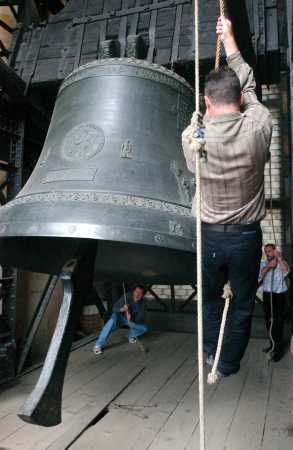 Czech 2
A man pulls on a rope to ring the biggest bell in Prague's St. Vitus cathedral as all church bells in the Czech capital tolled for five minutes at noon, Wednesday, Sept.12, 2001.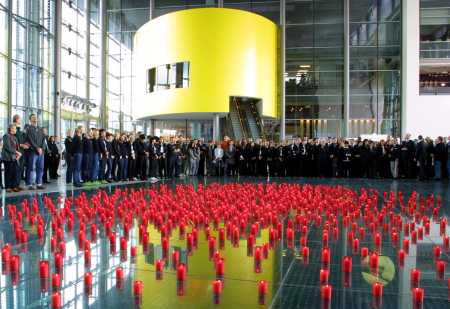 Volkswagen
Workers of German company Volkswagen Autostadt (car town) hold a candlelghr vigil to commemorate the victims of Tuesday's terror attacks in the United States in Wolfsburg, northern Germany, on Wednesday, Sept. 12, 2001. VW Autostadt is a museum on the history of cars.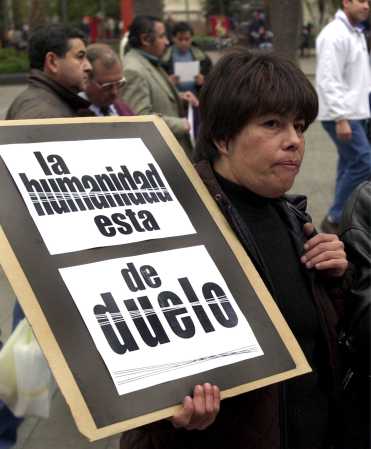 Chile
A Santiago resident shows a sign reading "Mankind is mourning," during a demonstration of support to the United States in the wake of the terrorist attacks in Washington and New York the day before, at the main plaza in Santiago, Chile.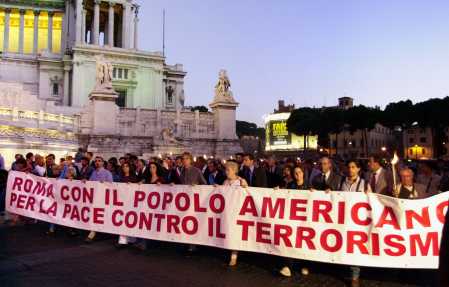 Italy
Italian demonstrators carry a banner saying: "Rome is with the American People, for Peace against Terrorism," in front of the Monument of the Unknown Soldier in Rome.