xoxoxoBruce Monday Oct 18 12:08 AM

Oct 18, 2010: Swag Stash

OK, now all parents please leave this thread, now.
As a matter of fact, all adults please leave this thread.

Are they gone, kids? Yes? Good.
Now I want to set ya straight, and I wouldn't bullshit ya, 'cause were bestest friends, right?
Cool, now Hallowe'en is coming up and that's the big candy score, so ya gotta be prepared.
I know I know, Christmas and Easter there's a lot of candy around, but the big people are in control.
Hallowe'en is different, you get to control how much candy you can grab for your own, no sharesies.
First thing is, ya probably won't be able to make trips. Nope, one shot is all you'll get, make it count.
That means your swag stash has gotta be the best.

Lookie here...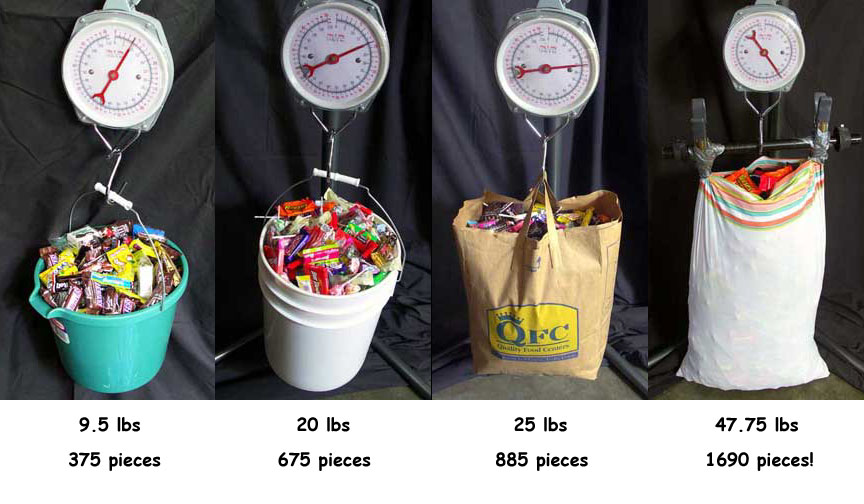 Now over at myscienceproject they did this all scientifical...




See, loft and spatial distribution, told ya it was scientifical. The pillowcase is king!

The next thing is, don't bring it all home.
The big people will freak out about sugar, and start rationing, you know, you've heard it all before.
Then when ya go to bed, they eat all your good shit, like they think ya won't notice a few pieces.
But those few pieces are always the chocolate bars, the big bullies.
So hide half in the shed, or someplace, but make sure the rats and squirrels can't get it, they're worse than the big people.

OK, now you're all set, and don't tell the big people about this... you know, like before.
That worked out ok, didn't it?
I mean everything healed ok and all, right?
Cool.

---

SPUCK Monday Oct 18 06:24 AM

Oh and kids go to your Dads pants hanging over the chair and get out his wallet. Tell us what the pretty raised numbers on the nice plastic cards are.

---

footfootfoot Monday Oct 18 09:27 AM

---

Sheldonrs Monday Oct 18 09:40 AM



---

classicman Monday Oct 18 10:58 AM

Yeh - you are probably using that trick now aren't you Shel?

---

Sheldonrs Monday Oct 18 11:10 AM

---

xoxoxoBruce Monday Oct 18 03:18 PM

---

Slothboy Monday Oct 18 05:00 PM

Wait, wait, wait... The largest container holds the most candy? That is shocking information!

---

xoxoxoBruce Monday Oct 18 09:18 PM

It's how much more, that naive kiddies have to be taught.


The one that surprised me was the standard paper grocery bag held more than the 5 gallon bucket. I'd have bet money the other way.

---

Char*Pntr Tuesday Oct 19 12:58 AM

When I was a kid, my brother and sisters always used pillow cases to hold our candy.

Also back then on October 30, we called it "beggars night" and we
did haul in a lot of candy that night as well. Probably the reason we thought of using pillow cases!



Edit: I just burst out laughing at Slothboy's reply. It made me recall
a story my father told me once: During one Halloween, he started to run out of candy. So at that point,
he would put one piece of candy in a kids bag, kinda like hiding it, and then when he put it in the bag,
he would thump it, so the kid thought he was getting a large treat!

---

SPUCK Tuesday Oct 19 06:31 AM

---

xoxoxoBruce Tuesday Oct 19 09:45 AM

@Char*Pntr... It was called "mischief night" up home.

@Spuck... Man, that's dangerous. Your brother could have gotten steamed like a clam.

---

SPUCK Wednesday Oct 20 05:41 AM

---

Trilby Wednesday Oct 20 06:47 AM

Finally! some information I can use!

---

xoxoxoBruce Wednesday Oct 20 09:40 AM

Don't forget pillowcases can double as leprechaun catchers too, then you'll have some lucky charms, to sprinkle your candy on. Remember, the angel said you can't eat too much sugar.

---

Happy Monkey Wednesday Oct 20 01:15 PM

Or if you accidentally set it down in a puddle.

---

Char*Pntr Thursday Oct 21 01:01 AM
an old man around Halloween, where the kids would wait for someone
to sit on the outhouse during Halloween night, and some of the kids would do "trick" by pushing the outhouse over while the man was still inside taking care of business.

---

BrianR Saturday Oct 23 02:18 AM

I admit to stretching a trip wire between two trees at ankle height to trip the little moochers and get them to spill their candy. In the morning, I usually get a nice haul, myself!

And I pass out Flavor-Ice these days. Unfrozen. Cheaper than candy and the kids seem to like it as I get more than one repeat customer.

---

spudcon Saturday Oct 23 10:12 PM

I like your deviousness Brian.

---
Your reply here?

The Cellar Image of the Day is just a section of a larger web community: a bunch of interesting folks talking about everything. Add your two cents to IotD by joining the Cellar.