xoxoxoBruce Thursday Jun 10 12:42 AM

June 10, 2010: Gladiator Graveyard

Archaeologists have discovered a graveyard they believe is the burial spot for slain Gladiators.
Not in Italy, or Sicily, or Greece, but England.



Quote:

Archaeologists believe they have found the world's best-preserved gladiator cemetery in York, England.
The 2,000-year-old skeletons appear to have suffered violent injuries usually sustained in a Roman amphitheater.
Most of the skeletons were violently decapitated and appeared to have been buried with some respect.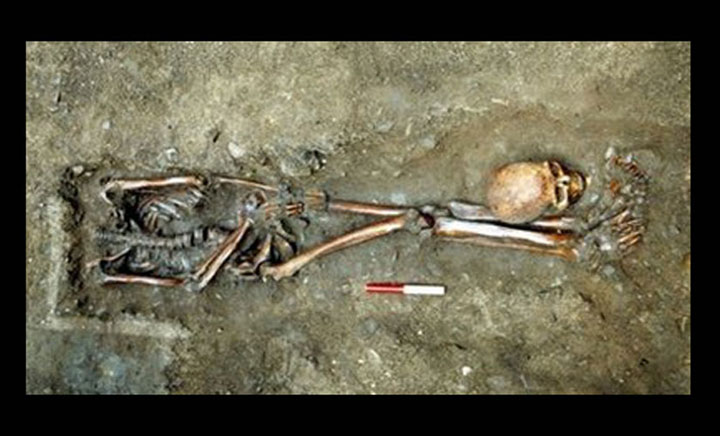 Quote:

Many of the skeletons also had one arm that was stronger than the other, consistent with the frequent handling of a weapon.

"The arm asymmetry would also be consistent with weapons training that had already started in teenage years," Hunter-Mann said, "and we know from Roman accounts that some gladiators entered their profession at a very young age."

Of course that could be explained here.

link

---

Pearcie (AUS) Thursday Jun 10 02:35 AM

Spankin it

HAHA! That's classic Bruce, I thought the same thing (what bloke wouldn't). We all know boys are fascinated with their weapon from a very young age (and most of us don't grow out of it)

---

Pearcie (AUS) Thursday Jun 10 02:37 AM

BTW Cool Post

All jokes aside this is pretty bloody interesting. Nice one Bruce. (and Oh Yeah! 1st eva 1st post)

---

Gravdigr Thursday Jun 10 03:55 AM

Quote:

...Most of the skeletons were violently decapitated...

Is there any other way? Can you gently decapitate someone?

---

limey Thursday Jun 10 07:45 AM

---

Trilby Thursday Jun 10 08:30 AM

What a suck=y job, Gladiator. Hot, noisy, dusty, lion-y...tiger-y...

Head-cut-off-y....

---

monster Thursday Jun 10 08:47 AMguy who committed suicide with a guillotine found a slightly gentler way....

---

ZenGum Thursday Jun 10 08:57 AM

Hic nos vado, hac nos vado, hac nos vado,
Hic nos vado, hac nos vado, hac nos va-a-ado,
Hic nos vado, hac nos vado, hac nos va-a-ado,
Hic nos vado, hac nos vado, hac nos vado!

---

Sundae Thursday Jun 10 09:10 AM

---

Sheldonrs Thursday Jun 10 09:20 AM

---

ToastyOhs Thursday Jun 10 10:19 AM

If watching Spartacus has taught me one thing: It's that people are basically balloons filled with blood, whose extremities will can go flying off at any moment.

Make that two things: Lucy Lawless still rocks.

---

Happy Monkey Monday Sep 20 04:32 PM

Unfortunately, it looks if Spartacus is going to be popping any more blood baloons, he'll have to be recast.

---

Pete Zicato Monday Sep 20 04:38 PM

---

SPUCK Tuesday Sep 21 06:25 AM





I see that gladiator was buried with a K-Mart road flare. Most interesting..

---

Crimson Ghost Tuesday Sep 21 08:26 PM

Joey, do you like movies about gladiators?

---

footfootfoot Tuesday Sep 21 09:42 PM

What do you call a smiling Centurion with a pubic hair stuck in his teeth?


A gladiator.

---
Your reply here?

The Cellar Image of the Day is just a section of a larger web community: a bunch of interesting folks talking about everything. Add your two cents to IotD by joining the Cellar.