xoxoxoBruce Monday Oct 5 12:32 AM

Oct 5, 2009: Think Pink

Think pink because this is National Breast Cancer Awareness month.
It won't be as tough as trying to remember your mother-in-law's birthday, or your locker combination at the gym, because you'll be seeing a lot of pink.
Probably have already, because it's everywhere...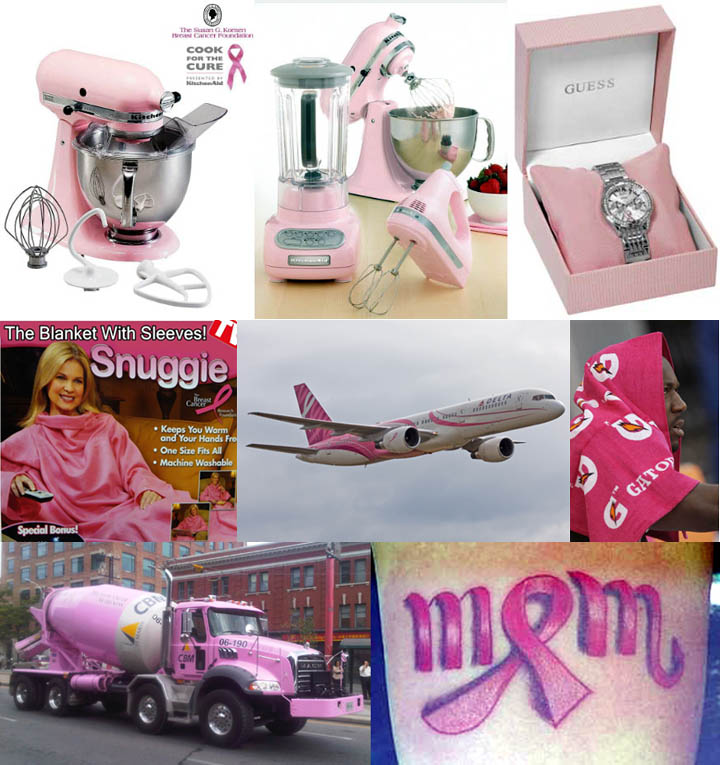 The NFL, NASCAR, Delta/Song Airlines, and hundreds of companies have teamed up with Susan G. Komen for the Cure. They're raising breast cancer awareness with special pink products, and sharing a portion of the profits on these products. There's even a tattoo parlor in Denver giving free ribbon tattoos.

Ladies, you're responsible for the first line of defense, self exams. If you're too busy, or can't be bothered, I'll do it for you.


Oh, and regular mammograms... not just when you hear of a friend that should have.

Guys, nag her. Make her do it, you'll be glad you did.
And if you think it's a wussy subject, here's the guy that drives that pink cement truck...

---

skysidhe Monday Oct 5 02:02 AM

Very sensitive post.

I'm thinking someone forgot your birthday or you're in your cups.:p Or in someone's cups.




---

spipunfir Monday Oct 5 04:59 AM

uhm,Thanks so much 4 sharing with us,bros :-)
______________________

Installing electric radiant floor heating systems - In and under floors heated flooring - Hydronic underfloor heat cost

---

capnhowdy Monday Oct 5 08:17 AM

---

Sheldonrs Monday Oct 5 09:36 AM

From one of my favorite musicals:


http://www.youtube.com/watch?v=jmaffpKAYcw

---

birdclaw Monday Oct 5 10:45 AM

Breasts...finally getting the attention they deserve.

---

Gravdigr Monday Oct 5 03:28 PM

Behold: The Pink Lady from Charter Arms. Yes - It's real. And, yes - It will blow a man's nuts clean off.

---

Elspode Monday Oct 5 06:44 PM

The football games yesterday were a hoot. Refs and coaches had pink highlighted hats and stuff. Apparently some players even had pink cleats (rhymes with teats, so it makes sense).

I'm really pleased that breast cancer awareness has become such a huge and visible thing. All cancers are horrible, but breast cancer has the ability to take away a huge part of a woman's self-image and identity (get it? idenTITTY), let alone her life.

My mother had a single mastectomy about a year before she died. She didn't die of breast cancer - the surgery was successful, and she had no metastasization at all. No chemo, no radiation. But that's not the norm.

As Bruce said, early detection is absolutely key. If detected early enough, the huge majority of breast cancers are treatable. As medical science evolves, the treatments are becoming less and less radical when called for, to the extent that my friend Liz, who detected her cancer at probably the earliest possible stage, had only a small area of one breast removed, leaving her a tiny dimple and great set of conversation pieces.

Ladies, check your rack. The worst thing that can result is your nipples will end up hard and you'll be horny.

Save the tatas!

---

Warren Peas Monday Oct 5 08:25 PM

Way too many cases of breast cancer in my circle of friends. I always thought it a horrible, disfiguring disease, but at least it was survivable. 5 years ago my wife's sister found a lump resulting in a masectomy, Doc said right decision, got it all, no need for Chemo. one year ago the Cancer came back, metastasizing to her liver. She was dead within 10 days of the diagnosis. Folks it ain't no joke.

---

monster Monday Oct 5 09:12 PM

I really hate pink. always have, always will.

---

dar512 Monday Oct 5 09:30 PM

---

monster Monday Oct 5 09:53 PM

just like yellow is green with less blue. Yellow is my second least favorite color. But I really hate pink.

---

Elspode Monday Oct 5 09:56 PM

All the best things in bed are pink.

---

monster Monday Oct 5 09:57 PM

Today, I knitted pink "ribbons". When my friend is in remission and I need a favor she is going to owe me BIG time

her son decided last night he wanted to ask his cross country team to wear pink ribbons at their meet tonight in her honor (surgery tomorrow). no pink ribbon to be found, but they had pink yarn. at 10 pm they crashed out with half made, so when i went round this morning for our walk, i was handed knitting needles and pink yarn....

---

monster Monday Oct 5 09:58 PM

---

Sundae Tuesday Oct 6 11:18 AM

You might be surprised to know I have embraced the pink thing wholeheartedly



I think I mentioned in another thread that I had my picture taken numerous times in town on Saturday - Aylesbury's official In the Pink Day.

There were stilt walkers as flamingos, free face painting, tombola, disco (with free requests) stalls, shows, costume characters and all the shops on the High Street were flying pink balloons. Even the Jacket Potato stall (which for some reason really impressed me.)

I was stopped by the usual 10-12 aged girls and camp asian guys, (wanting to know if the colour was permanent, what was it, did I have to bleach it first ect) but this time round was also asked for photos. Also the Breast Cancer organisers with badges kept catching me too. Well, you've seen all of me here, it's not like I'm going to refuse.

I told everyone official that Mum had just been operated on (she'd die of shame, but then my pink hair does that to her anyway) and told all the girls to make sure their Mum's went to routine mammograms.

Celebrity for a day.
If I get in The Bucks Herald I will post it on here.

---

monster Wednesday Oct 7 11:02 PM

I couldn't find a single bunch of flowers that wasn't wrapped in breast cancer awareness paper today. Yeah, I know I could rewrap but it annoyed me. They're for my friend who had a mastectomy yesterday and I'm thinking it would be in poor taste rather than showing support. I'm pretty gaddamn sure she's aware of breast cancer already.

It reminds me of the pink ribbon photo memory bracelet they proudly gave her when she was diagnosed. "Congratulations, you're going to die, time to start reflecting on all the people in your life....."

---

monster Wednesday Oct 7 11:02 PM

(I settled for a potted gerbera daisy in her favorite orange and I may just go to town with some googly eyes.....)

---

ZenGum Thursday Oct 8 07:04 AM

So long as she isn't Japanese. Never give a potted plant to a sick Japanese person. Temporary flowers only, not something lasting that will take root.

---

monster Thursday Oct 8 08:10 AM

I'm sure googly eyes will overcome that.....

No, she's not Japanese.

In the Olde Country, they used to say not to give red and white flowers to someone in hospital (blood and bandages). Is that still the case, UK dwellars? anyone ever heart of it anywhere else?

---

xoxoxoBruce Friday Oct 9 03:15 AM

New Zealand's campaign includes placing these pink tumors around town.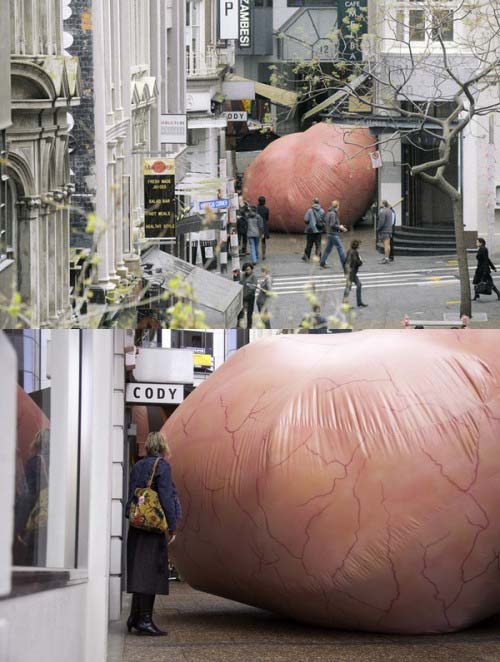 ---

capnhowdy Friday Oct 9 07:54 AM

That is the epitome of tastelessness.

---

spudcon Friday Oct 9 09:03 AM

Looks like a bad case of swollen testicle. But actually, the Jolly Green Giant was in New Zealand recently, and inadvertently stepped on a sheep. The farmer, incensed, castrated the giant, and put his sac on display.

---

capnhowdy Friday Oct 9 12:36 PM

I bet that took the ho ho ho right out of his jolly ass.

---

elSicomoro Saturday Oct 10 08:53 PM

Just got a new pair of pink Crocs yesterday. And my car already has breast cancer specialty plates:

---

BrianR Saturday Oct 10 11:08 PM

The wife unit doesn't believe in mammograms. She prefers a thermogram

---
Your reply here?

The Cellar Image of the Day is just a section of a larger web community: a bunch of interesting folks talking about everything. Add your two cents to IotD by joining the Cellar.