xoxoxoBruce Friday Sep 25 01:57 AM

Sept 25, 2009: Dead Dogs Barking

20 years ago, Denver, Colorado, outlawed "Pit Bulls".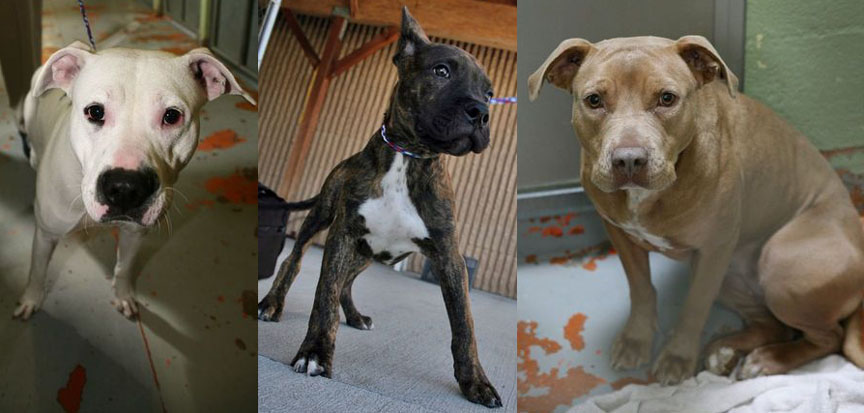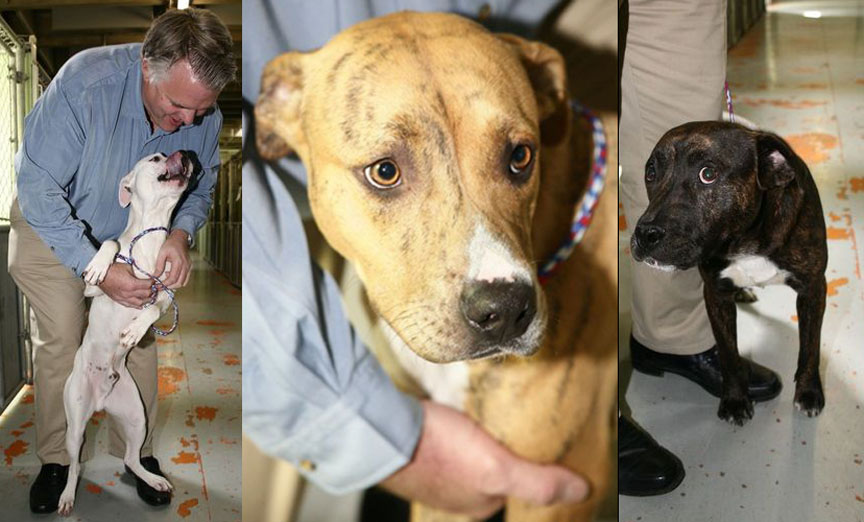 link
---

Antimatter Friday Sep 25 04:59 AM

I dislike fighting dogs. The meat has to cook for hours to become tender enough to eat.

---

ZenGum Friday Sep 25 07:43 AM

I dislike fighting dogs. Sometimes I get badly bitten.

---

capnhowdy Friday Sep 25 07:47 AM

There is absolutely nothing American about this "ordinance". Makes me fucking sick. Goddam guv'mint!

Next it will be certain types/races of people being "put down". Just a matter of time. We better wake up and smell the coffee, folks.

---

capnhowdy Friday Sep 25 07:48 AM

I dislike fighting dogs too.

I always feel like we're improperly matched.

---

Spexxvet Friday Sep 25 08:49 AM

---

Shawnee123 Friday Sep 25 08:57 AM

Ha @ spexx!

If my nieces lived near a pit, I would breathe a sigh of relief that they weren't in danger of getting their faces ripped off.

Jack the Golden Retriever has no face-ripping-off tendencies...either innate or learned.

I know the arguments this will bring. When I start hearing about golden retrievers ripping faces off, I might change my attitude.

'Course, I find many tiny yippy dogs suspect as well.

Ah well, flame away.

---

Pico and ME Friday Sep 25 09:36 AM

I'm right with you Shawnee.

This just isnt the evil guv'mint at work, this is about people who know of no other way to prevent a horrible dog attack, the ones pit bulls are notorious for.

---

spudcon Friday Sep 25 09:38 AM

Every pit bull I've ever seen has been sweet and loving. And yes, I know I'm leaving myself open for jokes, but it's true.

---

spudcon Friday Sep 25 09:40 AM

Oh yeah, and they taste awful too.

---

Shawnee123 Friday Sep 25 09:46 AM

I've known some nice pitbulls too.

I love dogs. I love animals in general. When I was at the zoo I wanted to crawl into the cage and cuddle with the cute black bear.

I know better. I would no more trust a breed with a propensity for face-ripping around my nieces than I would throw them into the bear cage for cuddle.

Wild animals are wild animals. All dogs have, deep within, the instinct for face-ripping. Some are bred for gentleness, some are not.

I know this opinion isn't popular. I'm the first to say "awwww, sweet doggie." I'll risk my face at my own...er, risk. I wouldn't risk a child's face for any amount of assurance that "it's a really nice dog."

---

Tawny Friday Sep 25 10:13 AM

We put to death MILLIONS of dogs and cats in this country each year.

Because there aren't enough homes for all the stray/impounded animals, if those 3,497 pit bulls hadn't been put down in Denver, they'd have put down 3,497 other dogs.

We need to ban puppy mills and indiscriminate breeding so we don't have a surplus of pets.

---

TheMercenary Friday Sep 25 10:16 AM

Spay and neuter, spay and neuter.

---

Spexxvet Friday Sep 25 10:18 AM

---

Gravdigr Friday Sep 25 11:00 AM

I think Colorado has enough problems, what with terrorists and such, they should just start impounding their citizens instead of the dogs. And, just for the record, ANY dog can be made into a mankiller. ANY dog. If golden retrievers were as muscular as pits/staffordshire types, you better believe that the people who breed/train them for fighting/attacking would be using golden retrievers.

And if they have such a problem w/dog fighting/attacks, I think that reflects more on the citizens than the dogs.

All in all, Denver is using a very wrong-headed, ill-thought out plan. And like the guy said, no proof that it works at all.



BTW, I don't like dogfighting, it's so hard to get boxing gloves on a dog...

---

Shawnee123 Friday Sep 25 11:18 AM

Hahahhaaaa...the thought of Zeke or Jack being a killer is laughable.

No, there are breeding issues, as you said. The fact is people HAVEN'T bred goldens for violence.

Hey, throw your children into a barrel of pitbulls, I don't care. It's not a risk I would be willing to take. I'd throw them into a barrel of retrievers, though.



Nope, not a risk worth taking, when considering the life of a child over "but he's such a good widdle goggie."

---

Coign Friday Sep 25 12:16 PM

Pit bulls were bred to attack dogs not people. In fact if a pit master threw his arm into a pit of two fighting dogs (to end the fight or break them up) and one of the dogs bit him, that dog would be put down.

Pit bulls are not people aggressive until trained/beaten to be. You little girl is more likely to get bit by your chihuahua than bit by a pit.

And as for pits natural aggression towards other dogs, that can be trained out of them very easily.



http://www.dogbreedinfo.com/americanpitbull.htm

Their sordid past of being man killers is the cop-killer attitude of the 80's out of southern California when all the gangs and wannba bangers started training dogs to protect their property. The pit bull just happened to already a trained fighting dog (against other dogs) and was bred to fight. It was a natural to pick that breed.

That stupid decade destroyed the name of one of the most human friendly bred dogs ever.

---

Shawnee123 Friday Sep 25 12:22 PM

---

jinx Friday Sep 25 12:23 PMlink

---

asmithrn Friday Sep 25 12:41 PM

I worked as a nurse in a Pediatric Intensive Care Unit when I graduated from nursing school. Would you like to know how many kids I took care of that were attacked by dogs? One. And the dog was a Labradoodle. Would you like to know how many kids I took care of that were hit by drunk drivers? Abused by their parents? Disfigured from being dipped into a turkey deep-fryer by Mom's boyfriend? Born in gas station bathrooms and discarded like rotten leftovers?

WAKE UP!!! We have bigger problems in the United States than pit bulls.

---

Shawnee123 Friday Sep 25 12:43 PM

Get a cat. They'll just steal your breath in your sleep. Far less painful.



---

rasafrasit Friday Sep 25 02:15 PM

Pitbullsh*t

There is no evidence that pits are any more prone violence than any other breed. In fact, Malcolm Gladwell wrote a piece for the New Yorker about how, statistically, they are less likely to be involved in bite incidents. This a clear instance of irrational, negiligent over-reaction to spurious BS and fear-mongering. And for the record, I'm with capnhowdy...fuck the government and the presumption to tell people what kind of dog they can own. It does exactly NOTHING to address the root problem, assholes who can't or won't train their dogs.

---

Shawnee123 Friday Sep 25 02:29 PM

bark bark bark

Gogs cause more people to log in to scream NO than gods do.

Less educated people tend to be less educated about choices in dog ownership, and the responsibility for training that comes with various breeds.

Think big loud sound system in car: status symbol.

And, much as I hate little dogs, a pitbulls vise-like jaws that won't let go would do considerably more damage than a tiny ankle-bitin' POS dog.

But the govt telling people about which dogs to own, I agree, shouldn't happen. If I had small children and an asshole dog lived next to me, I'd just shoot its head off.

---

classicman Friday Sep 25 02:35 PM

You cannot legislate morality, responsibility nor intelligence. Get used to it.

---

Clodfobble Friday Sep 25 02:37 PM



I have already made it quite clear my children will not be going in the back yard for even a moment when we visit this holiday season. And I'm very much of a mind to bring a little dish of antifreeze with us, to just casually leave out by the fence for them. Dogs like antifreeze, you know. It tastes sweet.

---

Shawnee123 Friday Sep 25 02:45 PM

---

kerosene Friday Sep 25 03:12 PM

---

Shawnee123 Friday Sep 25 03:18 PM

case, will that include state illegal alien employees, like me and Cic?

---

DanaC Friday Sep 25 03:41 PM

Staffs are banned? Damn that's harsh.

---

Tawny Friday Sep 25 05:29 PM

Everyone is still missing something:

Although Denver has this law against pits, it would make no difference if they didn't. Pits would still die at their shelter(s) in the thousands.

City pounds look for any reason to put an animal to death because they have to kill something.

Better to kill a dog like a pit or Rott that has little chance of being adopted over say, a Chihuahua --- since a choice has to be made.

---

monster Friday Sep 25 07:01 PM

If only we could employ the unemployed to turn their meat into pitburgers to feed the hungry, their hides into tends to shelter the homeless, and their bones into glue to seal the muzzles of those still owed by ignorant dickheads with small children.

---

Diaphone Jim Friday Sep 25 07:54 PM

Deja vu all over again; a guaranteed hot button:
http://cellar.org/showthread.php?t=17232

---

Shawnee123 Friday Sep 25 09:11 PM

I knew it. Damn, I'm consistent.

---

classicman Friday Sep 25 10:15 PM

eh hem

http://cellar.org/iotd.php?threadid=8836

---

Warren Peas Friday Sep 25 10:32 PM

There is no right answer here. These dogs can be great house pets or killers, however they act on instinct and training, as well as pack behavior. I wouldn't want to put a number on how many unpredictable dogs equal the life or even the scarring of my grandsons.
If I had my way the aggressive owners of these mutts would also be in cages, perhaps even cages containing other peoples aggressive dogs.
http://www.pitbullsontheweb.com/petbull/pete.php

---

Nirvana Friday Sep 25 11:13 PM

---

Nirvana Friday Sep 25 11:22 PM

Just to expound on this point. There are 100s of dog shows in this country and over a 156 AKC recognized breeds, with the number of dogs being shown at any one show can be from 600 to 4000, and a stranger has to go over them to judge them. The incidence of dogs biting at dog shows is negligible because dogs can learn to tolerate strangers. Not everyone is smart enough to have dogs or children....

---

Undertoad Friday Sep 25 11:38 PM

And those judges give 'em every chance to get pissed, too! I'm gonna open your mouth and look at your teeth... I'm gonna feel your underarms... I'm gonna straighten your tail... then this other person is gonna lift you by the crotch and trot you around...

---

ZenGum Saturday Sep 26 08:14 AM


Attachment 24862

Attachment 24864

---

ZenGum Saturday Sep 26 08:19 AM


whoops, attached the wrong doggy pic there, and I can't seem to fix it. ahh, well, this is what I meant to post.

But maybe, this is the real reason for the campaign against pit bulls.


Attachment 24865

---

Nirvana Saturday Sep 26 10:40 PM

That white pit's name is Porky can you guess why?

LMAO Zen! Nice faux "paw"!

---

Gravdigr Monday Sep 28 05:43 PM
Goddammit I wish people would stop posting that pic. At least give me a warning. I hate that fucking pic.

Oh, and:

---

capnhowdy Monday Sep 28 09:38 PM

Well you can't



ALL the time.

---

Sundae Wednesday Sep 30 05:44 AM

It seems to me that if you live in an area that outlaws owning a certain breed of dog, then you are at fault for buying that dog in the first place. If Diz died (ouch!) and I lived in a town that banned owning Singapuras, I would get another type of cat - or more probably a moggie, to save it from being put down by an over-crowded shelter. Now Singas have a definite type - they have noticeable character traits which I adore, but I would not risk a cat I own being killed.

So how come people aren't spaying their restricted breeds and the numbers dropping? Surely these numbers can't all come from people moving in from out of state (a very harsh situation I admit). As usual, irresponsible people cause the problem, but they're rarely the ones to suffer.

---

Shawnee123 Wednesday Sep 30 08:29 AM

I think, as I alluded to before, it's a status thing. A strange kind of status, in my opinion, and it's hard to verbalize what I mean.

It's "this dog is controversial. This dog is disallowed. This dog has a bad rap. So, I don't want any other kind of dog, EVAH. I iz an individual. See, I got this tattoo to prove it."

I do believe there are loving pits that wouldn't hurt anyone...but as SG said, irresponsible people cause the problem, and it's a shame...but it isn't a risk I would be willing to take.

My mind keeps going back to The Life of Pi, where Pi was talking about growing up in the zoo, and his dad's lectures about never forgetting that animals are animals. God knows I love animals, I've always had a sensitivity towards them. This penchant for the critters does not preclude me knowing that there are things about animals we can't know or understand, and therefore can't predict...nor does it preclude me from eating a couple of 'em.


---

skysidhe Wednesday Sep 30 09:00 AM

How can this be a law? Incredible.

Donations to those animals that can be helped.
http://www.aspca.org/donate/

---

sweetwater Wednesday Sep 30 03:10 PM

Just a couple of points - many humane societies are reluctant to adopt pit bulls out because of the liability issues, even assuming they can find a suitable home. It's not that the dogs are always vicious or seem mellow that makes it difficult, it's the unpredictability of the breed and the potential serious and/or fatal consequences when it shows. People that bring animals to shelters often blatantly lie about their pets' dispositions whether it's a pit bull or not. "Great with kids? Of course! Housebroken? Since he was 8 weeks old!" etc. I think the shelter policy is more often justified than not. And behavior of any dog in a show ring is N/A because the dogs do not consider the ring their territory, and there are many tricks the dog handler uses to keep the dogs busy, interested, and pumped. BTW, if you watch you will see that judges will have the handlers show the teeth with some breeds. But the worst for biting (at least a number of years ago) was St. Bernards and basenjis. Even a mean Dobe or hungry Airedale are tractable enough to train. Saints and basenjis are not as naturally trainable.

---

Shawnee123 Wednesday Sep 30 04:30 PM

There is a grand difference, and this has been pointed to in articles I have read as I ponder this thread, between propensity to bite and propensity to, once provoked to biting, ripping faces off.

---

classicman Wednesday Sep 30 04:39 PM

I think they are taking into consideration the jaw-strength of these particular animals as well. Not that it's right, but IIRC, don't Pits and/or Rotts have really crazy strong bites or something?

---

capnhowdy Wednesday Sep 30 09:07 PM

I don't think there's an accurate test to measure bites/jaw pressure. The root of the problem is that most dogs 'cut and run' wits, bite and release. The PBT wants to hang on a while, thus the mega meat-fest. This is expected from an animal bred to bring down a 1500 lb bull.
But I stick to my pinion that if an owner is a responsible owner he/she should be allowed to own whatever breed they choose. If they are irresponsible, then IMO they should be prepared to suffer the consequences.
It gives me nutsmoke that the guvmet is starting to treat some animals as if they were weapons or guns.

---

Adak Thursday Oct 1 01:45 AM

Hi from a lurker, and now, a first poster.



), to measure the strength of the dog's biting and holding strength.

And Pit Bull's were not bred to fight bulls. Bull "baiting", where the dogs tried to hold a bull by the nose or throat until it collapsed from lack of air, was done by a forerunner to the Pit Bull Terrier. Baiting lost interest to the "sport" of dog fighting. Fighting is what the Pit breeds were bred for. The white Bull Terrier you saw with all the quills in it, had a narrower head, and shorter legs. Because of that, it fared badly in the fighting ring, and was retired, as a breed.

The strength of a dogs bite is proportional to the width of their skulls. More skull width, allows more jaw muscle and jaw bone mass. The strength of a muscle is roughly proportional to it's mass, unless deliberate hypertrophy training (think physique champs), has been done.

APBT and Staffordshire Terriers are very strong, overall, will a high threshold for pain and "game-ness" (once started, they don't stop). Their biting strength is not better than that of breeds with wider heads, however.

Top of the list for biting strength:

1) <<Mastiff>> breeds of all types.
2) The massive dogs: Akita, St. Bernards, Wolfhound, Great Dane, Rottweiler, etc.
3) The large dogs: <<German Shepards, Belgian Shepards>>,
4) Medium sized: <<Staffordshire Terrier, Belgian Malinois>>.

#1 have been measured at 500 psi. #2 get to about 400 psi, #3, can get to 350 psi, #4 are about 290 psi.

The <<breeds>> were the one's measured for bite strength, as part of their K-9 work training or testing, or owned by K-9 trainers, and very well motivated. I added the others where I believe they fit, although I haven't seen their bite strength tested.

The Pit Bull Terrier is not a super strength biter, but through their selective breeding, the breed is very tenacious once it starts fighting, very muscular in general, aggressive in style, and has a higher pain threshold than most dogs. They're ideal for dog fighting because they can be readily kept, transported, and "broken" (using sticks designed for it). Much cheaper and safer than trying to work with a larger breed of dog.

It's interesting to note that some breeds of mastiff's are still being bred to instill a temperament of "loathing" for any strangers, including the "Presa Canario" mastiff.



As much as I like good Pit Bulls (and they are sweet, if socialized when they're young), I don't think most people should own them (or mastiffs), and the cities are wise to ban them.

---

xoxoxoBruce Thursday Oct 1 01:50 AM

Welcome to the Cellar, Adak.


Sounds like you have some experience with dog training.

---

classicman Thursday Oct 1 01:55 AM

Well try this video Cap'n.

or take a look here to refute it all - sorta.

---

SPUCK Thursday Oct 1 05:11 AM

Thanks for the edumacation Adak.

We had a full size Dachshund. He'd get on our bed and we could play with him by moving our feet under the covers and wiggling our toes. This really got him cranked up - chasing these mysterious ground dwellers.

The only thing that saved our feet was that we always had about 10 blankets on as our room often got down to the high 30s. When he grabbed a foot.. It was like clamping it in a vice. It was astounding how much pressure he exerted.
It was actually a little scary.

---

Shawnee123 Thursday Oct 1 08:11 AM

Thanks for that information Adak. Welcome!

I was surprised to see Wolfhounds on the bite list. They are known, as I'm sure you know, as the Gentle Giant.

A dog that size could do some real harm, if provoked. But I would think that it would be a really messed up Wolfie to ever get to that point.

They're awfully darn cute!

---

Adak Thursday Oct 1 08:38 AM

Thanks for the welcome!

Dachshunds and all the "to ground" terrier breeds, are all fierce, being bred to go into the varmint's tunnels and either kill it underground, or flush it out.

Can you imagine a small dog, trying to kill a fox, badger, or skunk, in a small, dark den tunnel, underground?



Weird how the people back then developed several breeds of small terriers, specifically for these jobs. I sure can't see it, but times were different, back then. Varmint or game killing was expected work for most dogs.

Dogs were viewed and used as helpers, not pets.

---

Shawnee123 Thursday Oct 1 08:39 AM

See, I always just thought small dogs suffered from "short guy syndrome."



---

xoxoxoBruce Thursday Oct 1 12:14 PM

---

TheDaVinciChode Thursday Oct 1 05:57 PM

... Why, sir, was there never a breed, specifically designed for helping the lonely men during long, cold, isolated, winter nights?

There, where no one was around to see, to witness, to tell...?

Soft, short teeth, slender body, not too much saliva/drool, good temperament, eager to please...

It can, nay, it must be done!

---

capnhowdy Thursday Oct 1 09:21 PM

Done. NSFW!

---

Adak Thursday Oct 1 10:41 PM

Sorry DVC, but ewe'd better look elsewhere.



Bitches (the real one's) wouldn't be suitable for "lonely nights". They are only receptive for a week or so, every few months, and when copulating, she will clamp down, locking the male's member inside her, involuntarily.

That dog is going nowhere until she cools down a bit.

Speaking of Ewe's: All part of the natural world, but
<<This is not for the faint of heart>>
http://www.google.com/imgres?imgurl=...num=7&ct=image

---

spudcon Thursday Oct 1 11:20 PM

I guess I figured out what was going on, but why the rope?

---

xoxoxoBruce Friday Oct 2 12:57 AM

That's a leash.

---

capnhowdy Friday Oct 2 07:37 AM

I thought it was floss.

---

Spexxvet Friday Oct 2 09:29 AM


---

TheDaVinciChode Friday Oct 2 10:11 AM

---

xoxoxoBruce Friday Oct 2 10:22 AM

Yeah, she's probably a nice person, but not exactly boner inspiring.

---

TheDaVinciChode Friday Oct 2 10:25 AM

There'd not be enough lube, or alcohol, or drugs, or a combination of the three, that could make "it" pleasurable, pleasant, or seemingly a good idea... not even for a moment.



Bring on the PitBull!

---

Spexxvet Friday Oct 2 11:46 AM

---

TheDaVinciChode Friday Oct 2 12:58 PM

How does she look, on all fours?

---

spudcon Saturday Oct 3 01:14 AM

If you are an owner of a dog that belongs to a 'dangerous breed' category and you also have a child or a visiting small child please take this as a warning.




Don't leave your dog with a small child unattended under any circumstances!!!



Only one little moment was enough for the following to happen.



See the photo below .....



---

BrianR Saturday Oct 10 11:42 PM

Hell, even Cocker Spaniels are more known to bite than a pit. I've known many and they all were big sweethearts. Okay, there was this one pit, but I didn't know it nor did I care to or ever will. It was being trained to fight. I met it and it's owner in Fairmount Park one day. The dog had just finished ravaging and killing some kind of mixed breed that had had it's mouth taped closed and was tightly tied to a tree. The owner said it was to give the dog the taste of blood. It only had that one though as I immediately took out my .45 and shot the dog dead, then placed the smoking muzzle to the owners nose and dared him to say anything. He declined. Amazingly.

I hate fighting dogs and especially the people who make them the way they are. I love dogs but some things cannot be tolerated.

A few of you have met my dog Junior. His pictures are elsewhere on the Cellar. He's a mixed Queensland Heeler and with his fat head, he has been called a pit mix. He's a very nice dog who will put up with a lot and loves anyone who scratches his back or neck. He has bitten four people, three kids. He's a bite and release biter. All four were either in his territory without supervision or abusing the dog. Both are major no-nos. I had to save him from the pound once. And when I heard how he came to be there, had to be physically restrained from going off to beat to death the person who dragged my dog from his house and across the street so that he could be legally impounded.

That person mysteriously moved away soon after word got around that I was laying for him.

I protect my dogs as if they were my own children. I would not allow to live any of my dogs if they were actually a threat to people. Junior is not, he's just protective and more territorial than most. His bitees have always been disobeying the rules posted.

There are no dangerous dogs, only dangerous owners.

BTW, my Shih Tzus are the only dogs I've ever had with a killer instinct. They cornered a cat in the yard and were trying to kill it (came close) when the Mrs. rescued the cat. The rest of the pack were only barking and sniffing. The Shih Tzu is one of the least threatening dogs in the world.

You never can tell though.

---

classicman Sunday Oct 11 07:53 AM

It's not that they bite more, its the not letting go part.

---

Clodfobble Sunday Oct 11 09:20 AM

---

wolf Sunday Oct 11 11:21 AM

---

Undertoad Sunday Oct 11 11:37 AM

---

Tawny Sunday Oct 11 04:00 PM

"It only had that one though as I immediately took out my .45 and shot the dog dead, then placed the smoking muzzle to the owners nose and dared him to say anything. He declined. Amazingly."

Wow, Brian, too bad you're not single.

I think I'm in love.

---

BrianR Monday Oct 12 09:34 AM

The answer is that two kids DID climb the (six foot high) fence to play with the doggie. Two were guests of the "special" child in the house, who had been encouraged to abuse the animal by kicking and shouting at it.

The fence is posted.

---

TheDaVinciChode Monday Oct 12 02:12 PM

A well-trained dog knows the difference between a harmless child, and an intruder.

Perhaps someone should turn their .45 onto your violent pups, BrianR.

I know, for a fact, that any dog my brother trains, would protect its territory, to the death, from an INTRUDER... but would never harm a helpless, harmless child...

Just sayin'...

---

Shawnee123 Monday Oct 12 02:26 PM

---

Spexxvet Monday Oct 12 04:20 PM

---

TheDaVinciChode Monday Oct 12 04:41 PM

They could...

*Dramatic Music Plays...*

HOBBLE AROUND UNCERTAIN AND NON-THREATENINGLY!

*Dramatic Crescendo!*

Just think of the horror those children could cast upon this poor person's yard.

---

spudcon Monday Oct 12 08:27 PM

"Harmless" kids have tortured animals, burned houses down, and murdered each other. I'll bet the dog in question did know the kids weren't helpless little angels, but little sadistic monsters.

---

xoxoxoBruce Tuesday Oct 13 01:37 AM

Or midget terrorists.

---

Lamplighter Tuesday Jul 13 11:55 AM

PDX is in the midst of a major long-running controversy over unnecessary (?) police shootings.
Also, this morning the local news reported that police responded to an 911-call "intruder in the house"
and shot the homeowner's pitbull because it was being aggressive towards them.

My wife wants me to get a bumper sticker: Shoot more pitbulls... less people

---

Adak Wednesday Jul 14 04:59 AM

I always wonder "What's up?" with calling 911 for police help, and YOU KNOW your dog will defend it's territory from them.

NEVER do they tell the cops "Watch out for my dog, it can be aggressive" NEVER do they put the dog in a bathroom and close the door on it. Never do they slip on the leash. That never seems to happen. The owner is undoubtedly in an excited frame of mind; not thinking clearly, atm.

What are the cops supposed to do? They can't turn tail and run away, they have a job to do to find the intruder. Allegedly, there is an emergency, in the house.

Seems almost like "dog murder by cop proxy", by the dog's owner.

One more thing to add to the list of bad things dog owners have done. Since there maybe is/was an intruder in the house, I don't blame the owner too much for being irrational.

---

SPUCK Wednesday Jul 14 06:24 AM
Agreed.
An why the hell would you have an intruder in the house that the dog isn't handling??!!

---
Your reply here?

The Cellar Image of the Day is just a section of a larger web community: a bunch of interesting folks talking about everything. Add your two cents to IotD by joining the Cellar.