Undertoad Thursday Dec 27 08:37 PM

December 27, 2007: Amazing Audi accident photos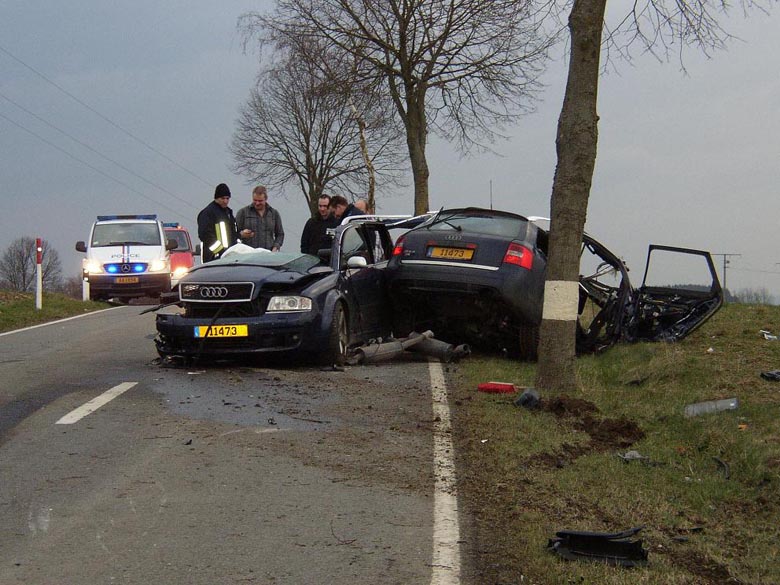 The VW Vortex forums cough up this one... the Vee Dub guys can be counted upon even when the concern is one of their German brethren.

Here we see the results of a horrific crash in Luxembourg, between an Audi RS6 and...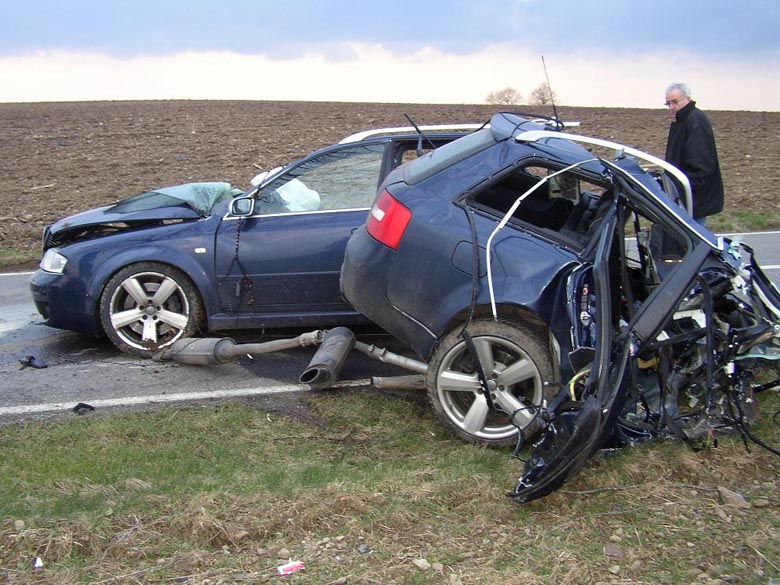 ...an identical RS6? No, it's only one car. This car went airborne at a high rate of speed (to say the least), hit a tree and was cut in half as a result.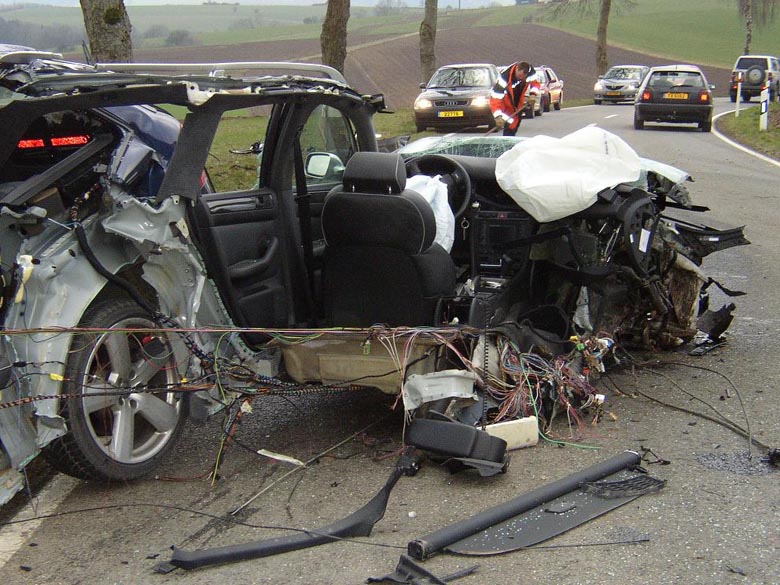 They say a true test of a car is how well it gives up its own life to save its driver's, and in this particular crash the Audi did a completely remarkable job. Here we see the driver side -- although the rest of the vehicle is practically obliterated, the driver's area is practically untouched.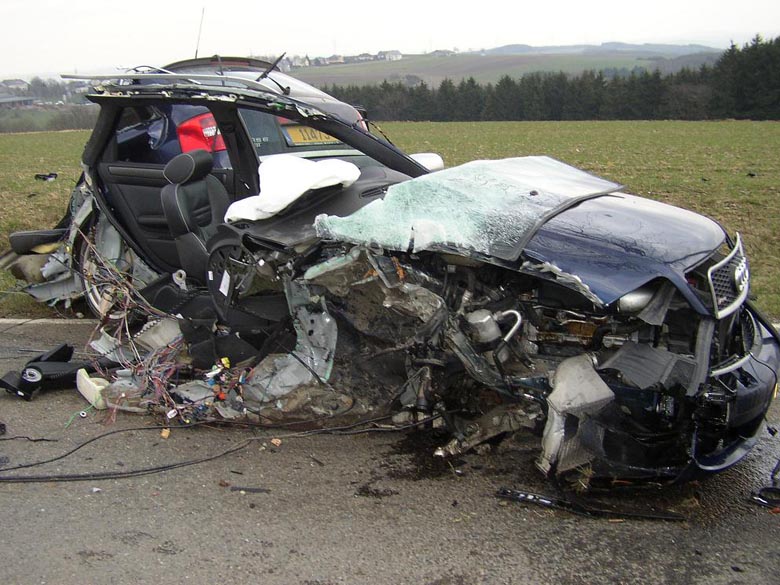 And in fact not only did the driver survive, he used his mobile to call for emergency services, and the folks from the ambulance helped him to get out and walk away from the vehicle. He was hospitalized for only a few hours and wound up with little more than a bandage on his pinky.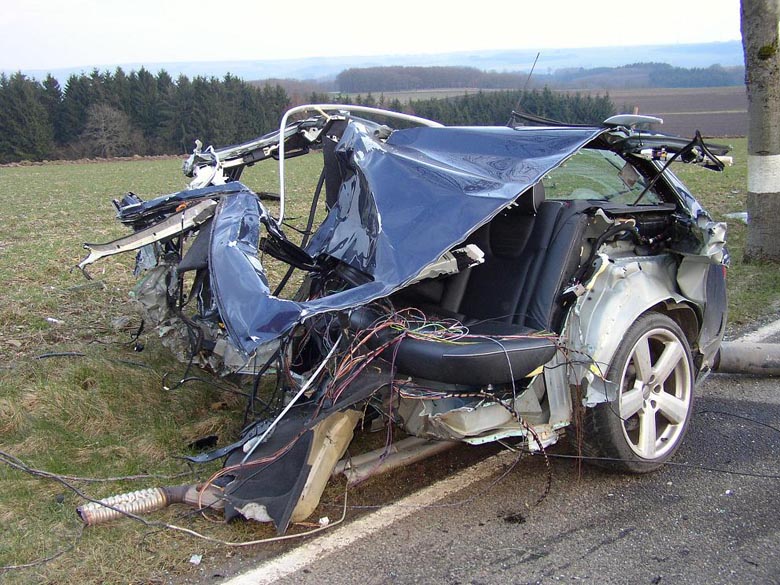 ---

Griff Thursday Dec 27 08:41 PM

Great engineering trumps horrible driving. This time.

---

Sheldonrs Thursday Dec 27 08:46 PM

There are easier ways to turn an Audi into an inny.

---

Clodfobble Thursday Dec 27 09:34 PM

...good thing he wasn't carrying any passengers.

---

sweetwater Thursday Dec 27 09:59 PM

awwww, somebody took the time to put a bandage on the tree

---

classicman Thursday Dec 27 10:29 PM

[mumble grumble]/properly designed/engineered vehicle/[mumble grumble]

---

xoxoxoBruce Thursday Dec 27 11:42 PM

Me thinks, there was a shitload of luck involved.

---

StereoMike Friday Dec 28 05:58 AM

Though I'm driving an Audi myself I'm with Bruce on this one: I guess it was more luck than engineering. No car in the world would help if the drivers side would collide with the tree. OK, maybe a Dacia Logan would fall apart just by parking it near a tree...

mike

---

aero geek Friday Dec 28 10:20 AM

I'm with xoxoxoBruce and StereoMike on this one and I never understand why people are so eager to discount plain old luck when it comes to surviving accidents

---

Spexxvet Friday Dec 28 10:59 AM

I want to drive the tree - it wasn't damaged at all.

---

monster Friday Dec 28 11:16 AM

---

TheMercenary Friday Dec 28 11:22 AM

That is no statement for engineering. That is a statement about how stupid people drive to fast and threaten everyone else on the road. Sounds like Darwin missed another chance.

---

glatt Friday Dec 28 11:34 AM

Aren't you the guy complaining about speeding fines in another thread?

---

TheMercenary Friday Dec 28 12:09 PM

---

classicman Friday Dec 28 12:12 PM

I WAS JOKING

---

SparkStalker Friday Dec 28 12:53 PM



That was bad, man...really bad.

---

glatt Friday Dec 28 12:55 PM

But rather than go off on this tangent that I opened (sorry), let me jump on the bandwagon to say this guy is simply lucky to be alive, and is probably not the safest driver on the planet.

---

Aliantha Friday Dec 28 06:54 PM

Maybe he'll learn his lesson. Maybe there's a reason luck or the gods or someone intervened and saved his life.

Maybe he was going so fast for a reason. Maybe he wasn't just an idiot driver. Maybe he had an accident because an animal or small child was in his path.

Yeah, speeding is stupid, but it's pretty tough to judge someone when you don't have all the facts.

---

TheMercenary Friday Dec 28 07:12 PM

Maybe he ran out and bought a new Audi! Do you think the insurance company totaled the car or made him fix it?

---

SPUCK Saturday Dec 29 05:53 AM

It's obvious.. He was driving a little fast down a country road when a tree darted in front of him...offliser (hic)

---

Nikolai Saturday Dec 29 08:18 AM

Well the last picture looks like Audi made a really bad rickshaw :S

---

StereoMike Saturday Dec 29 12:53 PM
The car has 450-480 hp, I guess it was just too tempting...

mike

---

xoxoxoBruce Saturday Dec 29 01:46 PM

Right on the money, Mike. This guy was honkin'.

---

burns334 Saturday Dec 29 04:38 PM

Drive the autobahns in Europe, the Audi's and BMW's lead the pack, speed wise. Sure the Porsche's fly but there are just not that many of them. My experience is you can not stay in the fast lane continuously unless you are willing to drive 190 kph or 120 mph

---

xoxoxoBruce Saturday Dec 29 06:37 PM

120 mph is reasonable with a sound automobile, on a good highway, in good weather. This guy looks like he was doing that on a narrow twisty road with TREES! Bad mojo.

---

Aliantha Sunday Dec 30 11:54 PM
yep he was going quick. Obviously much quicker than he should have been. I just think there may have been some reason for it. There's not a huge percentage of people who choose to drive like idiots. Maybe he was one. But maybe he wasn't.

---

StereoMike Friday Jan 4 06:49 AM

He sold the car on ebay.
A cached page:
http://www.motor-auktionen.de/archiv/330/index.html

In the end he got even more than 4500 EUR for it (but there's a comment to the auction that there were issues for the buyer didn't pay)

---

manu Friday Jan 4 11:45 AM

when a car hits a tree not frontly but from its side, it usually wraps around the tree.
It could be that Emergency services had to cut the two parts of the car to open it and extract the driver from it.

another experience of car vs tree here (another audi... warning, despite no real graphic, the story is kind of sad since the two people did not survive this accident

) :

http://timeslips.bootnetworks.com/a3tree/index2.html

---

xoxoxoBruce Friday Jan 4 05:13 PM

I think it hit on the right front corner and tore the car in two.

---

ZenGum Friday Jan 4 11:32 PM

I've spoken with rally drivers, one thing that makes them a little cautious is trees by the track.
At moderate speed and with a larger tree, a car will wrap around a tree.
At very high speed and with a thinner tree, the tree will slice through the car.
Although these trees are pretty thin, I believe that this guy was, as Bruce put it, honkin'.
And I reckon he's alive due partly to seatbelts and crumple zones but mostly just dumb luck.


---

Pi Friday Jan 11 05:09 PM

That guy in the first picture with his mobile is one of my NCO's...
He's the guy who was sitting in the car.
That accident happened last year, I was speaking to him today.

---

glatt Friday Jan 11 05:40 PM

Wow! Small Cellar world.

---

Clodfobble Friday Jan 11 09:56 PM

Crazy. If I'd just been through that, I don't think I'd be casually standing next to the wreckage using my cellphone.

(I'd be curled up on the ground as far away from the car as I could get and bawling, for the record.)

---

ZenGum Saturday Jan 19 12:08 PM
Was he honkin', or was he viciously ambushed by a tree?
It might be wise to be a bit vague for legal reasons; was he crawlin', cruisin, or honkin'?

---

Pi Tuesday Jan 22 04:39 PM

Well he said he was driving around 100km/h and the road, a country road, was on a some spot slippery...
That's what he said...

---

xoxoxoBruce Wednesday Jan 23 12:08 AM

I don't believe he could rip that car in two, at 100kph. That's oly 62 mph.

---

TheMercenary Wednesday Jan 23 04:09 PM

good pics here of other crashes:

http://www.carbuyingtips.com/disaster.htm

---
Your reply here?

The Cellar Image of the Day is just a section of a larger web community: a bunch of interesting folks talking about everything. Add your two cents to IotD by joining the Cellar.