Clodfobble Thursday Dec 20 04:27 PM

December 20, 2007: Sex sells!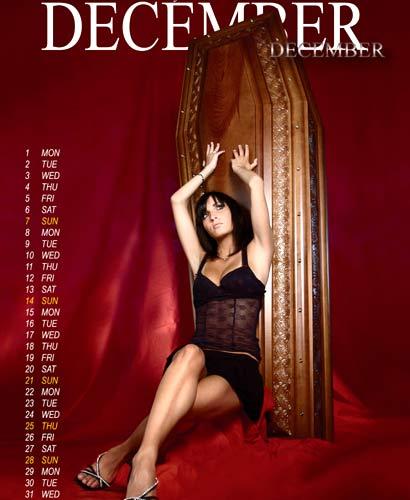 Despite appearances, what you see here is not your basic softcore goth porn (well, at least not intentionally.) It is, in fact, a promotional sales item. Not for the lingerie, not for the shoes... for the coffin! The Italian undertaker firm Cofanifunebri has released their 2008 corporate calendar, featuring sexy models draped across their merchandise.

"Coffins are consumer goods like any other things, so I sell in the same way as any other consumer goods are sold," said owner Maurizio Matteucci. "The calendar is very popular."

"It is good marketing, but it is also a way to play down such a serious subject and to smile."

---

Drax Thursday Dec 20 04:40 PM

Why am I thinking that her vampyre lover is in there?

---

classicman Thursday Dec 20 04:43 PM

Boy Zen and Shawnee are gonna have a field day with this one.

---

glatt Thursday Dec 20 05:23 PM

If I had a terminal illness, and was making all the final arrangements for myself in order to not be a burden on my family, I can see getting a kick out of this advertising. But if my loved one died and I was frantically trying to line all the stuff up on short notice, I would be less receptive.

---

Drax Thursday Dec 20 06:24 PM

If I see this ad on TV, then I'd be pissed.

---

glatt Thursday Dec 20 08:01 PM

---

Tink Thursday Dec 20 10:01 PM

Pretty fancy coffin. Cremation for me. Throw me in the ocean so I can travel.

---

xoxoxoBruce Thursday Dec 20 10:10 PM

This way they get the brand before the public in a upbeat manner. Then when the frantic time is dropped on you, one name might prompt a glimmer in the back of your head.
I'll bet there normal sales tools, for the frantic people, are much more subdued.

---

Drax Thursday Dec 20 10:24 PM

---

classicman Thursday Dec 20 10:26 PM

Admit it Drax - you already bought one just cuz of the hot chick.

---

Clodfobble Thursday Dec 20 10:28 PM

The whole thing reminded me of Six Feet Under. During the first couple of shows they had some spoof ads that imitated the Gap ads of the time--about a dozen young people in khakis and white shirts doing a well-choreographed song and dance about mortician tools and funeral home supplies.

---

binky Thursday Dec 20 10:45 PM

---

jinx Thursday Dec 20 11:00 PM

I wanna be jewelry.

---

Drax Thursday Dec 20 11:24 PM

---

regular.joe Thursday Dec 20 11:48 PM

Am I the only one reminded of the scene in the movie "Saint Elmo's Fire"? Where the guy has a coffin in his room, just in case a hot chick is around to have sex on the coffin? A veritable chick magnet. Ever since that flick I've fantasized about having sex with a hot chick on a coffin. Not all the time, just every now and then. I made out with a hot chick in a grave yard once, it was coooool.

---

Scriveyn Friday Dec 21 04:08 AM



you can browse through their calendars 2003-2008 here: http://www.cofanifunebri.com/cofanifunebri-mania.htm

Surprisingly no pictures of the interior design of the merchandise.

---

classicman Friday Dec 21 09:46 AM

---

classicman Friday Dec 21 09:54 AM

---

ZenGum Friday Dec 21 09:57 AM

Nah, I don't have much here. Shawnee? Shall we make it a his and hearse thing?

---

Shawnee123 Friday Dec 21 10:05 AM

Don't do it, Zen, it's a plot by classic to get us inter trouble. I understand, I bereaved him before, too, but the fact remains he does not urn our trust. Inquest for a really good guy, I aspired to good but cot evil. Disinter evil is the marker of our demise.

---

barefoot serpent Friday Dec 21 11:38 AM

After Zen + Shawnee I want one so long as it revolves by itself and the occupant doesn't have to.

---

LJ Friday Dec 21 11:59 AM

---

xoxoxoBruce Friday Dec 21 12:04 PM

They're made in China.

---

LJ Friday Dec 21 12:53 PM

oh no you di'int!

---

Gravdigr Friday Dec 21 01:49 PM

LOL @ Zen & Shawnee!!!

I thought maybe the yellow ones were for the pimps. It ain't easy burying a pimp.

---

YellowBolt Friday Dec 21 05:58 PM

---

monster Saturday Dec 22 11:53 AM



that was someone else laughing. honest.

---

TheMercenary Saturday Dec 22 12:01 PM

---

monster Saturday Dec 22 12:03 PM
you want one after Zen and Shawnee have had a turn on it? eeeew.

---

TheMercenary Saturday Dec 22 12:04 PM

---

TheMercenary Saturday Dec 22 12:05 PM

---

Aliantha Saturday Dec 22 06:34 PM

When you get cremated, the coffin goes up in smoke too, and you still need one for the service.

I would imagine that the coffin maker sells his wares to funeral homes, so the calendar is for people already in the industry. Probably not intended for the end user at all, unless you happen to be one of those freaky people who like to plan out their funeral way ahead of time (like my recently passed grandmother-in-law).

---

Griff Saturday Dec 22 07:24 PMdo it yourself coffins. You could use it for an end table, wet bar, or entertainment center for a few years first... I bet you could be torched in a cardboard box.

---

TheMercenary Sunday Dec 23 08:18 AM


http://en.wikipedia.org/wiki/Cremation

---

TheMercenary Sunday Dec 23 08:20 AM

Heh!
Check out the wiki link above. In each picture of the guy doing the cremation he has a cig in his mouth, even when above open ashes of the persons remains!

---

xoxoxoBruce Sunday Dec 23 08:51 AM

That cremulator looks like a garbage disposal to me.

---

glatt Sunday Dec 23 09:12 AM

These Ecopod coffins look pretty cool to me. Still too expensive.

---

Griff Sunday Dec 23 10:30 AM

Very cool... if you leave out the GW bit of putting it on a plane to fly it to the States.

I'd like a tube of good soil with an apple tree growing out of the top. That should be easy to pull off.

---

TheMercenary Sunday Dec 23 10:54 AM

---

monster Sunday Dec 23 11:05 AM

chicken. duh.

---

Sundae Monday Dec 24 12:49 PM

I think you mean long pig.

---
Your reply here?

The Cellar Image of the Day is just a section of a larger web community: a bunch of interesting folks talking about everything. Add your two cents to IotD by joining the Cellar.