Undertoad Tuesday Oct 16 06:52 PM

October 16, 2007: Performance artist implants ear on his arm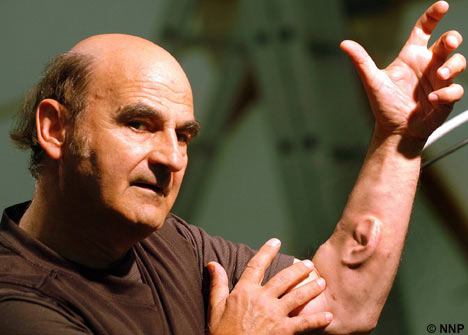 Daily Mail story that you just can't believe: performance artist Stelios Arcadiou has had this ear implanted under his skin. It's not a fake; it's not plastic. It's a real ear, grown from cells.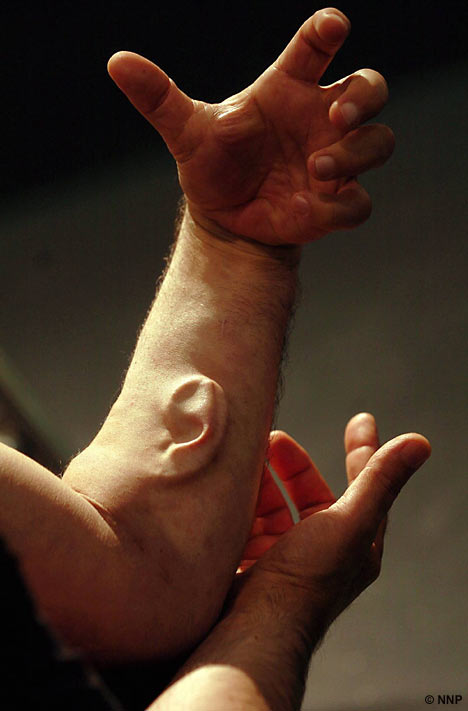 But the guy isn't done yet. From the Mail story:


---

rkzenrage Tuesday Oct 16 06:57 PM

Cool!

---

barefoot serpent Tuesday Oct 16 07:00 PM

reaches for knife /Van Gogh

---

Sheldonrs Tuesday Oct 16 08:06 PM

And to think, I get flamed for where I put my dick!

---

Aliantha Tuesday Oct 16 08:08 PM

What a dropkick.

---

monster Tuesday Oct 16 08:30 PM

I don't believe it's a third ear. There are no pictures of his left ear and that is a left ear. I think he was injured and needed a skin transplant on his left ear, so they sewed it into his arm until they were ready to do the transplant. The performance art is in getting people to believe it's a third ear.

---

freshnesschronic Tuesday Oct 16 08:55 PM

let me just say
WHY?

---

xoxoxoBruce Tuesday Oct 16 08:57 PM

Hmmm, Australian.... just sayin', ya know.

---

Aliantha Tuesday Oct 16 09:21 PM

just saying what Bruce?

That the man is a fruitloop and that he's Australian? Yes, we have idiots here too.

---

Slight Tuesday Oct 16 11:22 PM

I ear what he's saying with this peice.

---

rkzenrage Tuesday Oct 16 11:25 PM

---

ViennaWaits Tuesday Oct 16 11:26 PM

Alright. I'll be the first.

Photoshop!!!!!!

:-P

---

Aliantha Tuesday Oct 16 11:30 PM

Unbelievable though it may seem rkz, it happens to be true. We have almost the same proportion of idiots here as you do in the US.

---

TheMercenary Tuesday Oct 16 11:36 PM

---

rkzenrage Tuesday Oct 16 11:43 PM

*dies*

---

ZenGum Wednesday Oct 17 01:26 AM

Update: the arm is out of hospital, its hearing has improved, and its only trouble now is that its glasses keep falling off.

---

SPUCK Wednesday Oct 17 04:44 AM

What?

---

Saraax Wednesday Oct 17 06:32 AM

That guy looks amazingly like the guy who plays Ray Romano's dad.

---

Spexxvet Wednesday Oct 17 08:47 AM

---

barefoot serpent Wednesday Oct 17 10:29 AMPeter Boyle

Young Frankensteens monster.

---

mlandman Wednesday Oct 17 10:53 AM

---

Cicero Wednesday Oct 17 11:02 AM

Well- there are other places he could have chosen to plant the ear. Thank god for small miracles like that one!

I don't believe it's photoshop- but I do believe that since he is aging he is going to have to soak up the cost of a third hearing aide. Not smart.

And when did they implant the butt on his face? It's curious that there's no mention of that in these articles.


---

ZenGum Wednesday Oct 17 11:10 AM

From Reuters, today (http://au.news.yahoo.com/071016/15/14ovo.html) :
An Australian man, clad only in underwear, fell nine stories while trying to build a makeshift plank bridge into a neighbor's flat, but lived to tell the tale. (follow link for more details).

Ok you need fifteen American idiots from today's news, to match that.

That's unless I find another Australian idiot. Then you need thirty.



But the best word on the IotD goes outside the cellar to .... Jeff, Nashville, TN, USA (follow the links to the original article .....

EERIE

I can't believe none of us came up with this. The shame.

---

aero geek Wednesday Oct 17 03:00 PM

I want a vagina on my arm. Then, whenever I want to - Oh, never mind....

---

dar512 Wednesday Oct 17 03:35 PM

I am beginning to suspect that a lot of performance art is just an excuse to act like a loony and not get put away.

---

Sundae Wednesday Oct 17 03:48 PM
Why not have the vagina on your forehead - then people can call you c**t-face in polite society.

Aphorisms for our times:
In the country of the blind, the one-eyed man is King.
In the country of the deaf, the three-eared man is a publicity hungry show-off.

---

Saphyre Wednesday Oct 17 04:00 PM

Beauty is in the ear of the behearer.


---

spudcon Wednesday Oct 17 04:43 PM

---

spudcon Wednesday Oct 17 04:45 PM

---

Gravdigr Wednesday Oct 17 11:24 PM

---

Aliantha Thursday Oct 18 02:31 AM

I'm wondering if this guy is one of our customers at work. I thought his face looked kind of familiar so I looked up his last name and we do have some Stilianos' on our books.

God there's some freaks out there with watertanks!

---

Scriveyn Thursday Oct 18 03:31 AM("Arsch mit Ohren")

---

Cicero Thursday Oct 18 11:11 AM


---

Snapple Thursday Oct 18 12:16 PM

---

dar512 Thursday Oct 18 02:03 PM

---

Aliantha Thursday Oct 18 06:45 PM

---
Your reply here?

The Cellar Image of the Day is just a section of a larger web community: a bunch of interesting folks talking about everything. Add your two cents to IotD by joining the Cellar.