LJ sent me a link to this light bulb that pops up on the net every couple of years, being the oldest continuously burning light bulb in the world. It's at a Livermore, CA firehouse and has a website dedicated to it. The webmaster says he's been running the site for 18 years.
I seem to remember it was off during a firehouse move so not completely continuous, just mostly continuous.

Ah yes, it's not like a breeder bitch it actually got out to see the world a couple times.
Quote:
First installed at the fire department hose cart house on L Street in 1901. Shortly after it moved to the main firehouse on Second. In 1903 it was moved to the new Station 1 on First and McLeod, and survived the renovation of the Firehouse in 1937, when it was off for about a week. During its first 75 years it was connected directly to the 110 Volt city power, (subject to the power outages), and not to the back-up generator for fear of a power surge. In 1976 it was moved with a full police and fire truck escort, under the watch of Captain Kirby Slate, to its present site at Fire Station 6, 4550 East Ave., Livermore, California. It was then hooked to a seperate power source at 120V, and UPS according to Frank Maul, Retired City Electrician. There was one interuption in May, 2013, when the UPS failed and it was off for at least 9 1/2 hours. When it was plugged back in it shined at 60 Watts for a few hours. It has since dimmed to its former 4 Watts. Why is still a mystery.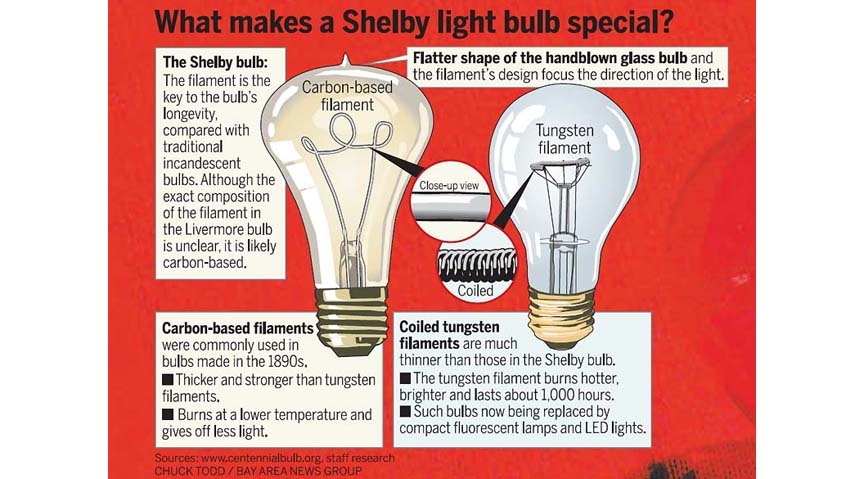 Quote:
The improved incandescent lamp, invented by Adolphe A. Chaillet, was made by the Shelby Electric Company. It is a handblown bulb with carbon filament. Wattage- Began at 60 watts, currently shines at 4 watts. Left burning continuously in firehouse as a nightlight over the fire trucks.
Mazda was a trademarked name registered by General Electric (GE) in 1909 for incandescent light bulbs. The name was used from 1909 through 1945 in the United States by GE and Westinghouse. Mazda brand light bulbs were made for decades after 1945 outside the US. The company chose the name due to its association with Ahura Mazda, the transcendental and universal God of Zoroastrianism whose name means light of wisdom in the Avestan language.
I'm having trouble getting my head around the starched collars of mighty GE naming a major product after the
transcendental and universal God of Zoroastrianism.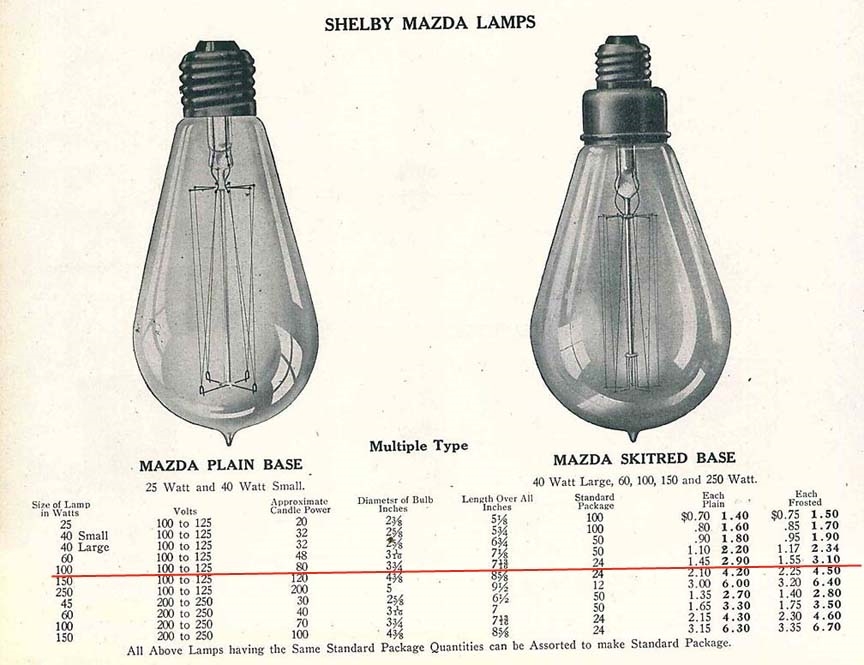 I believe the Mazda bulbs which Shelby also made, were tungsten filament, plus patented 8 years later then the livermore bulb,
so the Livermore bulb is not a Mazda but this catalog page from 1912 shows Shelby Mazda bulb prices of the era.
For example let's take the ubiquitous 100 watt bulb we all grew up with. Standard packaging is 24 bulbs, but there are two prices
for plain and two for frosted. I don't know if they are for individual purchase vs a case buy, or could be plain base vs skirted base.
Damifino?
Plain ------ $1.45 in 1912 = $36.64 in 2017 ---- $1.55 in 1912 = $39.17 in 2017
Frosted---- $2.90 in 1912 = $73.28 in 2017 ---- $3.10 in 1912 = $78.34 in 2017
Not cheap but for those who were anointed with electricity and light bulbs it was a life altering experience. Seriously, not having
to replenish and clean up after sooty whale oil or kerosene lamps. Didn't have to watch Johnny Carson by candlelight either.
Sure that was romantic but you guys could just roll over and go to sleep on the dry spot while she had to get up and bank the fire, check on the kids, make sure the chickens were locked up, and snuff the candles.
This is the last bulb I bought...

link