Undertoad Tuesday Jan 24 01:41 PM

1/24/2006: Shoe tree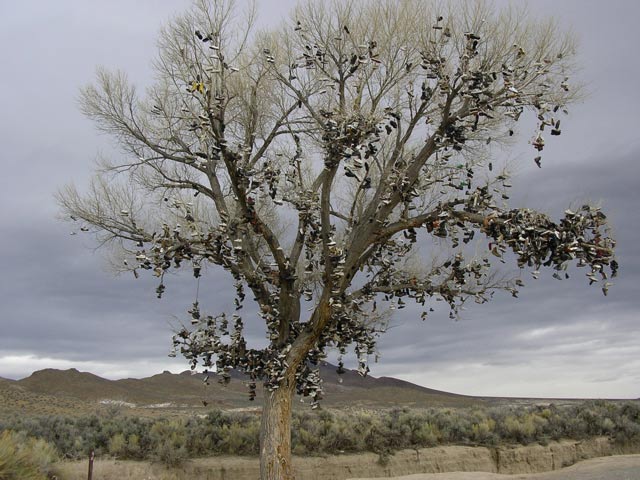 Been a while since I dropped the information on an image, but that's what I've done here. So I don't remember where in the world this is. But the I thought, it doesn't really matter, does it? This shoe tree is somewhere in the world. It's a fine work of all the people who gave to it. Enjoy.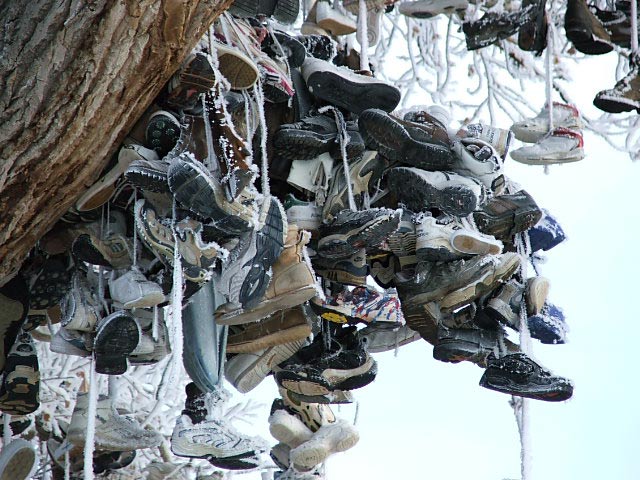 ---

jinx Tuesday Jan 24 01:48 PM

Looks like there are several. Cool.

---

wolf Tuesday Jan 24 02:26 PM

I'm more used to seeing those on power lines. Guess the trees are for more rural communities.

---

Trilby Tuesday Jan 24 02:31 PM

that is wickedly beautiful

---

lumberjim Tuesday Jan 24 02:58 PM

we should start one

---

Elspode Tuesday Jan 24 03:25 PM

They must have a horrific gang problem there.

---

Trilby Tuesday Jan 24 03:34 PM

A shoeless gang?

---

xant Tuesday Jan 24 03:39 PM

Quote:

Originally Posted by Brianna

A shoeless gang?

The phenomenon that Elspode (and, I assume, wolf) is referring to is the use of shoes to mark inner city gang territory. I don't know if this is a worldwide phenomenon, but I've certainly seen it all over the place here in California. If you see dangling shoes on a phone or powerline overhead, you might not want to linger in the neighborhood.

---

dar512 Tuesday Jan 24 03:41 PM

Somewhere in the world, there is a kid who now has a smart-ass answer when their parent says, "Put those things in your closet. You think shoes grow on trees?"

---

lumberjim Tuesday Jan 24 04:31 PM
i thought it was "do you think money grows on trees?"

---

Leah Tuesday Jan 24 04:42 PM

There's some pretty expensive looking shoes on that tree.

---

Bromskloss Tuesday Jan 24 05:18 PM

Eww..

..what _are_ those white spots growing on the fabric!? Tricorder indicates.. H<sub>2</sub>O crystals! Oh.. it's winter time.

---

dar512 Tuesday Jan 24 05:33 PM

Quote:

Originally Posted by lumberjim

i thought it was "do you think money grows on trees?"

It was multi-purpose in our house.

---

capnhowdy Tuesday Jan 24 06:22 PM

I wish we had one here. I would be wearing a lot better pair of catheads than I 'm wearing now.

I've seen the powerline shoe thingie here in this one horse town. I never knew it had anything to do with gang activity. Learn some thing every day. Especially here in the Cellar.

Cool image. Never saw one of these. Or heard of it.

---

jstbuch Tuesday Jan 24 07:07 PM

there is one between San Diego and Laughlin, NV. When I first turned 21 (5 years ago) my friends and I road tripped from SD to Laughlin. About 30 beers into the trip we saw the tree and decided it would be fun to add our shoes to it. Of course, they were the only shoes we brought with us. Laughlin... in the summer... no shoes... drunk off our asses... not cool.

---

xoxoxoBruce Tuesday Jan 24 09:51 PM

Somewhere, Footwear Association Executives are smiling. Ka-ching Ka-ching
---

Sundae Wednesday Jan 25 05:37 AM

Shoes on powerlines don't always suggest gang activity - sometimes they just suggest a poor kid has been bullied on his way home from school (shoes on the top of bus shelters are common here too).

But potentially useful info for travellers all the same.

---

VinDurzle Wednesday Jan 25 08:04 AM

cool! saw this just the other day on tv...'twas this very tree too! Apparently this particular tree is simply a 'wishing well' couples tie 1 shoe each together and lob em up for good luck in their relationship ... singles do it themsesles ...apparently

the ditch behind the tree is full of old shoes that have missed and fallen over time. Cant remember where it was though other than to say it was in the good old US of A

---

LabRat Wednesday Jan 25 12:42 PM

Well, I guess I'll be the first (only?) to say I think this is kind of stupid. I think it's rather ugly myself, but apparently am in the minority.

---

glatt Wednesday Jan 25 12:52 PM

I'd be pissed if it was my tree. It's like TPing a tree, except more permanent.

---

wolf Wednesday Jan 25 01:46 PM

The gang thing is an urban legend. Shoes do not mark gang territory. Bullet riddled bodies surrounded by shell casings (more casings than bullet holes in the body, homey can't shoot for shit) mark gang territory. The shoes over the powerline thing has two possible origins ... one is the end of school year joy of throwing your own sneakers over the power lines ... esp. parochial schools won't let students wear sneakers to classes other than gym. The sneakers are carried over the shoulder by tying the laces together. (In some places it might mark the end of the summer as the old pairs are tossed up when the new pair is purchased during the back to school sale.)

If it's not done by oneself in a celebratory gesture, it's the result of bullies stealing your sneakers and tossing them up into the powerlines.

No gangs, in the West Side Story sense of the word involved at all.

---

CharlieG Wednesday Jan 25 01:51 PM

Dad (old time NYer) said it started back at least in the 1930s - back then, you got 1 new pair of sneakers/year - typically either end of school year, or beginning (I can't remember which - but I believe END) - you took your old worn out pair, and threw them up on the wires near your corner - it was bragging you could afford a new pair - remember, it was the depression

---

glatt Wednesday Jan 25 01:55 PM

Quote:

Originally Posted by lumberjim

we should start one

Here's a nice tree we could use to start one. The little tree in the front yard.

---

Saraax Wednesday Jan 25 07:13 PM

From someone who lives in an area of DC where shoes are seen on power lines fairly often...they represent someone who has died recently. Street way of honoring a person....though its easy to see where the gang legend might have sprung from, seeing as more people die in gang riddled areas....

---

Trilby Wednesday Jan 25 07:19 PM

You know, I count on you people to give me the straight dope on these things but you all can't seem to agree on what the hell this means and I'm getting upset! if you guys don't have ONE theory on what this...---***i'm sorry! i'm veklempt!***

---

Happy Monkey Wednesday Jan 25 07:38 PM

Anyone can throw shoes, so it can mean whatever the thrower intends. Everone's probably right.

---

zippyt Friday Jan 27 12:06 AM

At the back gate of Camp Pendelton ( in CA ) there is a tradition of when you get out , if you were a GRUNT ( rifle and pack toting Ground pownder ) as you were leaveing the bace for the LAST time ( as in you had gotten discharged ) , you would exit the gate and pull to the side of the road , you would then grab your Humping boots ( the boots that you had walked MANNNNNNNY miles in ) and Bolo them over the power line there .
I did it as did MANY others .
I knew one of the MP's that maned that gate , when they saw a car pull over after leaveing the gate they dove for cover ,
evedently some of the folks wernt THAT good of a shot

!!!

---

Clodfobble Friday Jan 27 10:30 AM

Our high school's marching band used to do this with their uniform shoes at the end of every year. Or maybe it was just the seniors, I wasn't in the band. At any rate, the school would have them all down by the beginning of the next school year.

---

bjlhct Wednesday Feb 1 09:55 PM

I saw that very tree.

On a road trip....don't even remember exactly where now. I think maybe eastern Nevada or southern Utah. I do remember that it is pretty much in the middle of nowhere, save for a couple farms in the general area, but there are some cliffs around, and a long, long road. NOSTALGIA!

---
Your reply here?

The Cellar Image of the Day is just a section of a larger web community: a bunch of interesting folks talking about everything. Add your two cents to IotD by joining the Cellar.