Undertoad Monday Jan 23 12:24 PM

1/23/2006: Greenpeace takes dead whale to Japanese embassy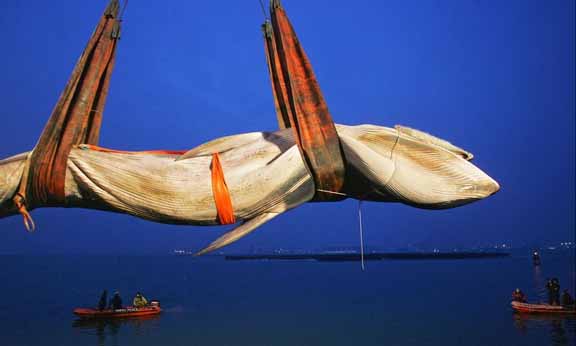 xoB sends along the above image and story, of a dead fin whale being lifted onto a truck. The whale died, apparently of natural causes, off the shores of northern Germany and Greenpeace offered to help marine biologists get the beast to a nearby facility for study.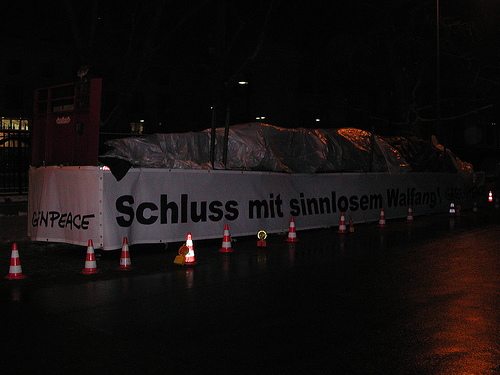 The Greenpeace folks then took the whale 120 miles south to the Japanese embassy in Berlin, where they dropped it at the front door. flickr photo set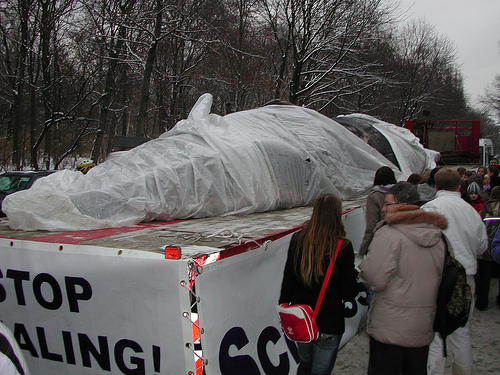 Their point is that Japanese don't need to whale for scientific purposes, if whales can be retrieved through other means.

Sascha at we make money not art paints the tale pro-Greenpeace, but the marine biologists were kinda pissed. Apparently the beast is now at a Berlin facility. No word on who moved it there... or whether they made any other stops.

---

seakdivers Monday Jan 23 12:26 PM

Sheesh - the poor thing looks really deflated in the top picture!

---

Elspode Monday Jan 23 02:03 PM

So Greenpeace lied to get the raw material to make their point? That's not cool.

---

Jordon Monday Jan 23 02:33 PM

It died in Northern Germany

Ja it vas chust laying zere beside der autobahn.

---

Leah Monday Jan 23 04:06 PM

I don't like the fact that Greenpeace had to use a dead whale to get their point across, poor whale, but something has to be done with those Japs killing every living thing that lives in the ocean. They have not only fished and killed every living thing in and around Japan and Asia, but now they are fishing and killing everything in oceans around other countries. STAY AWAY FROM US

. Leave our waters alone.

---

Pancake Man Monday Jan 23 04:10 PM

Quote:

The Greenpeace folks then took the whale 120 milse south to the Japanese embassy in Berlin, where they dropped it at the front door

You forgot to mention the ringing of the doorbell and running.

---

Leah Monday Jan 23 04:12 PM

---

Undertoad Monday Jan 23 05:13 PM

Died OFF northern Germany, thanks Jord! (corrected)

---

dar512 Monday Jan 23 05:21 PM

You guys have got it all wrong. It's a new SNL routine - Land Whale.

[doorbell rings]
Japanese Embassy: Who is it?
Whale: Delivery for the Japanese Embassy.
Japanese Embassy: Who?
Whale: Land Whale.

---

capnhowdy Monday Jan 23 06:37 PM

Quote:

For the duration of the trip from the coast, it was wrapped in a wet sheet and monitored by a biologist


Monitored? For what?

What a grand gesture!

Maybe this is why I'm an INACTIVIST.

---

xoxoxoBruce Monday Jan 23 08:17 PM Make sure it was still dead....like Franco.



btw...That whale was an orange belt, might have been killed by a black belt.

---

Izanagi Tuesday Jan 24 02:43 AM

Leah,

I pretty much agree with everything you said. There is precious little understanding here about Japan's environmental impact particularly in regards to over fishing. Most Japanese can tell you about many other country's horrible environmental practices, especially when it comes to China and North Korea, but are woefully ignorant of their own. I would wager that there is not another G7 country with a population so uninformed about their own country's, historical or current, wrong doings. It is generally thought here that the American public moves in lockstep with the wishes of the government. However in America there is clear and open dissent with the government on many, many important issues (which is great, keep it up) not so in here in Japan. I know many people here who disagree with the government about whaling and other things but there are no outlets for dissent. The media almost completely ignores anything but the official government line. This Wikipedia article explains Honne and Tatemae, it doesn't do a great job, but it may help explain why Japanese don't/can't stand up to people in power. An often used saying in Japan is "The nail that sticks up, gets hammered down". A really good book is A Public Betrayed: An Inside Look at Japanese Media Atrocities and Their Warnings to the West. It partly explains Japanese ignorance of their own country, and the outside world. Even in China the people know how controlled their media is, but in Japan most don't. You often hear the plaintive cry here of "Why can't the rest of the world understand us?", when in reality it is actually Japan that fails to understand the rest of the world.

Oh yeah,


Quote:

Originally Posted by Leah

those Japs

please don't!



"Jap" is generally considered a racial slur!

---

chrisinhouston Tuesday Jan 24 01:43 PM

At least it was in the winter time, can you imagine if this had happened in August? Whewww the smell!

---

capnhowdy Tuesday Jan 24 06:48 PM

Let's just hope they preserved the penis.

---

xoxoxoBruce Tuesday Jan 24 10:05 PM

Maybe it's a girl, C'ptn.



From here;

Quote:

Tokyo Central Wholesale Market handled 615,409 tons (2,246 tons a day) of marine products, 498 billion yen (1.8 billion yen a day) total in 2003. Some 450 kinds of fish are received; this figure is unparalleled in the world. Marine products sections are set up in three markets: Tsukiji, Ohta and Adachi. Above all Tsukiji Market, handling 89% of the total amount, is one of the biggest markets in the world.

Well, unlike shoes, fish don't grow on trees.

---

milkfish Thursday Jan 26 08:48 AM

That's a big sheet. It would be useful if Godzilla ever decides to join the Klan.

---

Queen of the Ryche Thursday Jan 26 08:35 PM

it didn't explode, did it?

---

imprint Thursday Jan 26 09:17 PM

we could only be so lucky if green peace was moving a whale and it exploded.



---

Aliantha Thursday Jan 26 11:38 PM

It's a shame that noble organizations like Greenpeace should feel the need to resort to such underhanded tactics in order to prove a point.

It's unfortunate that the only thing most people are getting from this incident is that Greenpeace is over zealous in their attempt to 'save the whales'.

For my part, I'm glad such organizations exist. Who else will stand up and do something if not the people who know and understand the situation?

---
Your reply here?

The Cellar Image of the Day is just a section of a larger web community: a bunch of interesting folks talking about everything. Add your two cents to IotD by joining the Cellar.