Undertoad Wednesday Dec 28 03:04 PM

12/28/2005: Strange acrobatic tower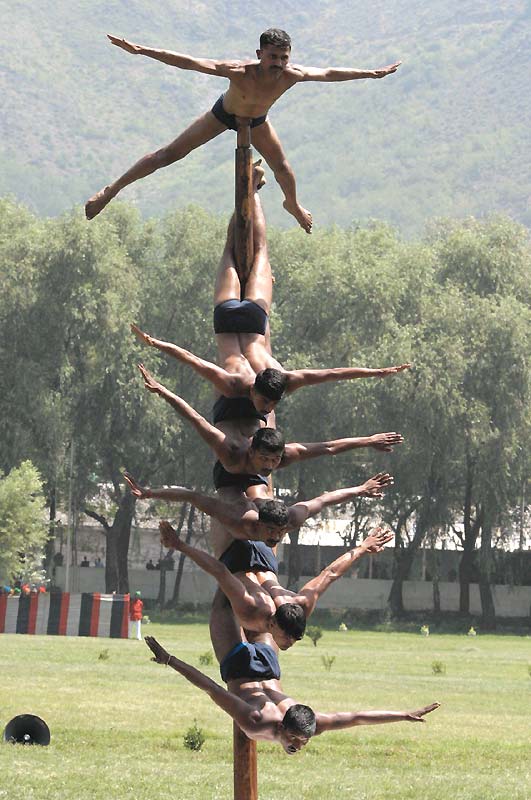 Lurker backwardhatclub sends this one along from a Russian livejournal entry and once again we will have to rely on you Russian translators to get us more information.

It's more picturesque than anything else. Anyone having seen Cirque du Soleil will have seen similar setups. But unlike Cirque detractors, I am all in favor of the use of acrobatics for artistic or even merely aesthetic interpretation.

In other words, I say, if it looks cool, do it.

I would also expect this to have some beefcake value for those who prefer the pictured sex. Like the thighmaster, this kind of activity would have a beneficial effect on ass quality.

---

capnhowdy Wednesday Dec 28 03:10 PM

none of their positions look very comfortable.
I wonder what nationality they are. They don't look very Russian to me.
Great pic......great atheletes.
Any one speak Russian?

---

warch Wednesday Dec 28 03:39 PM

Its all speedos and mustaches.

---

xoxoxoBruce Wednesday Dec 28 04:43 PM

Quote:

I wonder what nationality they are. They don't look very Russian to me.

The dude in the background looks like Pakistani, Afghani, or maybe Indian.

---

limey Wednesday Dec 28 06:36 PM

Not much info on the original site UT, as far as I can see. The caption merely says "These guys are hot!" and the comments all say much the same in more or less colourful language. One poster doubts that it's possible to do.
From the picture html id it seems the gentlemen are Chuvash (time to get out your atlases, boys and girls).

---

xoxoxoBruce Thursday Dec 29 01:18 AM

Chuvash Republic, capital Shupashkar (in Russian Chebokshary) is located in the middle flow of Volga river, in the center of European part of Russian Federation. It borders the Mordova Republic, the Mari Republic, Republic of Tatarstan, Nizhni-Novgorod and Ulianovsk districts of Russian Federation, occupying a territory of 18,3 thousand square kilometres. The climate is temperately continental, the landscape is forest-steppe.

No matter where they're from, a guy balancing on his woody, with 5 of his buddies hanging off it, gets my respect.

---

backwardhatclub Thursday Dec 29 04:54 AM

I got the picture when I was refreshing the last 40 posted LJ images ( http://www.fuzzysquid.com/LJ.php (possibly NSFW)) so you have as much information on it as I do, just thought it was an interesting picture to look at.


Now back to my regularly scheduled lurking.

---

chrisinhouston Thursday Dec 29 09:49 AM

When my kids were teenagers they did some challenge courses built by Project Adventure,

http://www.pa.org/chcourses/high_elements.php

The image above reminds me of this element but with out the safety gear:

---

Trilby Thursday Dec 29 02:34 PM

This is what people do when they are very, very bored.

---
Your reply here?

The Cellar Image of the Day is just a section of a larger web community: a bunch of interesting folks talking about everything. Add your two cents to IotD by joining the Cellar.