Undertoad Wednesday Nov 23 07:02 PM

11/23/2005: School girl's sign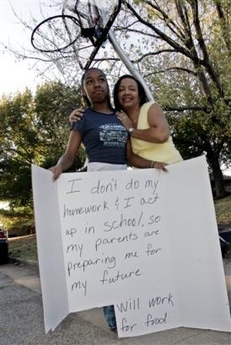 This was in the news the other day, but if you didn't catch it, hey, it's news to you.

Tasha Henderson, right, and her daughter, Coretha, left, pose for a photo outside their home in Edmond, Okla., Friday, Nov. 11, 2005, with the sign Coretha was forced to hold for an hour at a busy intersection so that passing motorists could read it. The 14-year-old freshman already has been forced by her parents to give up basketball and track because of slipping grades, and said she hopes to improve in school so she can play next year.

---

xoxoxoBruce Wednesday Nov 23 09:32 PM

Might work, but I'd make it easier to read.

---

Brett's Honey Wednesday Nov 23 10:33 PM

And....since "one or more motorist(s)" reported this to the police, the DHS is investigating this "psychological abuse"....

---

Mav Wednesday Nov 23 10:38 PM

Perfect. Simply perfect.

When I was a kid, you acted up in school or didn't at least try your hardest in terms of grades, you got a "whupin". Parents these days won't even lay a finger on their kids cause they are so terrified someone will call Child Services just cause they got a spanking. I sure as hell would be embarassed to hold a sign like that up at a busy intersection.

---

xoxoxoBruce Wednesday Nov 23 10:52 PM

I recently saw a similar one with mom in a lawn chair and a boy at the curb. The sign said something like, I steal, I don't go to school, I want to end up in jail like my daddy.

---

capnhowdy Thursday Nov 24 07:57 AM

I had a sign on one of my gear boxes when I played in the band that said "WILL PLAY FOR SEX"

Damn thing worked, too.

---

lumberjim Thursday Nov 24 11:58 AM

more likely:

---

busterb Thursday Nov 24 06:44 PM

I know I'm out of touch. But what's the $79 buck deal? Inquiring minds want to know!

---

wolf Thursday Nov 24 08:28 PM

I spend a fair amount of time with the working ladies when they need a few days off. They know that I won't let their "gentlemen" know where they are. I have no clue what a blumpkin might be.

---

lumberjim Thursday Nov 24 08:35 PM
---

busterb Thursday Nov 24 08:46 PM

That's, well shitty

---

BigV Friday Nov 25 01:14 PM

eww.

Those two pleasures *do not* mix.

---

Lucy Friday Nov 25 04:22 PM

Ah geez, I didn't need to know what it meant, honest. Geez.
As to the sign, I love it.

---

capnhowdy Friday Nov 25 06:39 PM

RALPH

---

seakdivers Friday Nov 25 08:13 PM

Oh for gods sake... I didn't know what the Goatse thing was until I met you people, then it was the dirty sanchez, tub girl, and now this!!!

I am shocked.
And amused.
Thank you.

---
Your reply here?

The Cellar Image of the Day is just a section of a larger web community: a bunch of interesting folks talking about everything. Add your two cents to IotD by joining the Cellar.