Undertoad Thursday Nov 17 09:03 AM

11/17/2005: Show for the Barrio Triste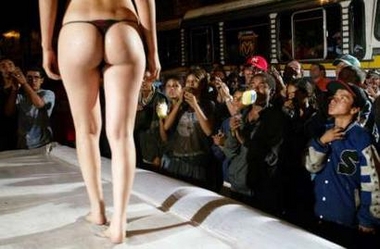 It's rare I pick an IotD for the caption, but this is one of em. Here it is:

A model parades in front of street children, some of whom are sniffing glue, in the drug-infested 'Barrio Triste' (Sad Neighborhood) in downtown Medellin in Colombia November 7, 2005. The event was organised to entertain the children by a member of a local charity that helps children in Barrio Triste by providing food, clothes and cleaning facilities.

Reuters via Yahoo news.

---

Trilby Thursday Nov 17 09:11 AM

I don't know what to say.

---

plthijinx Thursday Nov 17 09:24 AM

I don't know why butt I'm just glued to this picture for some reason......

---

glatt Thursday Nov 17 09:34 AM

I read an article about this somewhere else a few days ago. The "models" are actually underpriveleged girls who have nothing and are being trained by the same charity to enter the fashion/clothing world. I think the idea is that they will design, model, and produce clothing as a career. They didn't have much for the girls to do, so they figured they would use this event to teach them about modeling. So the charity is using the underpriveleged girls to entertain the underprivelged boys.

Seemed kind of iffy to me. Even if they are a charity.

---

capnhowdy Thursday Nov 17 09:37 AM

....and all I ever got from sniffing glue was a fuckin headache. I'm moving to Colombia.

---

Trilby Thursday Nov 17 11:08 AM

Modeling a thong---yes, it's what all girls dream of...some charity!

---

xoxoxoBruce Thursday Nov 17 11:49 AM

I hope the sniffers don't have any glue on their hands.



Oh, and being South America that could very well be a bathing suit.

---

seakdivers Thursday Nov 17 12:47 PM

So she's modeling to help a charity that provides (among other things) clothing for the needy?

Notice in that picture that it's the "needy" that are wearing clothing, not the model.

---

Happy Monkey Thursday Nov 17 12:53 PM

The models give you the clothes off their backs.

Butt they keep the clothes between their cheeks.

---

kelliekd Friday Nov 18 04:40 PM

The guy furthest to the right is adjusting his imaginary tie, preparing for the corporate world. He will have his pick of failed model turned secretary.

---

York Sunday Nov 20 03:25 AM

Lets hope that after the show the glue-sniffing-gang doesnt go look for her to see some more....

---
Your reply here?

The Cellar Image of the Day is just a section of a larger web community: a bunch of interesting folks talking about everything. Add your two cents to IotD by joining the Cellar.