Undertoad Thursday Nov 3 06:34 PM

11/3/2005: Dr. Angry and Mr. Smiles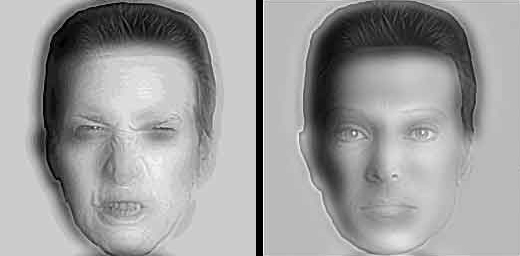 A different kind of IotD today, suggested by axlrosen. Look at this image up close, and you see an angry man and a neutral woman. "defocus" or pull back, and the face on the left becomes more neutral and female while the face on the right becomes more angry and male

From this page of optical illusions at MIT, the official caption:

On a close-up view, you can see on the left face, an angry man and on the right face, a woman with a neutral facial emotion. But further back, the faces change expression and even genders! if you squint, blink, or defocus, an angry man should substitute for the face of the woman and the left angry face should not be angry anymore.

This impressive illusion created by Dr. Aude Oliva and Dr. Philippe Schyns, illustrates the ability of the visual system to separate information coming from different spatial frequency channels. In the right image, high Spatial Frequencies (HSF) represent a woman w69, 243-ith a neutral facial expression, mixed with the low spatial frequency information from the face of an angry man.

---

Emrikol Thursday Nov 3 06:48 PM

The first time I tried it, I misunderstood the directions, and was staring at it a-la 3-D puzzle style where the images blended together. That ended up with a rather nifty result too. It reminded me of a zombie.

*shrugs*

---

capnhowdy Thursday Nov 3 09:46 PM

This is actually current and previous pics of my girlfriend. We appreciate the confidentiality UT.

---

busterb Thursday Nov 3 10:16 PM

Hey leave my x-wife out of this Capnhowdy

---

xoxoxoBruce Friday Nov 4 01:15 AM

You can see the pair of images move away and back by running your cursor (mouse pointer) over the pictures here.
It demonstrates the effect quite well.

---

glatt Friday Nov 4 08:40 AM

I printed this out last week at home to show my wife and kids. First I showed them the picture from two rooms away and asked them to point to the side that was angry, and hold their fingers there. Then I walked directly toward them until I was a couple feet away. They started getting surprised looks on their faces and switching the way they were pointing their fingers. They were totally amazed. They thought it was magic. Well, a trick anyway. It was fun.

Very cool. I'm glad you are sharing it.

---

Cyclefrance Friday Nov 4 09:02 AM

Interesting.....

Easy way for me to get the desired result -

glasses on = left ugly, right neutral
glasses off = left neutral, right ugly

Must remember that when I get home and see the wife tonight...

---

axlrosen Saturday Nov 5 05:56 PM

Quote:

Originally Posted by Cyclefrance


Easy way for me to get the desired result -

glasses on = left ugly, right neutral
glasses off = left neutral, right ugly


Ever see They Live?

---
Your reply here?

The Cellar Image of the Day is just a section of a larger web community: a bunch of interesting folks talking about everything. Add your two cents to IotD by joining the Cellar.