Undertoad Monday Oct 17 05:37 PM

10/17/2005: "Father" art installation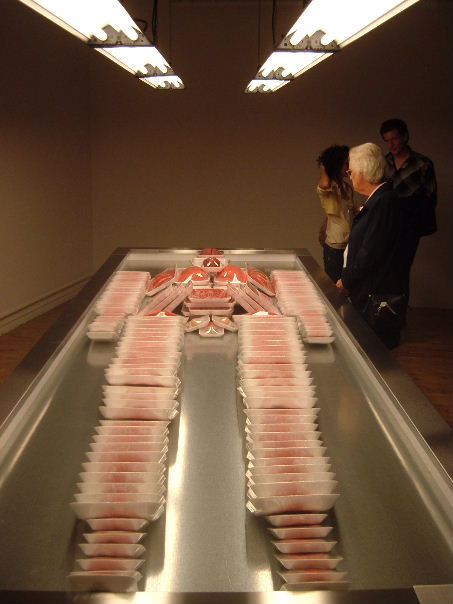 Found on a random LiveJournal page. What we have here is an art installation by artist Melissa Martin. It's called "Father". The artist took a cast of her father to get the right dimensions, and then sculpted him.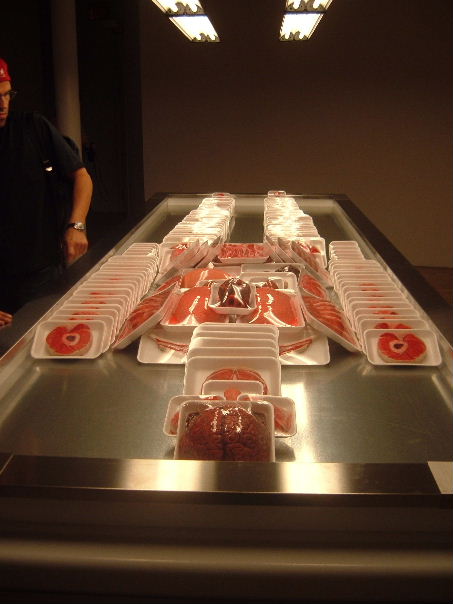 But not out of meat. What you see there is chewing gum. Chewed and then sculpted.

You can find the gallery's website here, and the PDF of the press release for the work is here. The site's description is short, and I'm sure they won't mind if I steal it:

To prepare this work, Martin is performing a sort of cannibalistic patricide. But the "meat" in Martin's sculpture is a little too perfect: the well-grained flesh is a red worthy of an Omaha Steak; the fat, a creamy white; the marrow, an almost gem-like purple. Dozens of steaks, roasts, and organ meats sit in their own shrink-wrapped styrofoam trays waiting in a supermarket-style refrigerator for hungry shoppers to toss into their carts. The way the cuts are arranged, however, might make you halt: it's a human form lying in an oversized refrigerator. It's all the 6'6" of the artist's father's body anatomically sculpted with nearly 300 pounds of chewing gum.

Father is a display of butcher-style meat cuts. These are individually packaged in plastic-wrapped styrofoam trays, and placed in proximity to their anatomical origin in a custom-built, commercial refrigerator— coincidentally termed a 'coffin' by the supermarket equipment industry. During the exhibition period, these pieces that make up Father will be for sale and the sculpture will progressively decrease in size, with the possibility of entirely disappearing.

---

capnhowdy Monday Oct 17 05:47 PM

The artist HAD to hire a lot of people to help chew all the gum. If not she prolly has a sore as hell jaw. This is another wierd piece. But that's cool.....It's freakin ART!
Now I wonder what the artist's father's comments on the sculpture were. I never knew you could lay something on a table and call it sculpture. Learn something every day.
The father must be a real meathead.

---

Elspode Monday Oct 17 06:05 PM

Sick, twisted, repulsive...I love it!

Very, very creative.

---

Lizsun Monday Oct 17 06:07 PM

The entire idea tells me that this is a person who is terribly bored. She needs to work on finding some more appealing ideas.
ME
http://lettingmebe.blogspot.com

---

darclauz Tuesday Oct 18 12:19 AM

why would you feel a need to sculpt your father out of chewing gum? beef might indicate some abuse, i guess...toilet paper might be contempt. what is chewing gum saying? some kind of need to get through who he is, digest him, cannibalize? finding him unpalatable? finding him plastic? making his beef used gum might be seeing her father as a sham, as something so low as to be trash instead of what might be top grade chow.

wolf? your insight?

---

darclauz Tuesday Oct 18 12:20 AM

someone who has decided to dupe the art industry and make a hell of a lot of money selling used gum? someone whose father caught her chewing gum in church and told her she'd never make anything from her life?

---

Bullitt Tuesday Oct 18 12:43 AM

Gum is cheap, won't spoil and smell like ground beef, easily shaped, and looks convincing. Need any more reasons?

---

wolf Tuesday Oct 18 11:42 AM

Quote:

Originally Posted by darclauz

wolf? your insight?

Chewing gum is non-nutritious. It gives us nothing and leaves us with tooth decay and a strained jaw. You can blow neat bubbles, but they pop, leaving you surprised, disappointed, and covered in cloyingly sweet goo. Like male parents, it's non-essential to our lives. The only relationship the artist had with her father was what she could get out of him, rather than what he was made of.

Either that, or it's just fucking weird and pointless crap, like most modern art.

---

dar512 Tuesday Oct 18 12:14 PM

Quote:

Originally Posted by wolf

Either that, or it's just fucking weird and pointless crap, like most modern art.

Wolf --> nail --> head.

---

wah Tuesday Oct 18 12:45 PM

I just want to know what she was thinking while she was chewing what was to become his penis.

---

xoxoxoBruce Tuesday Oct 18 01:28 PM

Life chewed him up and packaged him for disposal......normal.

---

barefoot serpent Tuesday Oct 18 03:15 PM

Life's a bitch and then you're rendered in chewing gum.

or the real deal:
The Visible Human Project

---

kelliekd Tuesday Oct 18 09:29 PM

Do I sense an Oedipus aspect of this? A cast of her father used to make a sculpture with a penis? And she made the cast? Yep, just a chance to see what cannot be unseen.

---

Scopulus Argentarius Wednesday Oct 19 01:52 AM

sees her father as a hulking spectre of meat, eh...

---

xoxoxoBruce Thursday Nov 17 06:03 PM

The sale is on. Then click "exibitions", and click on the picture of packaged meat. 2nd item down.
A thigh steak goes as high as $393 but you can have a testicle for a mere $8.49.

---

dar512 Thursday Nov 17 10:32 PM

The artist is willing to sell her father off for $8.49 a testicle.

---
Your reply here?

The Cellar Image of the Day is just a section of a larger web community: a bunch of interesting folks talking about everything. Add your two cents to IotD by joining the Cellar.