Undertoad Friday Sep 30 11:44 AM

9/30/2005: Taste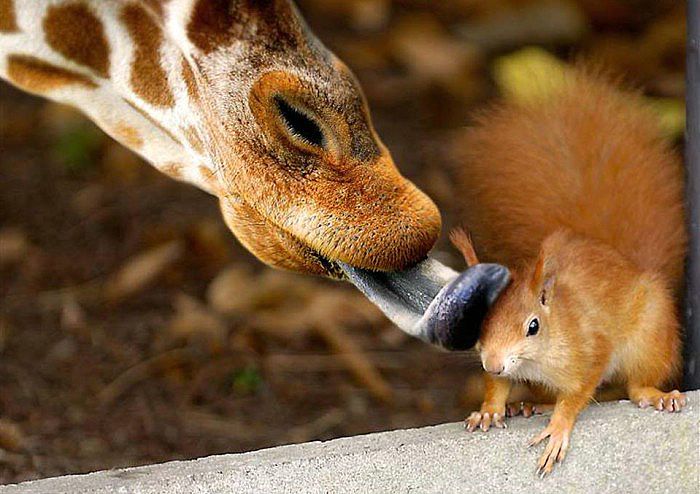 No further information is available on this stunning Friday image found by Bruce.

---

John Friday Sep 30 12:05 PM

It's a giraffe licking a squirrel. What more information could you want?

---

melidasaur Friday Sep 30 12:07 PM

Perhaps this giraffe has discovered a new type of hallucigen... no longer are frogs the hip animal to lick, it's now squirrels.

---

BigV Friday Sep 30 01:04 PM

When I was a tot, we went to the Cincinnati Zoo, and I got a big wet tongue kiss like this from the giraffe. I remember a long purplish snake reaching out and licking my face from my chin straight up over my nose to my forehead. It was over in a flash (or slurp) and I was stunned. Didn't scare or scar me, though. I still love the zoo, and giraffes, but I don't get so close to the cages now, even if the fences are higher. Come to think about it, I remember bars, not fence, in this enclosure, like jail l l l l .

---

LabRat Friday Sep 30 01:24 PM



This is my new desktop pic. Too cute.

---

wolf Friday Sep 30 01:25 PM

Zoos of my childhood are not like zoos of today. I also recall the ornately barred cages style of zoo ... seeing Ziggy the Elephant at Brookfield Zoo in Chicago is one of my cherished childhood memories.

---

axlrosen Friday Sep 30 01:26 PM

My first impression was that there was a huge wad of Grape Bubbalicious gum stuck to the squirrel's head, and the giraffe was trying to pull it off with his teeth.

---

Clodfobble Friday Sep 30 01:36 PM

Maybe it's just because the focus is not very deep, but the edge between the tongue and the squirrel's head looks fishy to me. I suspect it may be photoshopped.

---

Elspode Friday Sep 30 03:29 PM

When I was a kid, it was not yet dangerous to feed zoo animals junk food. Consequently, we used to take huge bags of marshmallows to feed the giraffes and bears. The giraffes rather enjoyed them, and would literally chase you along the path to get at your marshmallows. They were displayed in a large pit, along the top of which the zoo visitor pathways ran, but their heads reached up over the top, and their tongues out over the fence. We'd feed them about 2/3's of a bag, then ride the tram over and give the rest to the black and Kodiak bears who would stand up on their haunches, wave their gargantuan paws and beg for them.

[sarcasm]Yep, those were the good old days. Then PETA came along. Last time I went to the zoo, they had a window, and visitors just passed Taco Bell back and forth as they watched the people on the other side.[/sarcasm]

The giraffes? They still look like they'd enjoy some marshmallows.

---

Vegeta Friday Sep 30 03:36 PM

It's licking the squirrel's eye. Damn... that's hardcore...

---

dar512 Friday Sep 30 03:38 PM

I don't really think that's a fair attitude, Els. Imagine that hundreds (thousands?) of people wanted to give your kid junk food. Would you let them? I think that's the reason they don't allow that anymore. Animals filling up on junk food and not getting the proper diet.

And I don't think you can blame this one on PETA. It's the zoo vets.

---

Elspode Friday Sep 30 03:47 PM

I *did* note that it was sarcasm.

I don't feed my own animals junk food...I'm pretty sure it isn't good for zoo animals, either.

Serious much today, Dar?

---

Silent Friday Sep 30 03:52 PM

All I can say is I hope the squirel doesn't taste good.

---

capnhowdy Friday Sep 30 05:18 PM

Great image. This is the first time I've ever seen an animal lick something with the BOTTOM of its tongue. But then again... I'm not an animal expert. Squirriels in my area are grey. Unless they are fox squirriels. Then they can be from any color to multicolor. Squirriel is a wierd looking word. So is tongue. Now squirriel tongue....rambles on pointlessly..........

---

dar512 Friday Sep 30 05:32 PM

Quote:

Originally Posted by Elspode

Serious much today, Dar?

Yeah. It's been a tough couple of weeks.

---

xoxoxoBruce Friday Sep 30 06:08 PM

We're here for ya, Man.

---

poohbearbeth Friday Sep 30 06:22 PM

I am sure Bri is going to love this
This is adorable

---

YellowBolt Friday Sep 30 06:42 PM

"Tastes like chicken."

---

xoxoxoBruce Saturday Oct 1 03:07 PM

Somebody say chicken?

---

samothy Monday Oct 3 10:22 PM

mmm...brains

---

wolf Tuesday Oct 4 02:18 AM

G'day samothy

---
Your reply here?

The Cellar Image of the Day is just a section of a larger web community: a bunch of interesting folks talking about everything. Add your two cents to IotD by joining the Cellar.