Undertoad Wednesday Jul 27 06:10 PM

7/27/2005: Foot sculpture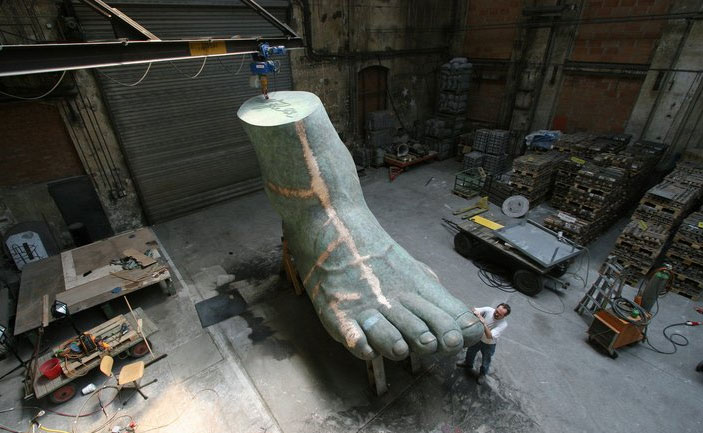 Right on the heels (ha! ha!) of the massive French sculpture honoring Jules Verne comes this German sculpture... honoring the German footballer Uwe Seeler. The WaPo official caption doesn't say whether the gent modeled for the shot, or whether his skin also bears that bluish hue with strange stripes in it. But it does underscore the great importance of always keeping your toenails cut.

---

Hobbs Wednesday Jul 27 06:18 PM

I'm wondering if the artist is planning to model a giant Dr. Scholl's corn pad?

---

Trilby Wednesday Jul 27 06:35 PM

Reminds me of the Giant Foot of Monty Python fame--the one always coming down and crushing you when you least expect it.

---

xoxoxoBruce Wednesday Jul 27 06:37 PM

All you people that criticize the NEA can just stop. It obviously ain't no better in the "cultured" countries.

---

richlevy Wednesday Jul 27 10:41 PM

Somehow the phrase 'feet of clay' comes to mind.



Quote:

Ozymandias
I met a traveler from an antique land
Who said: Two vast and trunkless legs of stone
Stand in the desert. Near them, on the sand,
Half sunk, a shattered visage lies, whose frown,
And wrinkled lip, and sneer of cold command,
Tell that its sculptor well those passions read,
Which yet survive, stamped on these lifeless things,
The hand that mocked them, and the heart that fed,
And on the pedestal these words appear:
"My name is Ozymandias, King of Kings:
Look upon my works, ye Mighty, and despair!"
Nothing beside remains. Round the decay
Of that colossal wreck, boundless and bare
The lone and level sands stretch far away.

-Percy Bysshe Shelley
1792-1822




---

footfootfoot Wednesday Jul 27 11:06 PM

It does bear a slight resemblance...

---

Wombat Thursday Jul 28 02:12 AM

I was thinking of the Colossus

---

axlrosen Thursday Jul 28 03:19 PM

Looks like Mr. Seeler had some issues with his big toenail, ew.

Also - is that a robotic arm that's signing some crazy signature on top?

---

Promenea Thursday Jul 28 03:24 PM

It is an ugly foot - that long first toe and the weirdly shaped nail just makes it unappealing.

---

Oafed Friday Jul 29 12:42 AM

The second toe is longer than the first... What does that mean again?

---

Hobbs Friday Jul 29 10:42 AM

I just thought of something. Where the hell are they planning to put this thing when it's complete? Not exaclty a piece of art you want in your livingroom or infront of city hall.

---

LCanal Friday Jul 29 09:53 PM

What's his next project? Maradonna's "Hand Of God" perhaps?

---

footfootfoot Friday Jul 29 11:08 PM

Quote:

Originally Posted by Oafed

The second toe is longer than the first... What does that mean again?

I think it is supposed to mean royalty.

---

wolf Saturday Jul 30 01:37 AM

Quote:

Originally Posted by Oafed

The second toe is longer than the first... What does that mean again?

It means he's a werewolf.

---

Katkeeper Sunday Jul 31 06:32 AM

Bluish hue and strange stripes suggest to me that the foot is carved out of rock. If so, it is massive and very heavy and probably meant to be outside.

---

xoxoxoBruce Sunday Jul 31 10:18 AM

The foot is bronze with a chemically produced patina. The stripes are from grinding imperfections and will be touched up with chemicals.

---

capnhowdy Monday Aug 1 10:20 AM

I'm not sure that this isn't the foot that was pulled out of John Kerry's mouth not so long ago.......
Believe it or not MOST people's second toe is longer than the "big toe". What an observation.

---

xoxoxoBruce Monday Aug 1 09:11 PM

Maybe the big toe (and the nail on it) have been hammered in from kicking the ball 3 zillion times.

---
Your reply here?

The Cellar Image of the Day is just a section of a larger web community: a bunch of interesting folks talking about everything. Add your two cents to IotD by joining the Cellar.