Undertoad Friday Jul 15 12:24 PM

7/15/2005: Newborn pandas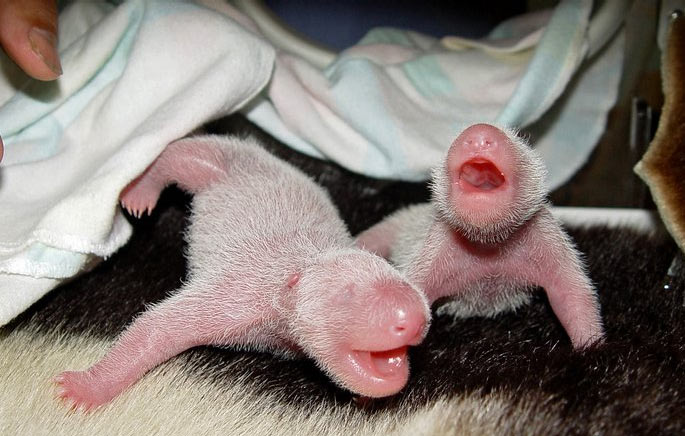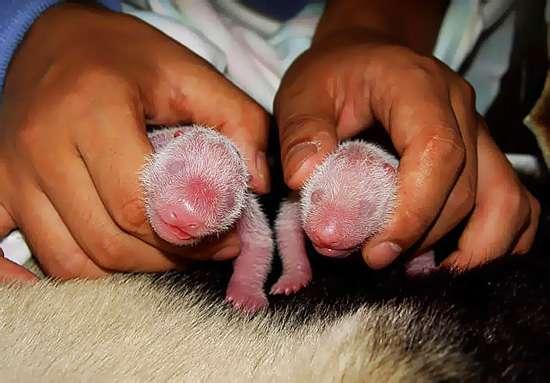 OMG. Lookatem! The official caption:

Chinese researchers care for twin newborn giant panda cubs at the China Giant Panda Protection and Research Center in Wolong, southwest China. Giant panda Guo Guo gave birth to the twin cubs July 8.

Funny thing is, the very same day, giant panda Mai Xhang gave birth to a single cub at the Washington National Zoo. There they have a panda cam page, but no pics of the little one such as the above. (And I couldn't get the video to load...)

---

Happy Monkey Friday Jul 15 12:29 PM

They're Muppets!

---

Elspode Friday Jul 15 12:30 PM

Oh sure, they're cute in an IOTD photo, but let one be sqeaking and crawling around under your covers when you hop into bed, and you're gonna dampen your Jockeys.

---

capnhowdy Friday Jul 15 05:52 PM

I LOVE FRIDAYS
Behold nature in all its glory!
These guys are super cute. I'd have never dreamed they would be so tiny.
Wonderful images. Thank you, God....uh and yes I appreciate you too, UT.

---

Trilby Friday Jul 15 06:26 PM

They DO look like Muppets! Good call, HM! So...cute in an ugly sort of way!

Does that person holding the little critters, does he/she look like he/she has a case of nail fungus or what? Those nails are gross--should he/she be HOLDING those babies?


---

Griff Friday Jul 15 06:30 PM

Oddly, new born pandas use pirate talk to communicate. Yarrrrrrrrrrrrrrrrrr!

---

footfootfoot Friday Jul 15 07:08 PM

My name is Deuce Loosely, and I am The Panda!
The Panda Song

Sifl: No WAY, dude, you're outta here!
Panda Dude: I have to sing my tale to the panda!
Sifl: You can't sing... you're not a musician...don't let him do this!
Panda Dude: This next song is the new first song on our new album.
Olly: WHAT?!

Panda Dude:

This is not a rebel song... This is.. the PANDA!

After dark, the pandas stalk,
Nightmare creatures, with black hearts.
Ravenous teeth that glow in the dark,
Feasting on bums that sleep in the park!

The pandas are coming!
So hide under your beds!
The pandas are coming!
They'll rip your ass to shreds!

(Sifl: get out of the studio
Olly: yeah, get out of here, dude
Sifl: Hey, Pandaboy
Panda Dude: I SHAN'T!)

The panda is indeed the most mysterious of all creatures
Shrouded in the enigma of his black and white coat
What kind of camouflage is this, black and white?
Hiding in an Oreo factory? Could be!
That's just another chapter in the ominous saga of the panda!

The pandas are coming
To rip off your head!
The pandas are coming
On a rampage of the dead!

Like the shark, the panda has millions of teeth
Which it uses like a hacksaw to cut through bone, candy, and fences
The Chinese believe that if you find a discarded panda tooth
You have the power to summon Godzilla
I'm drunk on panda mystery!

The pandas are coming!
So hide under your bed!
The pandas are coming!
They'll rip your ass to shreds!

This has been chapter 1 in my ongoing songs about the panda, which shall cease at number 820. You will see me again, Mr. Sifl!

Sifl: Just get a clue.
Panda Dude: Get a PANDA!

---

xoxoxoBruce Friday Jul 15 09:41 PM

The zoo site is overloaded but Animal Planet is mirroring the camera.

---

footfootfoot Friday Jul 15 11:11 PM

That is the cutest little hat, they gave one to InchInchInch when he was born, this one looks jsut the same but tinier.

Hard to believe that a big panda would have such miniscule offspring. Could it be possible that the bears give birth and don't realize it? Do the little guys get lost in the sauce? Do the dad pandas roll over on the babies in their sleep? Do they flavor the milk with bamboo?

---

footfootfoot Friday Jul 15 11:12 PM

On second look it seems to be a miniture receiving blanket. Still cute though.

---

wolf Saturday Jul 16 01:33 AM

I think I have to confess that after the initial "awwww cute!" reaction, I flashed onto Vin Diesel singing "Do the Peter Panda Dance," which took me to another "awwww cute!" reaction.

---

Ubergeek Saturday Jul 16 07:54 PM

Damn! They REALLY do look like Muppets. I can just hear Frank Oz screaming:

"Move the mouth you idiots!! Move it's arms!!" :-)

---

Leah Sunday Jul 17 09:46 PM

The mother panda must be sedated otherwise Iím sure she wouldnít allow the handlers to keep interfering with her babies. Let her be, let her look after her own babies, maybe thatís why there are so few left in the world.

---
Your reply here?

The Cellar Image of the Day is just a section of a larger web community: a bunch of interesting folks talking about everything. Add your two cents to IotD by joining the Cellar.