Undertoad Friday May 13 09:39 AM

5/13/2005: Record dog walk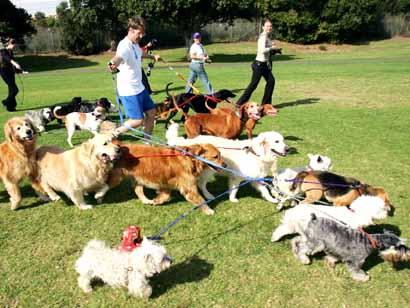 Seems rather... uh... pedestrian? That's the whole point - it turns out that this guy is setting the world record for number of dogs successfully walked. Who'da thought the record was a mere nineteen? But there it is.

full story

---

lookout123 Friday May 13 11:28 AM

i'm ready to kill someone pretty much every time i walk my two. i wouldn't want this guy to carry a firearm after walking 19 dogs.

---

acinerba Friday May 13 01:48 PM

Would it be more manageable if they were smaller dogs like chihuahuas? What about those Alaskan malamute pack dogs? They all go in one direction...

---

Kellio Friday May 13 02:04 PM

hugs not drugs



We had an animal Expo thing here in Jacksonville last weekend that Animal Planet did, There were dogs EVERYWHERE, I was holding my dog & 3 friends dogs while everyone went to the bathroom & damn.. 2 golden retrievers, a dachsund and a big black lab do not mix when walking to a nice tree that millions of other dogs had pissed on.. Interesting times..

---

Troubleshooter Friday May 13 02:09 PM

Anything to get attention...

Now, if he'd pulled a Pink Flamingos at the end I'd have been impressed.

---

capnhowdy Friday May 13 08:49 PM

[quote]Who'da thought the record was a mere nineteen?[quote]...UT
Really! WHO'D A THUNK IT?
I've a good mind to break that puny record this weekend. I think the larger dogs are a better idea as long as you've got the ass to hold them. My two dogs ( a Jack Russell Terrier & a Chihuaua) sp?, would most likely monkey wrench this whole fuckin deal...
I'm sure there would be knots in the leashes at the end of the walk even a sailor has never seen. I can see where it would be easy for this guy to go postal.
From the depths of an evil mind: I'd love to run by and drop a cat in the middle of this operation....hee hee.......

---

capnhowdy Friday May 13 08:56 PM

At second glance, it looks like he chose only mature, or should I say "over the hill" dogs. Gotta give the Aussie credit; it wouldn't have been real smart to choose puppies. I say again- I'll break this puny record this weekend.

---

xoxoxoBruce Friday May 13 11:29 PM

Amazingly unimpressive. Half credit if he poop scooped.

---

capnhowdy Saturday May 14 04:38 PM

Quote:

Originally Posted by xoxoxoBruce

Amazingly unimpressive. Half credit if he poop scooped.

Now THAT would be a challenging record to break. Put a cast on one arm and I'll take four tickets.

---

Leah Sunday May 15 06:54 PM

Good on him, although I really wouldn't want to be in his shoes.
Every time I walk my two dogs, without fail they do a poop, and I have to pick up after them. Over here in sunny Sydney we have to carry a dog poop bag (supposed to anyway). Imagine all the poop he would have to pick up. Not to mention the wee stops. It's like a chain reaction with my dogs, one wee's and the other one will do it over the top of the other wee.


---
Your reply here?

The Cellar Image of the Day is just a section of a larger web community: a bunch of interesting folks talking about everything. Add your two cents to IotD by joining the Cellar.