Undertoad Thursday Apr 7 11:59 AM

4/7/2005: Information bombing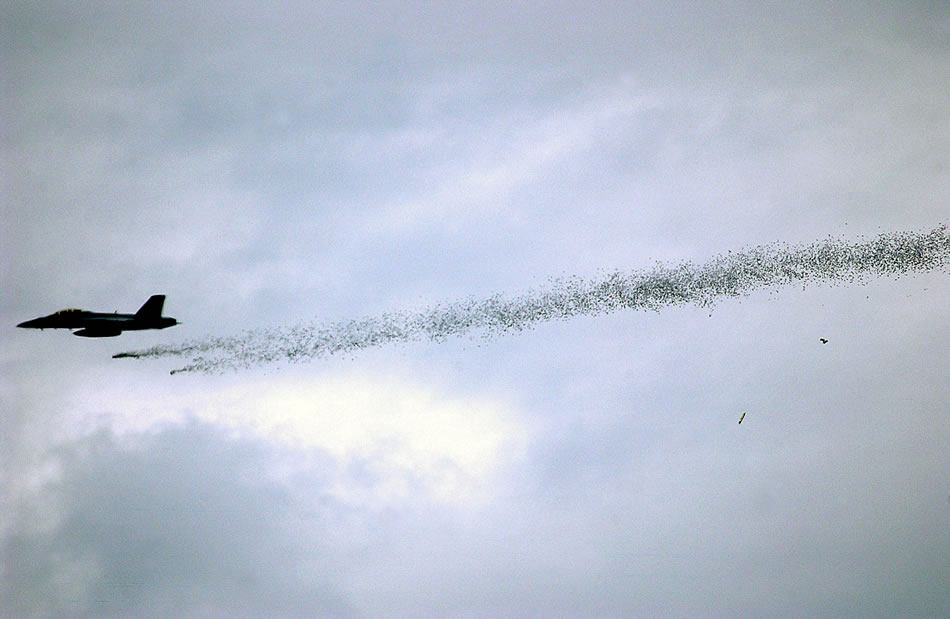 I had never seen this before, and it's striking. This is leafletting by jet, offered at Strategypage.

An F/A-18F Super Hornet, assigned to the "Black Aces" of Strike Fighter Squadron Four One (VFA-41), drops a Payload Delivery Unit Five (PDU-5) bomb filled with leaflets approximately 1 mile away from USS Nimitz (CVN 68) during a training exercise. Leaflets lay out the consequences of actions in an effort to ensure local civilian populations are properly informed. Each leaflet is typically 3-by-6 inches in size, written in Arabic, and are dropped in fiberglass containers that explode over designated areas to increase scatter and drift to the ground. Nimitz and Carrier Strike Group Eleven (CSG-11) are currently conducting a Joint Task Force Training Exercise (JTFEX) off the coast of southern California. U.S. Navy photo by Photographer's Mate Airman Elisabeth Ann Saccotelli

Sure it's better than dropping REAL bombs, but who's gonna clean all that up? Huh? D'ja ever think of that??

---

Vegeta Thursday Apr 7 12:36 PM

I've actually always wondered that. But in the grand scheme of things, I'd say littering beats killing people, if the former can lessen the latter. Littering in America is entirely different however, and should be dealt with by killing people. *G*

---

And Thursday Apr 7 01:26 PM

Oh, don't worry, I'm sure somebody will die soon enough. Sneak attacks, suicide bombers, hypertense marine checkpoints, unexploded ordinance, stepping on a nail and getting tetanus...

Or maybe paper cuts...

---

Uryoces Thursday Apr 7 01:53 PM

It's an Honor Bomb:

"Greetings, insurgents!

Please shoot yourself in the head, and pass this on to any other insurgents in your immediate area.

Allah Ackbar!"

---

LabRat Thursday Apr 7 02:41 PM

Reminds me of the M*A*S*H* episode where the bomb falls in teh middle of camp, and when it explodes, tons of papers come out. I forget what they said now. I loved that show. Hawkeye Pierce was my idol.

---

dar512 Thursday Apr 7 06:00 PM

The sign said "Fine for littering" - so the pilot did.

---

richlevy Thursday Apr 7 07:53 PM

Did anyone pick up one of those flyers?


---

xoxoxoBruce Thursday Apr 7 09:57 PM

I use to work with a guy that was in the 1st Armored Divison in North Africa during WW II. He said they paid a local to write a leaflet in the local tongue and printed hundreds of thousands to drop ahead as they progressed eastward. They had dropped over half of the leaflets before they found out they were an ad for Abdul's Tea.

---
Your reply here?

The Cellar Image of the Day is just a section of a larger web community: a bunch of interesting folks talking about everything. Add your two cents to IotD by joining the Cellar.