Undertoad Tuesday Mar 22 12:22 PM

3/22/2005: Girl with no legs gets around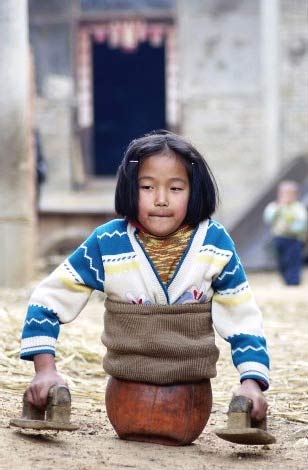 Another day, another xoB/WaPo image. The official cap says Qian Hongyan, 8, crawls with two home-made props and part of a basketball at Zhuangxia Village in Yannan Province, China. The girl lost both of her legs in a traffic accident in 2000 at the age of three.

"This is kind of a downer depending on point of view," xoB says. Yup. It's sad that it happened; it's sad she doesn't have a better way to get around. But she looks well, doesn't she? Kind of a strange contrast between her well-kept face, dressed hair and clean, nice clothing, and her rudimentary means of getting around.

---

lookout123 Tuesday Mar 22 12:24 PM

fascinating. it looks like she lost much more than he legs. it looks like her torso has been shortened as well. if so, what of the organs inside?

---

Trilby Tuesday Mar 22 12:38 PM

Wow. Remind me, when I begin to sing the blues, of this incredible girl. Just *wow*
She must have a colostomy and urostomy...

---

sandra77 Tuesday Mar 22 12:46 PM

That is really quite a picture & it does bring mixed feelings. I am amazed at the ingenuity that worked out the setup with an old basketball!! She does look like she is doing very well and that is another thumbs up for her attitude.

Sandra

---

Clodfobble Tuesday Mar 22 12:47 PM

I don't get the basketball. Is it actually attached, just for cushion and height, or does it roll?

---

Happy Monkey Tuesday Mar 22 12:49 PM

The former.

---

mrnoodle Tuesday Mar 22 12:52 PM

i'm thinking the rest of her torso must be inside the b-ball. don't see how she could keep it attached, otherwise. so maybe it's not for cushion, but keeps her clothes from getting torn as she moves around.

---

Clodfobble Tuesday Mar 22 01:14 PM

It does say "part" of a basketball, so yeah, maybe the top is open.

---

Elspode Tuesday Mar 22 01:34 PM

This is one of those pics that you look at and suddenly, there is absolutely *nothing* really, really wrong in your world by comparison.

What a nervy kid.

---

lookout123 Tuesday Mar 22 01:36 PM

ooooh. that makes a little more sense i suppose. see, in america someone would have spent hundreds of thousands of dollars to come up with something that accomplishes no more or less than what she has. where she is they said, "hey, hand me that basketball." creativeness and ingenuity.


can you imagine how strong her shoulders and arms must be?

---

Wormfood Tuesday Mar 22 01:39 PM

Hope she can stay upright when she's doing something with her both hands...
So dont pump up the ball please..

---

chrisinhouston Tuesday Mar 22 03:21 PM

Perahps Rawlings or Wilson could come to her rescue, it would make a great headline.

---

xoxoxoBruce Tuesday Mar 22 03:51 PM

When I saw the picture I thought stoic, not pathetic; confident, not desperate; adjusted, not beaten, generally a perfect picture of the adaptability of the human spirit.
But then looking again when I went to email it to UT, I thought maybe I'm cockeyed, maybe this will bum everyone out.
So naturally, I dumped it on him to decide.


Your responses sound like I was right in my first impression.

---

Happy Monkey Tuesday Mar 22 04:02 PM

Reminds me of Johnny Eck.

---

xoxoxoBruce Tuesday Mar 22 04:09 PM

C'mon HM, you say she reminds you of Johnny Eck, then give us a link with no picture.

---

Happy Monkey Tuesday Mar 22 04:16 PM
---

lookout123 Tuesday Mar 22 04:31 PM

ok, am i the only pervert in the cellar? when i see the thread title, my first thought isn't that a legless girl has found a way to transport herself. i'm thinking that a legless individual... oh never mind.

---

BrianR Tuesday Mar 22 09:56 PM

My first thought upon seeing the pic was to flash back to Weebles of my childhood.

I am SO going to Hell.

---

404Error Wednesday Mar 23 09:55 AM

Quote:

Originally Posted by BrianR

My first thought upon seeing the pic was to flash back to Weebles of my childhood.

I am SO going to Hell.

Wrong, wrong, wrong. You are so going to Hell....and so am I for laughing at that thought.

---

BrianR Wednesday Mar 23 11:52 AM

I can't help myself...

---

Montmorency Wednesday Mar 23 06:29 PM

Wow. She can move around on her own, independent of others, without being restricted to only paved roads (which, by the looks of it, they might not have). How cool is that

.


However, as much as I admire her character, I'm not sure I see the ingenuity in the solution she's been provided with. Eventhough she must be well enough adapted to "walking" around on her hands, if this is her only way of moving from one place to another, the functionality of her remaining limbs might decline quite a bit in a few decades or so (from the daily strain on her wrists, for example).

---

Guess Friday Mar 25 05:17 PM

yeah but between now and then she's gonna have some pretty buff arms

---

xoxoxoBruce Friday Mar 25 11:35 PM

I would guess she swings on her arms like a person on crutches once they get the hang of it. Then at the end of the arc she rolls or pivots forward on the ball while she replants her arms forward of her body. She could probably make pretty good headway on a smooth flat surface.

---

lookout123 Saturday Mar 26 11:52 AM

and if they inflated they used one of those big red balls we used to play kickball with, she could just bounce everywhere she goes, like Tigger.

---

wolf Saturday Mar 26 04:36 PM

The image that's going to send me to hell is a lot more like a Hippity-Hop.

Wow. They have them in Adult size. I may just have to get one of these bad boys. And it's considered fitness equipment! It's an Easter Miracle!!

---

xoxoxoBruce Tuesday Sep 4 07:38 PM

Update!


Quote:

She may have been forced to use a basketball as a prosthetic but that has not stopped her ambition to compete on the sporting world's biggest stage.

Qian Hongyan, whose plight touched millions of people around the globe, has joined a swimming club and begun training to fulfil her dream of competing in the 2012 Paralympics in London.

But she has not let disability stand in her way and has joined the South Of The Clouds swimming club.

Although Hongyan now has a pair of hi-tech prosthetic limbs, she still uses the basketball from time to time as it helps her get in and out of the pool.



---

DanaC Tuesday Sep 4 08:04 PM

What a strong character that girl is. God that's positively humbling.

---

Undertoad Tuesday Sep 4 09:48 PM
---

Oafed Wednesday Sep 5 01:27 AM
---

DucksNuts Wednesday Sep 5 01:32 AM

Damn you Bruce, I need to learn to read the bloody dates on these things.

I got all excited coz I thought moodle was back



But, what an awesome story.

Thanks for that link UT.

---

morie Wednesday Sep 5 09:00 AM

what's the matter with you people? isnt this an iotd you can eat?

---

monster Wednesday Sep 5 09:23 PM

---

Crimson Ghost Thursday Sep 6 12:01 AM

Damn, I saw the pic that Oafed posted, and my first thought was -

"Holy shit! That's one hell of a hemorrhoid!"

---

queequeger Thursday Sep 6 12:33 AM


http://www.mymultiplesclerosis.co.uk...sesiggins.html

---
Your reply here?

The Cellar Image of the Day is just a section of a larger web community: a bunch of interesting folks talking about everything. Add your two cents to IotD by joining the Cellar.