Undertoad Tuesday Mar 15 05:22 PM

3/15/2005: Beauty of Mars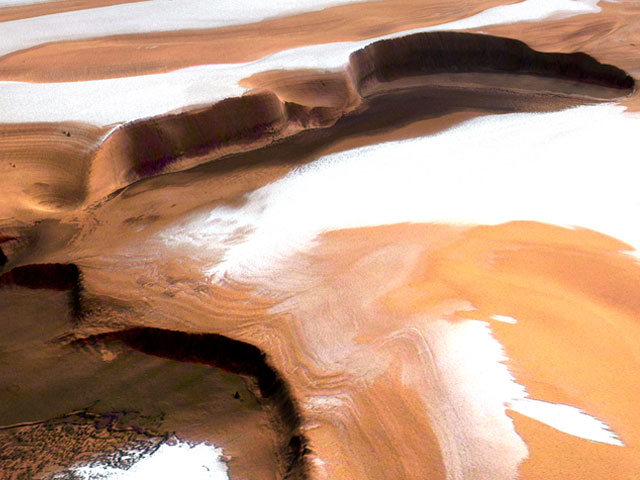 What would you think this is if I didn't give a hint of it in the Subject?

What it really is, is much more phenomenal. These are vertical cliffs on Mars, today's Astronomy pic of the Day. But what's really amazing is the size; there's nothing to offer perspective here, but these cliffs may be as high as 2 kilometers high!

The Apod says that there is a canyon that's almost twice that deep on Earth, Colca Canyon in Peru. (Which hasn't made the field of 64, World Landmarks - maybe because it's hard to get to see?)

---

sandra77 Tuesday Mar 15 07:25 PM

It really is beautiful. Thanks for bringing that to our attention.

Sandra

---

richlevy Tuesday Mar 15 09:04 PM

Sorry, I thought you meant something like this:


---

Elspode Tuesday Mar 15 11:33 PM

North or South Martian polar cap?

---

Eric Wednesday Mar 16 12:16 AM

i like Mars, i like astronomy.great picture.thanks for sharing it.Under

---

Undertoad Wednesday Mar 16 12:26 AM

North

---

xoxoxoBruce Wednesday Mar 16 01:54 AM

Looks like sand but I guess it can't be with cliffs like that.
Anyway, it doesn't look like a nice place to live.

---

Trilby Wednesday Mar 16 07:41 AM

It looks like the creamy nugat of my Mars bar.


Delicious planet.

---

xoxoxoBruce Wednesday Mar 16 11:49 AM

Great, Venetians (with attorneys) gobbling up Mars.

---

Wormfood Wednesday Mar 16 12:34 PM

I bet BASE jumpers would love those cliffs,
just remember to bring along some bigger parachutes on your journey to mars.

---

xoxoxoBruce Wednesday Mar 16 04:24 PM

Is the gravity greater or lesser?

---

BigV Wednesday Mar 16 04:28 PM

gravity is slightly less, but air pressure is 99% less.

Your parachute would have to be huge!! in testing the parachute for the martian probes, the chute that was designed to deploy at supersonic speeds (think of the wall of air at mach 1) could be simulated at earth's sea level air pressure of merely 80 mph.

So a supersonic free fall on Mars feels as windy as 80 mph earth winds. very windy for sure, but how big must my chute be to make a big enough drag to slow me down to walk-away-from-impact speed?!

---

Wormfood Monday Mar 21 03:18 AM

Hmm, I guess they can forget the chutes and bring along some retrorockets instead.

---

lol Monday Mar 21 03:54 PM

Mars will always be a mystery. By the way have you noitce the face on mars has disapeared?

---

Happy Monkey Monday Mar 21 04:02 PM

It was never there.

---

wolf Tuesday Mar 22 01:35 AM

I thought he just got bored and went to check out Saturn, which at least has the rings to look at.

---

lol Tuesday Mar 22 11:51 PM

Quote:

Originally Posted by Happy Monkey

It was never there.
---

Happy Monkey Wednesday Mar 23 07:33 AM

I could find some funny "faces" in the trees if you like...

---

Beestie Wednesday Mar 23 09:10 AM

Jimmy Hoffa???

---

wolf Wednesday Mar 23 02:39 PM

I think it's Dr. Mengele.

---

Happy Monkey Wednesday Mar 23 03:06 PM

I think it's Dr Zaeus.

---

wolf Thursday Mar 24 01:45 AM

Now that you mention it, I think it looks more like Zira.

---

dar512 Thursday Mar 24 10:51 AM

I was thinking Imhotep's sand-face. Too literal?

---
Your reply here?

The Cellar Image of the Day is just a section of a larger web community: a bunch of interesting folks talking about everything. Add your two cents to IotD by joining the Cellar.