Undertoad Monday Mar 7 09:42 AM

3/7/2005: Drought reveals sunken village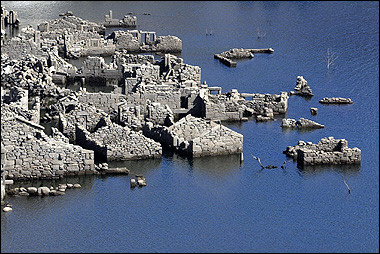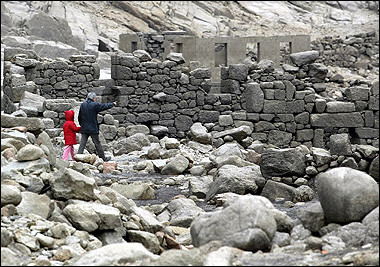 Vilarinho das Furnas was a village in Portugal. 35 years ago, in 1970, it was abandoned; well, it HAD to be. A dam was built down stream from it which left it unexpectedly submerged under water, and the 50 or so homes there became just memories for the residents.

Until last week, that is, when the complete drought conditions kept the water levels falling and falling... and suddenly the village was returned. Well kinda... the roofs of all the houses are gone, but the stone walls remain. And so do the memories, as old residents return to remember the place they haven't seen in 35 years.

full story

---

Beestie Monday Mar 7 10:07 AM

Quote:

...as old residents return to remember...

...and this is the rock that I used to kill the fish that we caught and hey! this is the rock your mother would hit me on the head with when it was time to take out the rocks and over here is the very rock that I used for a pillow ony my bed of rocks...

---

Wormfood Monday Mar 7 12:34 PM

..and the old residents are also grey...

---

Billy Monday Mar 7 07:54 PM

The same situation is happening in the bakside of Yangtse River because of the super dam. Many small towns and villages are more than 1000 years old. Man created the civilization and abandon them.

---

Trilby Monday Mar 7 08:21 PM

I've always wanted Lyonness to re-emerge. Then maybe we would find King Arthur!!

---

xoxoxoBruce Monday Mar 7 09:00 PM

Who says you can't go home again?

---

floki Tuesday Mar 8 02:45 AM

South Tyrol

In South Tyrol, Italy near the border to Austria there's the small village Graun, which was submerged about 50 years ago because of a dam(n) project. The only visible thing left is the steeple of the local christian church.




Looks nice in winter too:


---

xoxoxoBruce Tuesday Mar 8 04:57 PM

How do we know that's not an Italian ICBM silo?

---

Griff Tuesday Mar 8 05:21 PM

Heh, he said Italian Icey BM.

---

floki Tuesday Mar 8 05:46 PM

Quote:

Originally Posted by xoxoxoBruce

How do we know that's not an Italian ICBM silo?

It's Dr. Evil's ICBM silo, conveniently surrounded by a natural training ground for his sharks with frickin' lasers attached.

---

xoxoxoBruce Tuesday Mar 8 05:50 PM

---

blase Tuesday Mar 8 09:03 PM

I like the Italian ICBM silo shot in the summer better, nice lake reflection and all...lets you know it's hidden under the lake. The winter shot just makes it look out of place and not sinister enough.

---

floki Wednesday Mar 9 02:24 AM

Did anyone else notice that the ICBM silo is slightly tilted in the winter shot? Is this just an illusion or could the ice tilt it like that. I know that ice can be very powerful, but wouldn't it just stay that way?

---

xoxoxoBruce Wednesday Mar 9 04:35 AM

Comparing the angle of the flat land on the left, I'd say the camera was held differently. So maybe it's always tilted and the summer picture makes it look straight.

---

OnyxCougar Thursday Mar 10 01:28 PM

There was a town in Nevada that was submerged when Hoover Dam was completed as well, and due to lower water levels, it's re-emerging as well....

http://www.library.unlv.edu/early_la...st_thomas.html (about St. Thomas)

http://www.ghosttowns.com/states/nv/st.thomas.html (has pics of the town now. please ignore mentions of the "server drought".)

---

Trilby Thursday Mar 10 02:29 PM

I still like Kitsune's lost factory town in Florida with the Haunted Bar (ooooOOOOOOOOoooooo!) remember that? Where is kitsune, anyway??

---

Griff Thursday Mar 10 05:24 PM

That was cool. We need more ghosty town type pics like the Chernobyl deal.

---

xoxoxoBruce Thursday Mar 10 09:26 PM

Bush is planning lots of them.

---
Your reply here?

The Cellar Image of the Day is just a section of a larger web community: a bunch of interesting folks talking about everything. Add your two cents to IotD by joining the Cellar.