Undertoad Friday Feb 18 08:32 PM

2/18/2005: Black bear, white cub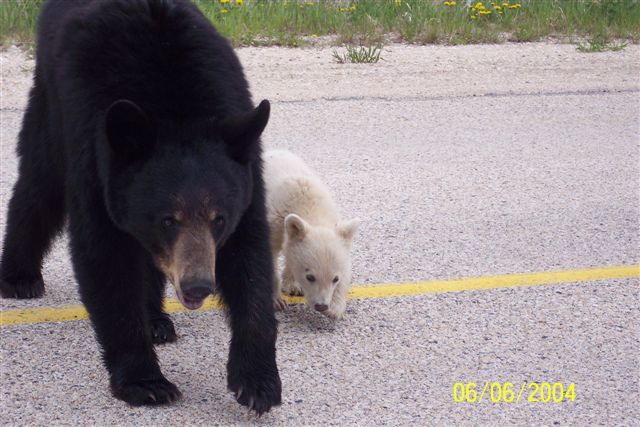 Happy Friday, this black bear with a white cub was sent along by xoxoxoBruce with a cautionary note: no Snopes? It appears legit. His correspondent notes:

THESE PICTURES WERE TAKEN NEAR GORDON, WI

Not just any mother bear and her cub, but a black bear with a white cub. I don't know how rare it is for a black bear to have a white cub but at least we can say we've seen it no matter how rare it is!

I'm pretty sure the Indian community would go nuts over this. Kind of like a white buffalo. Since there seems to be no sign of a pink nose or eyes, I would say that it is not an albino.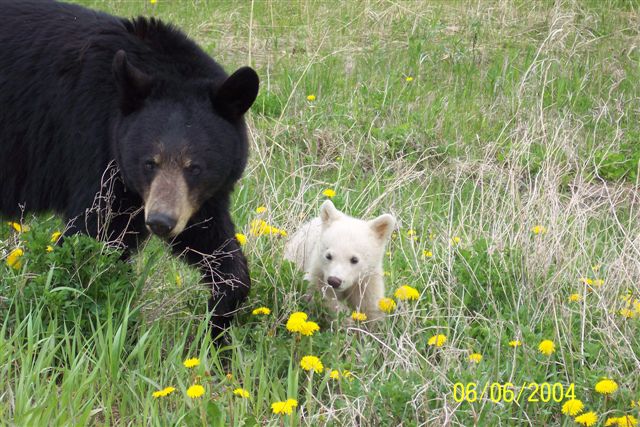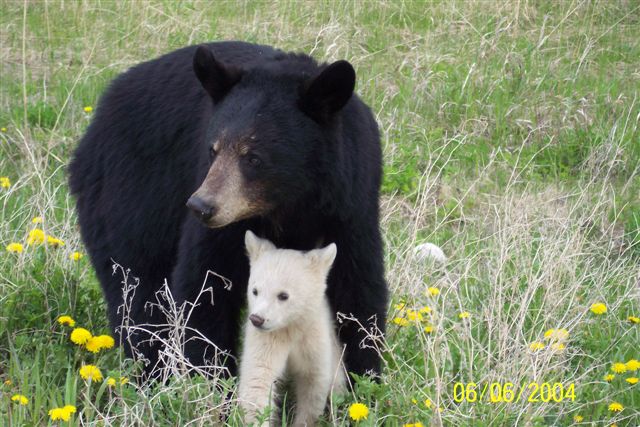 ---

capnhowdy Friday Feb 18 09:16 PM

The shots are wonderful!
I'm sure they were taken with a long lens...............
Otherwise the Mother would make a soup sandwich out of the photographer.

---

xoxoxoBruce Saturday Feb 19 12:01 AM

It's tragic when a mixed marriage ends with the mother and child walking the streets. Those Polar Bears are notorious chauvinists and cub abusers. :hafucking

---

404Error Saturday Feb 19 12:34 AM

It's not an albino black bear so the only thing I can think is that it's a polar bear cub that been adopted by the female black bear. Stranger things have happened I guess.

---

blase Saturday Feb 19 01:45 AM

It's as cute as a baby seal

---

Griff Saturday Feb 19 08:13 AM

This gets me thinking about how pretty much all mammal babies are attractive to us. We're wired to embrace these big eyed freaks.

But its not just us, remembering the lioness that was raising her own beef. That probably started with the maternal instinct catching her with a full belly. cool

---

Wormfood Saturday Feb 19 09:38 AM

Quote:

Originally Posted by capnhowdy

I'm sure they were taken with a long lens...............
Otherwise the Mother would make a soup sandwich out of the photographer.

I think the photographer sits in a car.. with the whole family screaming
inside.. :p

---

Wormfood Saturday Feb 19 09:48 AM

*Sigh*.. blonds look good.

---

Syrinx Saturday Feb 19 10:56 AM

From Snopes:

Quote:

An albino black bear is a rarity, but as the photographs displayed above attest, an infant bear of that uncommon variety is what people started spotting near the Chemawawin Cree Nation in Manitoba (about 250 miles northwest of Winnipeg) around May 2004. Visitors to the area began reporting to conservation officials that they had seen the snow-white cub roaming the First Nations community with its mother amidst a pack of black bears, sending tourists flocking to Oscar's Point at the northern tip of Lake Winnipegosis to catch a glimpse of the unusual little bruin.

Unfortunately, the cub's celebrity ultimately helped bring about a tragedy that befalls many bears. Visitors began feeding the mother and her cub, acclimatizing the bears to humans and their food, and on 11 July 2004 the mother was struck and killed by a vehicle as the pair of bruins was being fed by highway motorists. The female cub, unlikely to survive on its own, was subsequently taken to a new home at the Assiniboine Park Zoo in Winnipeg. Its light-colored fur had already begun to darken by then, indicating that the cub was not a true albino but rather, as sometimes happens with black bears, was born with a temporarily white coat that gradually darkens as the animal matures.



---

Promenea Saturday Feb 19 12:19 PM

People suck - damn

---

Undertoad Saturday Feb 19 12:41 PM

---

lookout123 Saturday Feb 19 12:43 PM

UT - are you just begging for Kitsune to rant on you. ribbons...

---

xoxoxoBruce Saturday Feb 19 01:30 PM

Well I'll be (am) damned. Thanks Syrinx, I searched through Snopes and couldn't find any reference.
I figured maybe it was too new on the email circuit to have been investigated yet but I knew it would be sooner or later.
I'm relieved there's not a Mike Tyson Polar Bear ravishing the Black Bear population.


These pictures were probably taken during a roadside feeding.

---

Trilby Saturday Feb 19 01:52 PM

There is cute-ness all around us. We need only to learn to embrace the cute. And not run them over.

Poor bears.

---

capnhowdy Saturday Feb 19 05:44 PM

Very sad. Indeed.
Maybe the Cub is fine and doesn't remember.

---

Wormfood Sunday Feb 20 06:36 AM

Crap,now I know why the family screamed in the car... they saw the car coming.

---
Your reply here?

The Cellar Image of the Day is just a section of a larger web community: a bunch of interesting folks talking about everything. Add your two cents to IotD by joining the Cellar.