Undertoad Friday Jan 7 11:40 AM

1/7/2005: Dog saves boy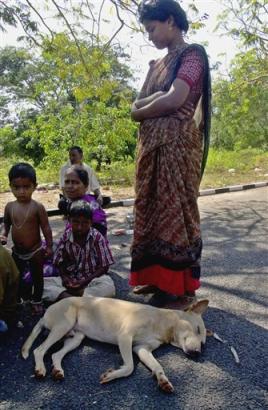 Good dog! Standing there is mama Sangeeta, and those are her three boys. The one seated is Dinakaran. When the tsunami hit, Sangeeta tragically realized that she could only carry two of her boys. She picked up the two youngest and left seven-year-old Dinakaran, hoping he could run fast enough. By the time she made it to safety, she became grief-stricken because Dinakaran hadn't been able to follow.

The dog, named Selvakumar, pulled the boy out of the family hut by his collar and nudged and nipped him to safety. Good dog!

full story

---

TheDormouse Friday Jan 7 11:59 AM

If anyone is looking for a name for a new pet, I think 'Selvakumar' should be at the top of their list of choices.

Once again it is wonderful to hear something positive out of all that tragedy, and to have it be something so 'homey' as a dog saving a little boy's life. How can anyone not have a pet? As you said, "good dog!"

---

dar512 Friday Jan 7 12:18 PM

FYI:

"Selva" means "riches" or "money".
"Kumar" means "boy".

So, means a "man of wealth" - a common name in South India.

---

TheDormouse Friday Jan 7 02:10 PM

Thanks for the definition of the name, dar512.



Just for the anecdote you get to tell each time, I think it's a great name for a pet--who needs Lassie or RinTinTin when you can have a Selvakumar?

Was anybody able to bring the link up? I tried, but got a newsless-itemed page. I tried searching for "Sangeeta" "Selvakumar" "boy" "rescue and save" and "dog" in various combinations, and never found it on that site. Anyone have an alt link to the full story, so I can read all about the heroics of my future pet's namesake?

---

jinx Friday Jan 7 02:23 PM

http://www.cbsnews.com/stories/2005/...in664271.shtml

I searched Selvakumar and tsunami

---

Undertoad Friday Jan 7 02:35 PM

Use news.google.com for searching for this kind of thing.

---

capnhowdy Friday Jan 7 05:20 PM

" ....good boy; here's biscuit." (Cheech Marin)
What a hero, indeed. It's a wonder Selvakumar didn't sense the tsunami long before it's arrival. I've heard of that sort of thing happening.
In the full story it stated that most all people over ther go by only one name. With names like they have who needs two? A child would be in third grade before he learned to spell it.

Boy meets dog
Dog saves boy
Dog is God
I find it interesting that Sangeeta was so elated (which is understandable), That she was quoted as saying "that dog is my god". Now that's the epitomy of gratitude. My prayers are with these unfortunate people.

---

Griff Friday Jan 7 05:23 PM

That is right up there with Gelert. Man, I love dogs.

---

xoxoxoBruce Friday Jan 7 11:45 PM

From UT's link;


Quote:

At night, he joins the rest of the family and sleeps among them, no matter how many times they throw him out.

---

TheDormouse Saturday Jan 8 11:42 AM

I laughed at that line too, Bruce. It's good to see doggies universally manage to cajole their way into their owners' beds, no matter how persistent (and delusional) the dog owner may be in believing that is *not* where the dog is supposed to sleep.

---

skateboard Monday Jan 17 11:18 AM

That dog looks very tired.

---

jinx Tuesday Jan 18 04:25 PM

Boy saves dog, croc saves man?

---

xoxoxoBruce Tuesday Jan 18 08:43 PM

Yup, a crock.

---
Your reply here?

The Cellar Image of the Day is just a section of a larger web community: a bunch of interesting folks talking about everything. Add your two cents to IotD by joining the Cellar.