Undertoad Friday Dec 10 12:05 PM

12/10/2004: Japanese "snow monkeys"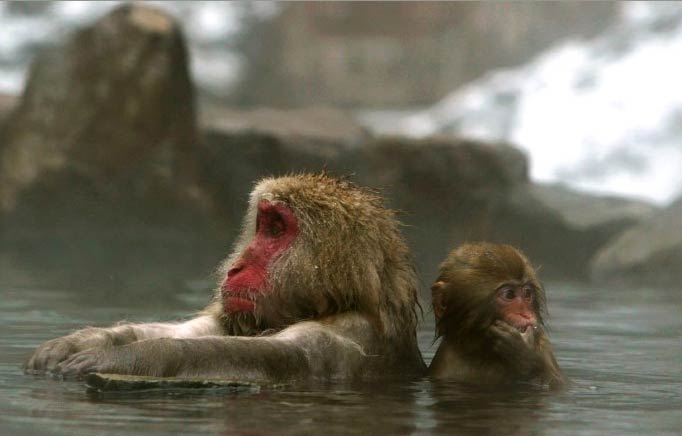 Happy Friday! These two live in Yamanouchi, central Japan. About 300 snow monkeys live there in the Nagano mountains, and when the weather is cold they bathe in an outside hot springs pool. Apparently they live in the wild but have this layer of interaction with the human world - where the humans build things for them, watch them, feed them, protect them etc. but don't cage them in, in the parkland where they live. They're a huge tourist attraction.

National Geographic article on them

Photo gallery of them

---

warch Friday Dec 10 12:09 PM

I watched the Nagano olympics just to catch a glimpse of these guys. Ahhhhhhhh.

---

magilla Friday Dec 10 01:10 PM

Funny, that's what I look like after sitting in a hot tub for 2 hours, too. Especially the red face.

---

Happy Monkey Friday Dec 10 01:27 PM

I've always wondered - how do they get out of the pool without freezing?

---

ladysycamore Friday Dec 10 01:57 PM

How beautiful and precious.

---

Clodfobble Friday Dec 10 02:57 PM

I've seen Japanese snow monkeys in person--and not in Japan.

There's a tiny town somewhere between Austin and the border, called Dilly. There is a rich philanthropist who owns a ranch out there. Apparently, on one of his jaunts to Japan, he managed to bring home around 30 of these monkeys.

(The story goes that this particular group was being forced out of their habitat by some evil group or another, and that they were dying rapidly, so he was actually doing them a favor. But we'll never know if he really just tossed them in a sack and smuggled them through customs because he thought they'd make cute pets for all his spoiled nieces and nephews.)

Anyway, once they got back to the ranch, he let them run free over the land, but he underestimated the height the fences needed to be. So the snow monkeys went cavorting through town. Wacky hijinks ensued, of course. Car accidents were caused because they kept darting out into the road, they would overturn and dig through any trashcan they could find... basically every scene you can imagine coming straight out of a kids' movie (except the part where the monkeys wear clothes and talk.) Not to mention they bred like freaking rabbits.

It was hunting season, and no one had ever thought to add Japanese snow monkeys to the "endangered" list in Texas. That was, not coincidentally, about the time the story traveled farther than a 15-mile radius, and animal rescue groups were brought in to round them up.

Nowadays the fences on the ranch are a good 25 feet tall, and supposedly the monkeys are thriving. They've become an informal tourist attraction--anyone driving through can just ask a local where the snow monkeys live. That's what we did.

---

monkeyboy Friday Dec 10 04:18 PM

More information on the primate sanctuary in Dilley, Texas can be found at http://www.snowmonkey.org/

---

BrianR Friday Dec 10 04:44 PM

Welcome to the Cellar, monkeyboy.

---

garnet Friday Dec 10 04:47 PM

I'm a sucker for monkeys! These guys are so cool--I'd love to see them in person.

---

xoxoxoBruce Friday Dec 10 09:41 PM

Quote:

Originally Posted by BrianR

Welcome to the Cellar, monkeyboy.

Ahem, what about Magilla?


Anyway, welcome Magilla.



I wonder if they pee in the pool?

---

wolf Saturday Dec 11 02:16 AM

Quote:

Originally Posted by BrianR

Welcome to the Cellar, monkeyboy.

Welcome indeed! Laugh while you can!!

---

capnhowdy Saturday Dec 11 08:44 PM

Quote:

Originally Posted by xoxoxoBruce

Ahem, what about Magilla?

Anyway, welcome Magilla.

I wonder if they pee in the pool?

I'm sure if they did, their fur would turn purple.
I've heard this somewhere before: Isn't a smoking section in a restaraunt like a peeing section in a pool?

---

York Sunday Dec 12 03:30 AM

Well, thats some kind off hot-water source too i guess!

But that was also one thing i wondered about, how do they get out? Do they go and sit by their campfire? Do they stay in till spring? If i would be in a lake like that and got out, ill be runnin to my heater!

---

xoxoxoBruce Sunday Dec 12 05:26 PM

It looks like the hot springs warm the vicinity.

---
Your reply here?

The Cellar Image of the Day is just a section of a larger web community: a bunch of interesting folks talking about everything. Add your two cents to IotD by joining the Cellar.