Undertoad Thursday Dec 9 01:23 PM

12/9/2004: Evicted hawks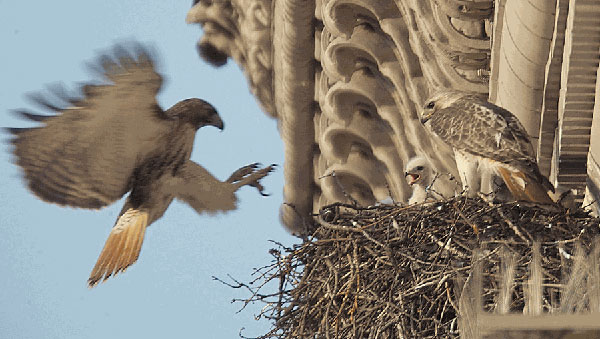 Landing at the nest is Lola, and standing by is Pale Male. They are hawks. They watch over three of the 25 chicks they raised over a period of nine years.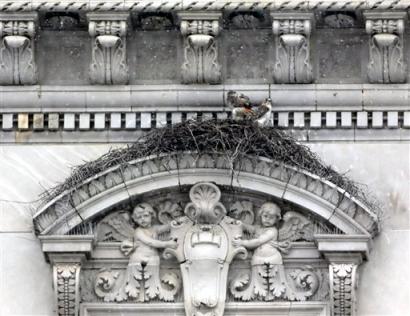 They lived on the ledge of a Fifth Avenue building near Central Park. "Lived" is past tense, as yesterday the building's management decided that the nest should be removed as a "safety precaution". They waited until there were no chicks and a kind of inactive pair of birds, and when the birds were away they took the nest down.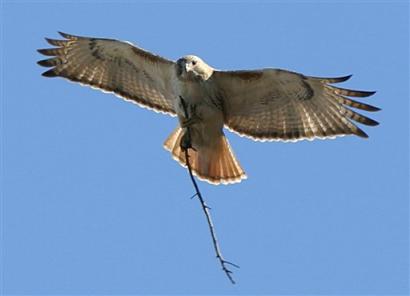 And here Pale Male went to such trouble to build it, retrieving sticks from the park... and enriching the lives of everyone who saw the birds. Presently they have a very unhappy pair of hawks, milling about complaining, and wondering whether they should build nearby or just move out of the city like all the other middle-aged parents. Can the burbs provide enough to interest your basic hawk? Maybe Hoboken or the Island would be a compromise.

And they also have humans milling about complaining, wondering why the building had to do this.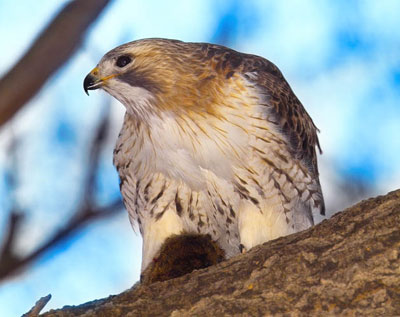 Pale Male: what a beautiful bird.

The hawks' home page - palemale.com

full story

---

garnet Thursday Dec 9 01:38 PM

Beautiful animals. I love this guy's Web site--these birds definitely had a loyal following! How sad.

---

smoothmoniker Thursday Dec 9 01:52 PM

lol - when I saw the thread title, I thought you were talking about the cabinet posts switching around.

---

garnet Thursday Dec 9 02:08 PM

FYI, if anyone else is pissed about this, here the address and stuff of the management company that removed the nest:

Hall F. Willkie, President
Brown Harris Stevens, LLC
655 Madison Ave., 3rd Fl.
New York, NY 10021
212-906-9203
212-906-9288 (fax)

---

wolf Thursday Dec 9 02:11 PM

I had thought that one would face severe federal penalties for disturbing the nest of a raptor, but I guess not ...

" But there was not much parks authorities or environmentalists could do: Unless a nest contains hatching eggs or small chicks, it is not illegal to remove it from private property."

---

Cyber Wolf Thursday Dec 9 05:35 PM

I hope Lola and Pale Male just rebuild in the face of Human Safety Policy. They likely wouldn't have had a nest there in the first place if they still had sufficient habitat to nest in.

Have they tried to capture and relocate those two or will the birds just not have it?

---

Wormfood Friday Dec 10 05:51 AM

<...nest should be removed as a "safety precaution".>

My God, It's dangerous to stroll in the forest now.
You could be hit by a ... stick.



I really dont think that nest weights to much for that
construction anyway, or are they scared of Pale Male?

---

Nutbar Friday Dec 10 11:48 AM

I'd love to have a hawk's nest in front of my building when the probable alternative is rats.

---

xoxoxoBruce Friday Dec 10 09:52 PM

The management must be MBAs.

---

capnhowdy Saturday Dec 11 07:15 PM

UPDATE

according to CBS News, the owners of 927 5th Ave. have decided to allow Pale Male & his mate to rebuild, after a major protest from folks who feel like yours truly. Let's just hope the hawks aren't as pissed as I am and decide to relocate. I wish them luck in finding a home where some asshole humanoid won't have a "problem" with it.
I think they should force all the crackheads to move and leave the rodent controllers alone, for Chrissake..............
There are some really BORED people living on this planet.

---

Griff Saturday Dec 11 07:56 PM

Quote:

Originally Posted by xoxoxoBruce

The management must be MBAs.

90% of problems are traceable directly to top management.

---

York Sunday Dec 12 03:44 AM

Im happy to read that peoples opinions do matter some times....A thread...hahaha Yeah, the hawk can mistake u for a mouse or something and snatch you from the ground! It isnt illegal to take it when no-one or nothing is in the nest? So the bird s gotta be in it all the time? And they had 30 chicks? Well , thats how they spend their time upthere....

I would be really pissed too if i got in my street, but found my house missing ....

---

xoxoxoBruce Sunday Dec 12 05:18 PM

York, have you been drinking?

---

lookout123 Wednesday Dec 15 12:30 PM

Birds return home to roost? well, we can only hope. it looks like paula zahn and mary tyler moore both live in the building and are on opposite sides of the issue. who woulda thunk - a pretend journalist vs. a... oh nevermind.

---
Your reply here?

The Cellar Image of the Day is just a section of a larger web community: a bunch of interesting folks talking about everything. Add your two cents to IotD by joining the Cellar.