Undertoad Wednesday Dec 1 01:31 PM

12/1/2004: Cargo cult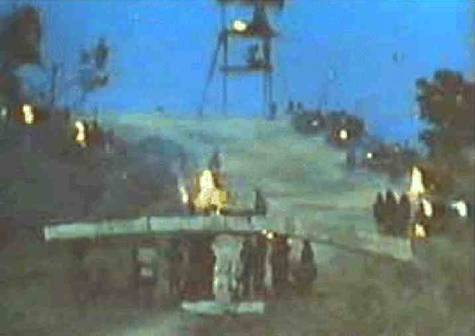 Axlrosen suggested this image as part of a larger web presentation on the cargo cults.

Most people don't know the story of the cargo cults, it seems, and so the above image will be mindboggling as part of that larger story. I'm kind of amazed that a photo even exists...

Axlrosen also suggests the Wikipedia entry on them, which I'll simplify for our purposes.

In WW2, planes started to land on New Guinea and Melanesian islands, where they had never landed before. The planes - not understood by the islanders - brought wonders and wealth that the islanders had never seen. Manufactured clothing, canned food, tents, weapons suddenly arrived in vast quantities to equip soldiers. But it also tantalized the islanders who were their guides and hosts. And then suddenly the war ended... and so did the planes and the wealth.

Well the islanders had no idea where all this incredible bounty came from, but they had to develop some theories. And they came to believe that if they could just duplicate the airstrips, they could get the same thing to happen again. Maybe they believed that the foreigners got the bounty from the "ancestors", and if they had airstrips they could encourage the ancestors to visit directly.

You can imagine them trying to get it right - building the towers, "turning on" the landing signals. They even carved headphones from wood. If only they could get what it was that made those planes arrive!

---

Kitsune Wednesday Dec 1 03:54 PM

I have no idea why, but this really sets off my bullshit alarm. Maybe its the headphones carved from wood, but it seems way too similar to the Tasaday hoax.

---

Clodfobble Wednesday Dec 1 04:17 PM

Oddly enough, I just finished reading "Dream Park" by Larry Niven and Steven Barnes, which goes into decent detail about the Cargo Cult as a basis for the plot. There's an afterword suggesting several books for those interested in further information on the history and beliefs of the culture. I'm pretty sure it's real.

---

Troubleshooter Wednesday Dec 1 04:25 PM

It certainly makes more sense than any of the other cults in the world like judaism or the moonies.

At least these guys actually saw something.

---

capnhowdy Wednesday Dec 1 05:13 PM

Very interesting idiom. I'm still unclear as to when they finally gave up on the "gift" planes. IMHO this is a classic case of uncivilized ignorance. Imagine what yield of goods they would have had, had they chanelled their energies into productive survival techniques as opposed to waiting for it to fall out of the sky. There are places now whose behavior correlates to this. Send them seeds and they eat them. To hell with agriculture, let's eat and wait for the next plane!
All the images of the natives are all but too real. All the images that would verify this are highly distorted. Looks like the "paint" program in windows.
Parallel these thoughts: Cargo Cults & Santa Clause.
Interesting, no?
Great thread!


---

richlevy Wednesday Dec 1 08:46 PM

Quote:

Originally Posted by Undertoad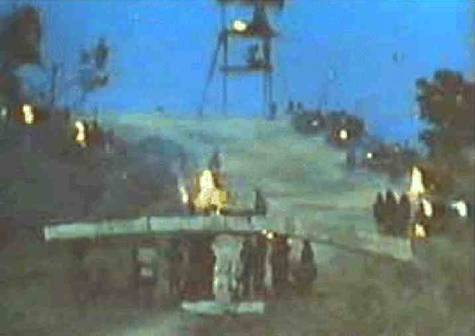 This picture was made for make-you-own captions.

"So if we build this, USAir won't go bankrupt?"

The Stone Temple Pilots at the site of their next video.

---

Clodfobble Wednesday Dec 1 08:49 PM

"Oh great--I always get seated next to the fat guy. Shit, he's gotta weigh like 180 pounds..."

---

Kitsune Wednesday Dec 1 09:01 PM

"Oh, no! A second plane is headed towards the other tower!"

(yep -- going to hell)

---

Bitman Wednesday Dec 1 09:31 PM

Quote:

Originally Posted by Undertoad

If only they could get what it was that made those planes arrive!

They're on the right track. All they need to do is just make the plane fly! Then they can go get their own cargo.

---

Elspode Wednesday Dec 1 11:55 PM

"This week on Survivor - Soloman Islands, the Yubangme Tribe must get their aircraft off the ground and over to the next island before the Imadouchebags can swim the same distance. At stake...immunity!"

"Professor...you can built a bamboo airplane, but you can't patch a fucking hole in the SS Minnow!?"

---

xoxoxoBruce Thursday Dec 2 12:47 AM

National Geographic has done stories on these cults several times. They exist on several different islands.

---

Griff Thursday Dec 2 07:25 AM

Darn I was kinda hoping this was another rip SUV owners thread. Uncivilized guy can't fit a sheet of plywood in his car so on the off chance he ever needs to carry a sheet again he spends $40,000 on a... Never mind, too tortured.

---

Cyber Wolf Thursday Dec 2 07:32 AM

Quote:

Originally Posted by Undertoad

If only they could get what it was that made those planes arrive!

All they need to do is start putting together a 'secret' cache of WMDs and threaten themselves with it. Then they'll have all the troops and planes over there they could possibly want.

---

axlrosen Tuesday Feb 14 06:36 PM

Smithsonian Magazine has a new article about the author's visit to a John Frum cargo cult.

Caption: Barefoot "G.I.'S" tote bamboo "rifles" with scarlet tipped "bayonets."

---

xoxoxoBruce Tuesday Feb 14 07:03 PM

They look more like fountain pens to me.

---

wolf Wednesday Feb 15 01:59 AM

Surely at this point they are just doing it for the tourists.

---

xoxoxoBruce Wednesday Feb 15 07:19 PM

Most of them don't see any tourists, only on a couple of the bigger islands.

---

wolf Thursday Feb 16 02:09 AM

When it comes down to it, aren't cultural anthropologists really tourists who have found a way to travel to exotic lands, take a lot of pictures, fuck up other cultures, and get college credit for it?

---

axlrosen Thursday Feb 16 01:27 PM

Pretty much. It's just that I don't think there's enough of them to support a "cultural anthropolist tourism industry." Hard to imagine these guys keeping up appearances for the odd anthropologist who shows up every year or two.

---

Kozmique Thursday Feb 23 05:41 AM

Island of the Sequined Love Nun is a fun novel about a cargo cult

---

Trilby Thursday Feb 23 07:13 AM

Those are some pretty nice blue jeans. Look brand new.

---

dar512 Thursday Feb 23 10:02 AM

Ya know, I was wondering if these were the guys who invented the pants. Seeing the jeans, I guess not.

---
Your reply here?

The Cellar Image of the Day is just a section of a larger web community: a bunch of interesting folks talking about everything. Add your two cents to IotD by joining the Cellar.