Undertoad Tuesday Nov 9 02:03 PM

11/9/2004: Big truffle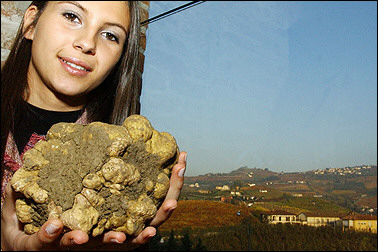 $41,000. That's how must that thing in the image costs.

Not the girl... the "thing" she's holding.

It's a truffle, weighing over one kilogramme (2.2 pounds). It was sold at auction (full story).

It turns out, though, that this isn't the largest truffle ever discovered. the full story explains that the largest ever was over twice this size, and was presented to Eisenhower in 1954.

I would be honored to be presented with any size or type of fungus, never mind one larger than my head.

---

Katkeeper Tuesday Nov 9 02:08 PM

I'd prefer a black truffle that size but realize I can't be picky.

---

wolf Tuesday Nov 9 02:09 PM

I was hoping for the chocolate kind.

I don't care how damn expensive it is, I just can't get that excited about what is essentially a kind of mushroom.

---

Roosta Tuesday Nov 9 06:11 PM

I' love to have enough money to eat that thing covered in baked beans in public.

---

Kitsune Tuesday Nov 9 11:11 PM

Can anyone that has tried one of these things describe what they taste like? And for that that amount of money, how powerful of an orgasm does it induce during digestion?

---

Bullitt Tuesday Nov 9 11:34 PM

I can't imagine eating something that looks like a tumor that got rolled around in a pile of dog sh*t.

But hey thats just me.

---

pdaoust Wednesday Nov 10 03:34 AM

oh, actually, that crumbly stuff you're looking at isn't part of the truffle. It actually is dog sh*t.

---

Cyber Wolf Wednesday Nov 10 10:41 AM

I'm half-expecting it to suddenly expand and engulf the girl in a mass of truffle-y-goo then go on a rampage through the quiet lightly populated hillside. Mmmm...badly propped, B-movies...

---

garnet Wednesday Nov 10 10:46 AM

That's one nasty looking 'shroom. Yuck.

---

jaguar Wednesday Nov 10 11:44 AM

Quote:

how powerful of an orgasm does it induce during digestion?

There's a reason its cost is comparable to class-A drugs.

---

alphageek31337 Wednesday Nov 10 12:27 PM

actually, at 41000/kilo, it's only a little less expensive than its vision-inducing counterpart, which runs at a street price (around here) of about $20 for 1/8 ounce, so about 5500/kilo (with bulk discounts....free-market economists should really take a look at the drug market in the US. Maybe Limbaugh could call his addiction a case study...)

---

dar512 Wednesday Nov 10 12:41 PM

Creme tangerine and montelimar ...

---

Katkeeper Wednesday Nov 10 01:03 PM

I have only tried white truffle cream which is delicious. I have had slices black truffle in a sauce on tenderloin which was great. The truffle seems to enhance the flavor that is already there (which is why they are beloved by chefs) and add an earthy quality ot it.

---

glatt Wednesday Nov 10 01:07 PM

I've never had truffle, but I would try it if someone else paid for it.

---

jaguar Wednesday Nov 10 01:28 PM

Ah but truffles aren't usually this large (obviously) and the price distortion because of that is huge. A kilo of winter truffles would usually knock you back USD 2-2500ish unless something serious has happened since I last had the pleasure of browsing the food halls at harrods. Summer truffles are however far cheaper.

---

xoxoxoBruce Wednesday Nov 10 07:48 PM

I wonder why the difference between winter and summer prices? Different taste? scarcity in winter? Market demand/pressure? The winter dog poop is better than summer dog poop?

---

BrianR Thursday Nov 11 12:16 AM

Speaking of which, someone left a landmine right inside my front door today...each blames the other. Yech, I stepped right in it. Such are the pitfalls of owning dogs.

---

jaguar Thursday Nov 11 04:14 AM

scarcity, taste is the short answer.

---

Katkeeper Thursday Nov 11 07:21 AM

Truffles should be used soon after being harvested, explaining a difference in taste.

---

404Error Thursday Dec 9 10:11 PM

Update on the big expensive fungus, seems it spoiled before they got to use it.



Record-Setting Truffle Spoils

---

BigV Friday Dec 10 02:39 AM

now wait just a minute here

There's a video of a truffle spoiling?

You're kidding right?

What could possibly be a more profligate WASTE of electrons than to train a video camera on a fungus intently enough to dectect spoilage? Good grief, how could you ever tell? I mean, when the cheese in the fridge grows something green on it, I know it has spoiled, but what could possibly be the next stage in the (d)evolution of something that is already entirely fungus to begin with??!!

I am going to give this one a little thought before I give up or watch the video, but not before I have everything else in my life A-J squared away, including arranging all the dairy products by expiration date.

Sheesh.

---

404Error Friday Dec 10 07:46 AM

V, I suspect a bit of sarcasm but I'll bite anyway. The video link is of the news clip they showed about the truffle, not a 'webcam' showing the slow frame by frame decay in action.
You know, kinda like: There's A Fungus Among Us! Film at 11.

Oh, and as far as the moldy cheese in your fridge, here's a news flash for ya. Basically, cheese is milk that's past it prime.

---

glatt Friday Dec 10 08:40 AM

When a big patch of mushrooms in my front yard "spoiled," it turned into a pile of what appeared to be a large dog's very loose stool. The only reason that I knew it wasn't really dog diarrhea is that I saw the slow deterioration of the mushrooms over the course of a week or two.

---

Cyber Wolf Friday Dec 10 01:37 PM

Interesting...the spoiled version of it looks less nasty than the fresh version.

---

garnet Friday Dec 10 01:48 PM

What a dumbass. Didn't the guy realize that maybe it was a bad idea to put a perishable item like a 'shroom in a safe for six days?

---
Your reply here?

The Cellar Image of the Day is just a section of a larger web community: a bunch of interesting folks talking about everything. Add your two cents to IotD by joining the Cellar.