Undertoad Thursday Nov 4 12:04 PM

11/4/2004: Time-lapse photo of eclipse of the moon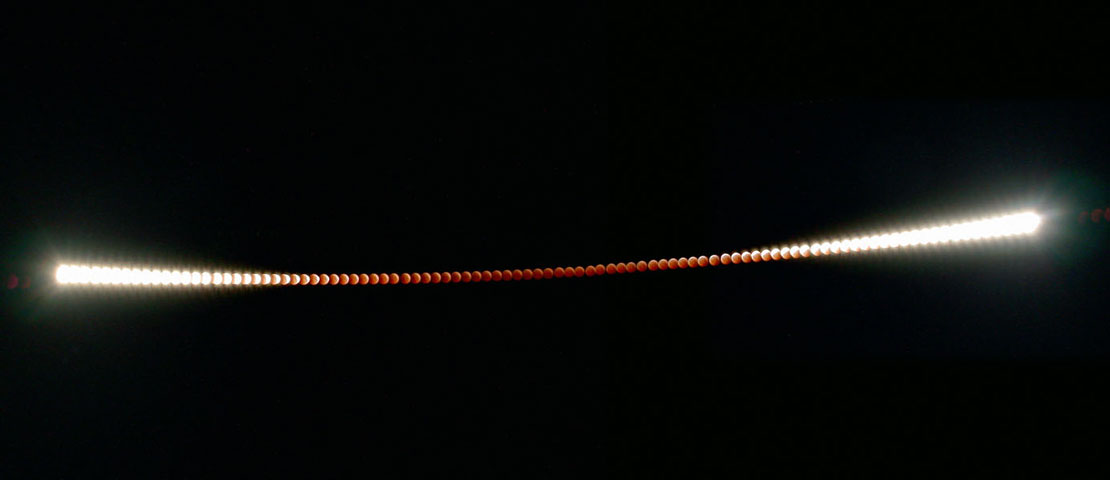 1100 pixels wide, and yet I have to post it. It's too cool!

(This was the ApoD yesterday.)

---

glatt Thursday Nov 4 12:08 PM

Is that time lapse, or multiple exposure? [/nitpick]

Either way, it's very cool. I like how the exposure level was kept consistent throughout, so the full moon before and after the exclipse is way overexposed.

---

Cyber Wolf Thursday Nov 4 01:10 PM

Beautiful!

---

Elspode Thursday Nov 4 01:14 PM

I think it is a multiple exposure, centered on the point in the sky where the moon was to reach the deepest part of the eclipse, with exposure set to the necessary level to show the eclipse to best effect, having the result of showing a time-lapse sequence of the event from pre-penumbra entry to post-penumbra exit (that sounds kind of dirty, doesn't it?).

---

YellowBolt Thursday Nov 4 04:05 PM

I've been wondering when we'd be getting a lunar eclipse IOTD... sexy picture.

---

Cyber Wolf Thursday Nov 4 04:07 PM

If it was timelapse, wouldn't it show a solid line that went from bright white to red and back to white? I'd say it was multiple exposure because we see many clear images of the moon and see clear space where its moved in between.

---

glatt Thursday Nov 4 04:37 PM

I suppose I could actually look it up, but I think time lapse means that you make a movie out of multiple images, but you don't use the standard 16 or 24 frames per second rate. Instead, you lengthen the intervals between frames to your liking.

Multiple exposure is when you take multiple pictures on the same frame of film.

A long exposure time would blur the object.

This picture could actually be a time lapse that was digitally composited into one image later. So it could be time lapse or multiple exposure.

Anyway, I'm sorry to derail this thread with such a nitpick. Especially if I'm proven wrong.

This is a really neat picture.

---

xoxoxoBruce Thursday Nov 4 06:12 PM

It's a beautiful thing.

---

poohbearbeth Thursday Nov 4 07:04 PM

Very Nice!

---

zippyt Thursday Nov 4 11:34 PM

Way COOL UT !!!!!!!

---

404Error Friday Nov 5 09:13 AM

This one was on the Earth Science POtD today. I think the multi-exposure/time lapse photo above is more impressive though.

---

xoxoxoBruce Friday Nov 5 07:38 PM

Going into the eclipse the Earths shadow engulfs it from the right. But coming out of the eclipse, the moon reappears at several strange angles, in the pictures.

---

Cyber Wolf Saturday Nov 6 08:10 AM

I don't think all those moons were photographed at the same location throughout. Otherwise, why would it wane into black, suddenly show up as red, then wax from black again?

---

404Error Saturday Nov 6 04:04 PM

Here's the caption to the picture from Earth Science POD above:



Quote:

The above montage of last week's (October 27) total lunar eclipse was captured from the Observatoire de la Découverte in Quebec, Canada. A coppery or deep red color to the eclipsed lunar disk was revealed as the Earth's shadow crept across the Moon's face. The reddish color results from refracted sunlight streaming around the limb of the Earth. Just as sunrises and sunsets are reddened as the Sun's ray must traverse more of the Earth's atmosphere, the extraneous light reaching the Moon during a total lunar eclipse is reddened as well. Eclipses of the Moon, while just as rare as solar eclipses, are sluggish and sedate affairs by comparison. While they won't knock your socks off, they can still be quite engrossing. Besides, almost everyone on the night side of the Earth can see a lunar eclipse (weather permitting), but only a select few (relatively speaking) are fortuitously positioned to observe a solar eclipse. If you missed this one, the next total lunar eclipse similarly visible across eastern North America won't occur until February 2008!



---
Your reply here?

The Cellar Image of the Day is just a section of a larger web community: a bunch of interesting folks talking about everything. Add your two cents to IotD by joining the Cellar.