Undertoad Wednesday Aug 25 09:54 AM

8/25/2004: Naked cyclists protest in Spain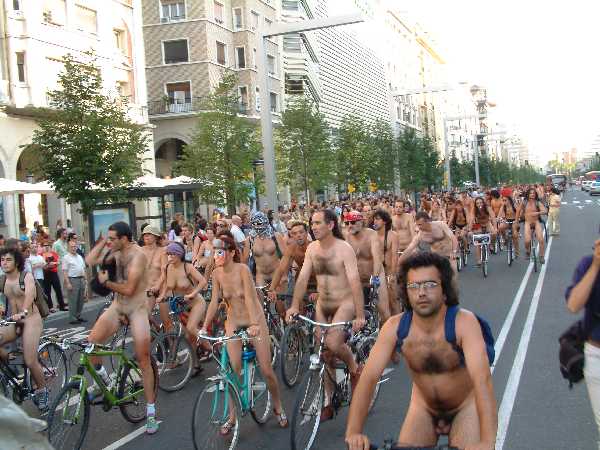 chrisinhouston (thanks!) sends along this beaut, an UK Indymedia page of a Spanish naked protest. Naked protest has been a regular thing on IotD until, pre-war, it became such a regular thing that it was boring. This one doesn't look boring...

chrisinhouston and I can't read the text so we will have to wait for one of our Spanish-fluent folks to help us out on this one. In any case, it appears the protest broke down into a bunch of fun once it reached this particular fountain: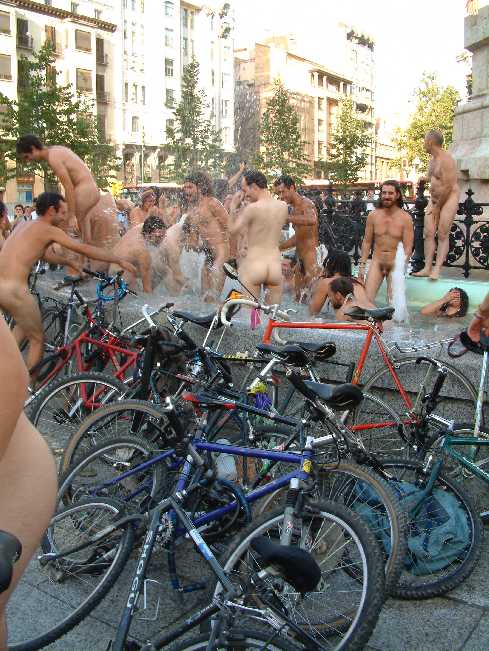 His "shrinkage" is apparently not a concern for our bearded friend on the right there. Is it really a protest if people enjoy it too much? Where's the outrage?

---

Trilby Wednesday Aug 25 10:45 AM

Let me just say for the record-I am never going to borrow any bicycles belonging to naked bicycle protesters. It all looks sorta...sticky!

---

Trilby Wednesday Aug 25 10:50 AM

They don't like oil, pollution or the textile industry--according to the article. I think they are just having fun.

---

SteveDallas Wednesday Aug 25 10:55 AM

what about the military-industrial complex that was needed to manufacture those bikes??

Anyways naked bike riding just sounds........ uncomfortable.

---

chrisinhouston Wednesday Aug 25 11:12 AM

I forget where I saw the link that directed me to this site which I forwarded to UT but when I saw it I was reminded of a trip my wife and I made to San Francisco. We were staying at the wonderful old Clift hotel on Union Square and walked out of it into a beautiful August late afternoon and were immediately passed by about 35 bicyclists totally nude except for helmets and bike shoes riding by waving to the crowd. Only in San Francisco, I thought.

---

mmmBoy Wednesday Aug 25 11:26 AM

Ummm, skip the shrinkage of the hairy guy in the foreground, where is the hand of the pasty white guy just over his head??? Is he adjusting his friend's "seat"?

And they are protesting "to denounce the violence of the private auto, and vindicate a more humane city where the pedestrians and bicyclists can move with liberty and without harm," if my Spanish 101 serves me well.

I think I'm going to form an anti-naked-protest protest.

---

axlrosen Wednesday Aug 25 11:38 AM

I think there's even a naked unicyclist over on the far right.

---

beavis Wednesday Aug 25 12:20 PM

Quote:

Originally Posted by axlrosen

I think there's even a naked unicyclist over on the far right.

ok that's just not right, so much room for disaster...

---

lookout123 Wednesday Aug 25 12:52 PM

2 things -
1) can you imagine the road rash that could occur...

2) for some reason i pictured Mr Garrison's Gyro vehicle of the future from South Park.

---

mmmBoy Wednesday Aug 25 12:57 PM

Now the thing I would really (not) like to see is a naked pogo-stick protest. If these people were really dedicated to their cause they would do something a little more extreme than risk testicular cancer and an embarassing "you wouldn't believe it, doc, but here's how it happened..." emergency room visit.

---

LabRat Wednesday Aug 25 01:33 PM

personally, i find it ironic that the women are wearing masks...

---

jane_says Wednesday Aug 25 04:11 PM

Good Lord, what's with all the pubes? Have these people never heard of a persoanl trimmer? Ugh.

---

jane_says Wednesday Aug 25 04:11 PM

personal, even. Personal trimmer.

---

Cyber Wolf Wednesday Aug 25 05:23 PM

Woohoo!! An up-front naked protester who isn't a woman!! All these naked protester photographers seem to forget there's women out there who wanna see goods too!

...ahem!

---

xoxoxoBruce Wednesday Aug 25 06:16 PM

Quote:

Only in San Francisco, I thought.

Seattle, too.

---

Karenv Wednesday Aug 25 09:54 PM

Jane-

Europeans have always been more accepting of pubic hair- considered it sexy. Not everyone is into washboards.

---

Trilby Thursday Aug 26 09:17 AM

The guy up front, to the right with blueback pac--you know with a good haircut and a pair of Levi's, he'd be pretty darn cute. I'm certain he'd look better with pants on.

He does have a really cute belly.

---

jinx Thursday Aug 26 10:20 AM

He looks like Steve from Sex & the City.

---

chrisinhouston Thursday Aug 26 12:31 PM

MY GOD it's a cult!

http://www.newfrontier.com/asheville/naked/
http://www.geocities.com/jonjayray/naked.html

---

Griff Thursday Aug 26 05:01 PM

Even the apolitical do it. Any time you mix alcohol and a sufficient number of mt bikers together you get this kind of thing... It really seems like a bad idea to have your junk out there when you're on a bike.

---

Guess Friday Aug 27 06:45 PM

i always wonder about these sort of things- what about the kids? i mean, if i were a kid and saw this, it would scar me for life

---

Happy Monkey Friday Aug 27 07:23 PM

Then you'd be a pretty fragile kid.

---

Cyber Wolf Saturday Aug 28 01:20 PM

Quote:

Originally Posted by chrisinhouston

Okay, regarding the 'partially-naked' part, I don't think it should count if a guy goes out with pants but no shirt. Socially, he's still acceptably clothed (unless he's got boobs saggy enough to stick and hold a pencil under). If a woman does it, it's all shock, awe, my god she's half naked!! but if a man does it no one notices.

---

BrianR Sunday Aug 29 01:27 PM

CyberWolf, gender double-standards are nothing new, and some work the other way.

Imagine, if you will, a woman and a man wearing jeans and a Tshirt. No biggie, right? Now change it and imagine that same woman and man wearing a dress or skirt and blouse. Still no biggie on the woman, but a man in a dress is subject to extreme ridicule. Except in San Francisco's Castro District, but that's an aberration. Normally, men in women's clothes are called cross-dressers at best while women in men's clothes are called stylish. I sometimes wear a kilt (if I ever find the darn thing) and you should hear some of the things people call me.

Brian

---

Cyber Wolf Sunday Aug 29 01:59 PM

Oh I'm fully aware of all that, but that's not the situation coming off those links. 'S why I only mentioned the one side.

---
Your reply here?

The Cellar Image of the Day is just a section of a larger web community: a bunch of interesting folks talking about everything. Add your two cents to IotD by joining the Cellar.