Undertoad Friday Aug 13 11:36 AM

8/13/2004: Rescued Chihuahua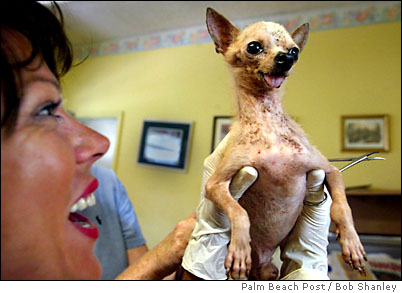 The official caption says Tiny Tim the Chihuahua is feeling much better after Humane Society volunteer Michele Greenhall plucked hundreds of ticks from his body and ears in Boca Raton, Fla. Tim is one of 74 dogs, mostly toy breeds, rescued from a Miami backyard breeder.

It's not all that mind-boggling an image, but it's a fine Friday feeling to see this lad at least get some relief and just maybe be on his way to a better life.

---

Trilby Friday Aug 13 11:42 AM

I wonder how the breeder would feel covered in hundreds of ticks? Maybe we should find out?

---

Cyber Wolf Friday Aug 13 12:00 PM

Yeah, that's the face of one who isn't itchy anymore, like if that one spot on your back you can't reach was scratched for you. Feels soooo good

---

axlrosen Friday Aug 13 02:20 PM

...

---

axlrosen Friday Aug 13 02:21 PM

So that's why Roger Rabbit always had that goofy look. He must've also had a bunch of ticks removed.


P.S. it's amazing what nasty stuff you'll find if you look through a few pages of a Google Images search for "roger rabbit".

---

xoxoxoBruce Friday Aug 13 03:30 PM

Jessica would give any guy that goofy look.

Three cheers for the Humane Society.

---

Guess Friday Aug 13 06:26 PM

get a load of those claws!

---

wolf Saturday Aug 14 02:17 AM

"Hundreds".

EEEEEEEAAAUUUUW!

(I freak at the notion of even ONE tick.)

---

CzinZumerzet Saturday Aug 14 10:43 AM

This is so spooky because just this morning I met a tiny dog just like this one, not too sure of the breed actually but tiny and completely bald with piebold skin patches, who had been rescued from one of these terrible breeding farms right here in my county.

The story is that two dear little old ladies advertise that they have a beloved pet who has to be sold because they can no longer afford to feed it etc, and they have a huge BARN right behind their gingerbread cottage stuffed full of puppies most of which are already dying. The fleas bite and infect these tiny pups who have no resistance to the blood loss/infection etc and die. Hey Ho there are plenty more to take their place
and I am not going to tell you what happens to the ones who don't make it.

All this in a country which raises more money for animal charities than human ones. And it is not actually illegal, it is a civil but not criminal offence. I like very much Briannas notion of dumping the insects in the beds of the breeders, and tying them to the bedposts maybe.....

---

zippyt Sunday Aug 15 08:05 PM

And this how this dog should look later in life !!!!!

---

Cain Sunday Aug 15 10:52 PM

Meanwhile...

---

Leah Monday Aug 16 08:07 AM

People can be so friggin horrible.

---

xoxoxoBruce Tuesday Aug 17 12:45 AM

Cain, I'm going to chastise you for that picture,........as soon as I stop laughing,..............in about a week.

---
Your reply here?

The Cellar Image of the Day is just a section of a larger web community: a bunch of interesting folks talking about everything. Add your two cents to IotD by joining the Cellar.