Undertoad Monday Aug 9 12:50 PM

8/6/2004: Lazy summer animals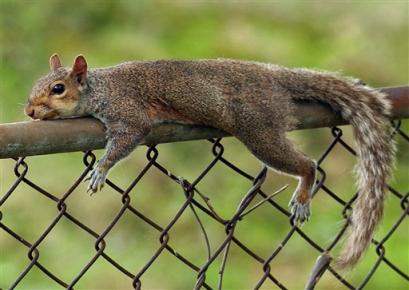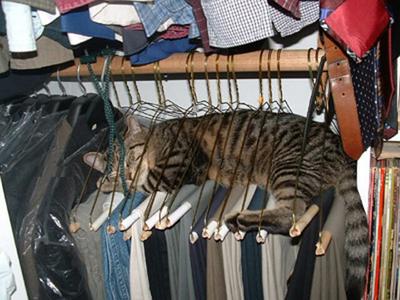 ---

xoxoxoBruce Monday Aug 9 05:42 PM

I just noticed the claws on that squirrel.

Proportionately they're bigger than a cat's.

---

CharlieG Tuesday Aug 10 07:42 AM

Fur on nicly dry cleaned pants - how come cats never sleep on the dirty laundry

---

Cyber Wolf Tuesday Aug 10 08:18 AM

If you had the choice, would you wanna sleep on stuff people have been living in, potentially sweaty smelly stuff, worn underwear and the like? Give me a pile of nice, clean fluffy stuff anyday! I mean who doesn't like sleeping on clean sheets?

---

Katkeeper Tuesday Aug 10 02:02 PM

Cats are such efficient animals. This cat is sleeping, but while doing so he is managing to distribute fur onto all of his owner's pants at the same time!

---

Trilby Tuesday Aug 10 03:14 PM

...and that's exactly what I like about them! Meeeeow!

---

BrianR Tuesday Aug 10 06:30 PM

I would point out that my dogs like to sleep on my dirty laundry. CLean laundry too, if I leave it on the floor. I presently try to keep a sleeping bag on the floor for them to sleep on as I dislike dog hair on my black Cellar Tshirt.



Brian

---

lookout123 Tuesday Aug 10 07:00 PM

i don't think dogs or cats really care about the cleanliness of our underwear. afterall, what do they use as TP? yechh, i refuse to let my dogs lick me.

---

Cyber Wolf Wednesday Aug 11 01:05 AM

Dog saliva is actually less germy than human saliva is. It's cuz their bodies are geared towards putting gross things in their mouths; it's why they can eat whatever dead thing they come across and not get sick. It's also why they can lick their and any other dog's Exit and not get sick from tiny things in the matter. I'd rather have a dog lick my papercut than have my mom kiss it and make it better...just not immediately after it finished licking.


...love ya, Mom!

---

wolf Wednesday Aug 11 01:31 AM

One should try to purchase furniture, carpeting, and clothing in colors that either match or are complemented by one's animal fur.

---

Katkeeper Wednesday Aug 11 06:42 AM

Unless one has more than one cat and one of those cats is a calico...

---

BrianR Wednesday Aug 11 11:00 AM

Good advice Wolf. I just happen to like black Tees. Especially with my black jeans and black boots. And no, I'm not into the whole Goth thing, I just like neat, clean black clothes. Unfortunately, my doggies are brown. And shed some.



Brian

---

xoxoxoBruce Wednesday Aug 11 09:04 PM

Quote:

Originally Posted by Katkeeper

Unless one has more than one cat and one of those cats is a calico...

Plaid!

---
Your reply here?

The Cellar Image of the Day is just a section of a larger web community: a bunch of interesting folks talking about everything. Add your two cents to IotD by joining the Cellar.