Undertoad Friday Jul 23 10:08 AM

7/23/2004: Near-goring at Pamplona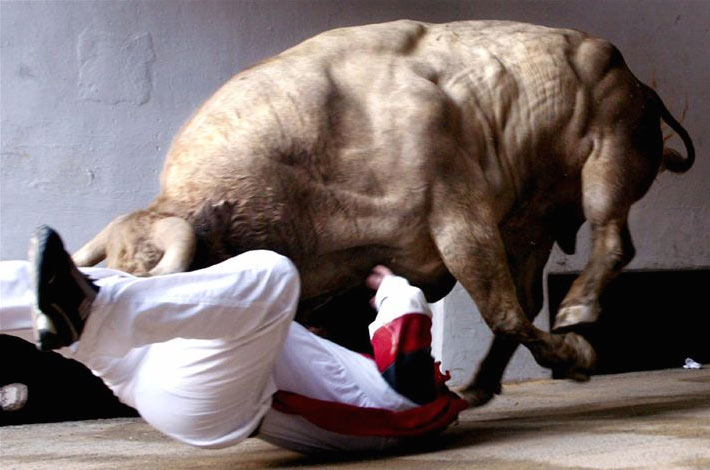 Every year's bull run turns up a new set of amazing photos. This one is the best I've seen this year around, not for the danger involved (which is in every photo), but for the texture of the massive beast's rippling muscles. Amazing.

---

Skunks Friday Jul 23 10:48 AM

The horns are scary and stuff, but what about the hooves?

Does it really count as a "win" (snicker) if you escape the horns but are squished just a second later anyway?

I guess what I mean is: did that dude survive?

---

lumberjim Friday Jul 23 11:08 AM

That's the coolest kind of bull. they're so fucking scary. look at the friggin knots of muscle. got damn.

---

Kitsune Friday Jul 23 11:16 AM

That looks like some monster out of Doom. Damn scary!


---

jaguar Friday Jul 23 11:36 AM

Quote:

That looks like some monster out of Doom.

Tell me about it!

Look like at best he's about to cop a hoof to the head, at worse he's going to have a few ton of bull stepping on his groin.

---

Guess Friday Jul 23 12:31 PM

damn that's one angry bull

rest in peace my poor brave friend

---

Cyber Wolf Friday Jul 23 12:44 PM

That is one beautiful animal. That picture should go in the dictionary beside the word "enraged".

While back on the subject, what exactly do they do with the bulls after all's said and done? If it's a huge BBQ party after, then the killing of the animals wouldn't seem like such a waste. I asked this before, but I don't remember if that or any replies were part of the posts that got lost when the wossname got buggered.

---

jaguar Friday Jul 23 12:50 PM

I remember they get skinned, I've seen a picture of that after a bullfight, not sure on the rest.

---

Tricoloreyes Friday Jul 23 01:02 PM

Bull Ears

I remember seeing a Bull Fight in Mexico when I was about eleven. The matador cut off the Bull's ears and gave them to women in the audience. The whole thing was bloody and the making of many nightmares. They kept spearing the bull with colorful spears that moved around has the bull moved. Then the blood. Lots of blood. The horns were auctioned off right there. I do not remember the hide or meat being sold. All I remember after they cut off the horns was throwing up on my brother.

---

BrianR Friday Jul 23 03:46 PM

They eat them. If I find a link I'll post it, my information comes from being in Spain and asking.

---

dar512 Friday Jul 23 03:53 PM

Quote:

Originally Posted by BrianR

They eat them. If I find a link I'll post it, my information comes from being in Spain and asking.

Mmmm. Tough meat and gristle. My favorite.

---

Griff Friday Jul 23 04:34 PM

First Bonds then Marion, now this!

---

Carbonated_Brains Saturday Jul 24 05:26 AM

Holy! That takes balls!


---

panenka Saturday Jul 24 06:44 AM

Look at this picture of a guy gored this year. Impressive!



Anyway, it isn't normally like that. Normally, the run is pretty clean, only a few injured because of falls.

BUT the running of the bulls is dangerous. If you go to Pamplona enjoy the rest of the festival (Fiesta), have fun, it's one of the best festivals in the world and watch the run on TV, like most of us, the locals, do.



For pretty pictures about the run and the festival have a look to this link

---

smalland Saturday Jul 24 09:39 AM

Horn in butt

The cover of that magazine in PDF format:

http://www.diariodenavarra.es/edicio...da/portada.pdf

That's gotta hurt like f***...

---

xoxoxoBruce Saturday Jul 24 10:18 AM

Wow panenka, what a great link. Dozens of great pictures, thanks.

---

jaguar Saturday Jul 24 10:27 AM

Holy hell that guy is having a bad day, he's already wearing bandages from some earlier nasty encounters.

---

lumberjim Saturday Jul 24 11:05 AM

I think he might be onto something. Ass piercing. all the kids will be doing it. get your franchise now. of course, you'll need to use sterile bullhorns to perform your piercings, and make sure you get a note from the kids' moms.

---

Elspode Saturday Jul 24 11:30 AM

Ouch. Looking at the bigger .pdf version, you can clearly see the guy has been gored at least twice...there's another bloody more to the center of his back to the left of the still-embedded horn.

---

Cyber Wolf Sunday Jul 25 11:31 PM

Tsk tsk...the things people do for fun.

---
Your reply here?

The Cellar Image of the Day is just a section of a larger web community: a bunch of interesting folks talking about everything. Add your two cents to IotD by joining the Cellar.