Undertoad Friday Jul 16 12:03 AM

7/15/2004: Light-transmitting concrete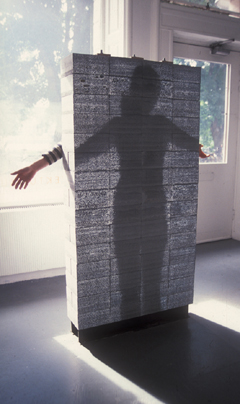 (a hardware failure cause a few threads and posts to be lost including this one... but the image is still here. -editor)

---

Trilby Friday Jul 16 12:40 AM

I've said it before and I'll say it again: This will be great for foiling the dastardly dastards tryin' ta creep up on ya!

---

wolf Friday Jul 16 01:40 AM

I know I have seen this somewhere before ... could have SWORN it was here! Maybe juju had it for one of his IOTDs on Hinterlands.cc?

---

tandr Friday Jul 16 02:39 AM

Original link?

Undertoad, do you have any additional info about that concrete?

---

xoxoxoBruce Friday Jul 16 04:39 AM

Makes it easy to follow the wiring and plunbing in the walls. Make a great party wall between apartments.


Yes Wolf, it was in the Cellar, but not IotD.

---

glatt Friday Jul 16 08:46 AM

Quote:

Originally Posted by tandr

Undertoad, do you have any additional info about that concrete?

More info

---

Relisnhoj Friday Jul 16 11:03 AM

It's glass...

I read in one of those "house of the future" magazines about a product very similar to this. The see-through effect is achieved by imbedding thousands of glass fibers in the concrete, allowing small amounts of light to pass. The article I read had a "Disco Driveway" with blocks of concrete with different color lights beneath, it was (as quoted from a 5 yr. old) "neato schmeato!"

---

Undertoad Friday Jul 16 11:44 AM

Now what I want from this is A) a way to make the light one-way, and B) a switch to turn it on and off. Then they could make entire sides of buildings out of this, and save on energy costs by selectively using it for lighting during the day, and allowing light in for heat where appropriate, while still preserving privacy. Computer-control it to get the maximum out of the heating possibilities, on a room-by-room basis.

---

jaguar Friday Jul 16 11:59 AM

Light might get though but I doubt much extra heat is.

---

glatt Friday Jul 16 12:08 PM

Concrete is a poor insulator. When you build with it, you need to insulate heavily. The insulation would block the light flow. This new translucent concrete would be a poor choice for cold climates. Better for warm climates.

---

Happy Monkey Friday Jul 16 01:17 PM

Easy enough, insulate with water sandwiched between glass! And then heat or cool the water, depending on the season! Nothing simpler.

---

zippyt Friday Jul 16 05:00 PM

Ugh I posted this same stuff in Technolagy a while back

---

mrputter Saturday Jul 17 11:36 PM

Quote:

Originally Posted by Brianna

great for foiling

All I can think of are the varied uses to which this could be put to use in the next James Bond flick... :-P

---

hermex Monday Jul 19 03:42 AM

*

Quote:

Litracon© is a concrete stone-block that turns out to be light conducting through its embedded glassfibers. From one side to the other light passes the stone with- out any significant loss and illumi- nates the darker side of the stone. Shadows are transmitted and shown in precise shapes on the opposite surface.

Mass produced LiTraCon© products are expected to be on the market at the end of 2004. *
*
* * * *

LiTraCon©

(I think they used up all their creativity on inventing the concrete, before they got around to naming it)

---

jaguar Monday Jul 19 03:50 AM

But look at that creative use of CapItaliSatIoN!

---

Undertoad Monday Jul 19 09:26 AM

Thanks hermex for the link, and also for the original submission (your credit previous got lost in the crash)

---

jaguar Monday Jul 19 09:31 AM

The ability to dembed logos and symbols in this is very cool, you could have all sorts of fun with it.

---
Your reply here?

The Cellar Image of the Day is just a section of a larger web community: a bunch of interesting folks talking about everything. Add your two cents to IotD by joining the Cellar.