Undertoad Thursday Jul 1 10:41 AM

7/1/2004: Color therapy cube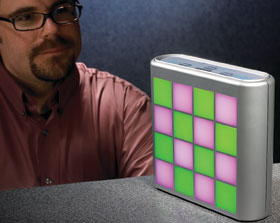 Feeling a bit depressed? Losing your energy? Joints need lubricating? Pick up a Color Therapy Cube!



Quote:

Alternative health practitioners sometimes use color therapy (also known as chromotherapy) to calm, rejuvenate, and improve the sense of well-being—for example: blue for serenity, red for vitality, green for renewal and rejuvenation. Now you can bring color therapy to your desk or home with the Color Therapy Cube. It employs 24 continuously changing colors and patterns.

The effect is a stunning and intriguing display that could also be beneficial. Choose from three different programs: Nomad for reflection, Geometrics for concentration, and Flow for relaxation or meditation. Jittery before a meeting? Having trouble concentrating? Feeling drowsy in the afternoon? Try the Color Therapy Cube. Use it at home before bedtime or to perk up for an evening out. Built in 15-60 minute timer. Tabletop or wall mountable. Measures about 9"L x 3"W x 8"H.

As Gizmodo points out, "COULD be beneficial" is an empty statement, so you can also say it COULD cause incontinence. Serenity now!

Can somebody help me? I can't figure out whether I'm losing vitality, or whether I need renewal and rejuvenation.

And I'm desperately worried that my color therapy is clashing with my aroma therapy - because you know somthing stinks to high hell when the price of the above unit is 70 BUCKS.

---

Cyber Wolf Thursday Jul 1 10:55 AM

They say the same thing for the clothes you wear. Or maybe you could just decorate your 4x4 office cubicle with the appropriate colored bricabrac.

---

Happy Monkey Thursday Jul 1 11:01 AM

Cheaper:


---

Beestie Thursday Jul 1 11:13 AM

Originally posted by Happy Monkey

Faster:


---

lookout123 Thursday Jul 1 12:30 PM

a friend of mine has a very loarge version of this on his wall at work. it's like 5' x 5', or close to it. i have to admit, it is actually pretty mesmerizing. i don't know how much work i would get done though.

---

Guess Thursday Jul 1 01:16 PM

i'd think the rubiks cube would do the opposite for you- drive you insane!!

---

hot_pastrami Thursday Jul 1 01:36 PM

I used to date a girl who was into new-age natural healing stuff pretty heavily. She believed in one form of color therapy where a person puts ordinary water into ordinary colored bottles, and leaves them in the sunshine for few days or so. In doing so, the color of each bottle would impart it's "energy" upon the water inside the bottle, and it could then be stored for future use. Drinking the various waters with different "color energies" would have certain benefits (relaxation, sharpness of mind, healing, hydration, etc.)

I think food coloring is probably a lot less work for the same (non-existent) result. And, the water would actually change to the appropriate color, instead of remaining boring old "clear."

I can buy the idea that moving patterns of colors *could* have some mild psychological effect, but I think that most (not all) new-age natural stuff is just a placebo effect. But that's just me.

---

Cyber Wolf Thursday Jul 1 01:51 PM

Hey, whatever makes you feel good...

---

Troubleshooter Thursday Jul 1 02:02 PM

Goddamn hippies...

---

ladysycamore Thursday Jul 1 05:40 PM

I think this is pretty kewl looking. I'd probably buy it. *shrugs*

---

be-bop Thursday Jul 1 07:07 PM

Colour Therapy Cube

$69.95 = £38.00 for a wee fucking square lamp???????

Use Windows media Player get all the colours you want for free


---

xoxoxoBruce Thursday Jul 1 07:28 PM

Mmmmm,..DoDad.

---

novice Thursday Jul 1 10:36 PM

Mmmmmmm, Jack Daniels.

---

Karenv Friday Jul 2 10:34 AM

Light grid

It will be down to $35 by the end of summer. $29.95 by next year.

But who would want a pink and green checkerboard? Maybe their freeflow patttern would be more inspirational. Sort of a postmodern lava lamp.

BTW, how do I post images for consideration here?

---

Undertoad Friday Jul 2 11:35 AM

Email em to the contact address at the bottom and if your image isn't used just post it to quality images.

---

Karenv Friday Jul 2 01:20 PM

Contact address?

Do you mean cellar@catalystinternet.com ? which is the "write us" link at the bottom. It looks too general to get to you.

(I don't see "contact" either on the page or on the forum listing.- could you just write it out ? Thanks.)

---

wolf Friday Jul 2 02:31 PM

UT is catalyst internet.

---

Kitsune Friday Jul 2 02:35 PM

I bet you could get the same effects out of full spectrum lights. I know a bunch of people who are always buying Home Depot out of the things and they always seem so wonderfully relaxed and carefree.

---

Karenv Friday Jul 2 05:15 PM

Full spectrum

You can get most of the full spectrum by using a cool light florescent with a couple of incandescent bulbs to provide the missing red tones.

I go to an optomitrist who uses colored light therapy, Sintonics. It can be very good. But the trouble with using full spectrum lights or looking at lights through colored goggles is that the light is too dim. You get more of that spectrum just by going out during the noonday sun.

I borrowed the goggles with "my" light prescription and decided to walk around outdoors instead of looking at a lightbulb. Curiously, when I walked around the city streets, even in the sun, that color was largely missing unless I looked straight up at the sky. In the park OTOH I found it all around me.

So go outside. In wide open spaces.

---

Bitman Friday Jul 9 04:14 PM

Edit: Looks like Wally World has it the cheapest. I'm actually tempted, just cuz it looks cool. Hey lookout, got any more info on the big one?

Oh, and I hope you know that solarized water expires.

---
Your reply here?

The Cellar Image of the Day is just a section of a larger web community: a bunch of interesting folks talking about everything. Add your two cents to IotD by joining the Cellar.