Undertoad Wednesday May 26 04:43 PM

5/26/2004: Pigeon ruler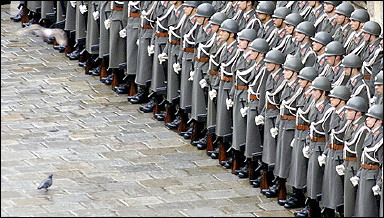 Late today and so I'm posting something really light. The danger of a free press is that a photographer has the freedom to shoot and crop something up that makes it look as if your army is run by a pigeon overlord.

"Stand as I address you soldiers!"

---

warch Wednesday May 26 05:18 PM

Or that there is such a great hatred of the evil pigeon that he must face the firing squad. gulp. Give the poor bastard a smoke.

---

DanaC Wednesday May 26 05:35 PM

'TTeeeennnnshun!

---

Slartibartfast Wednesday May 26 06:22 PM

"Gentlemen, yesterday's cooooo d'état has given me supreme power. We will now shoot all the cats. My enemies will be dipped in cement and left standing in parks as statues. All bakeries will now be under state control. Everyone will speak Pigeon English on penalty of flogging..."

---

xoxoxoBruce Wednesday May 26 06:43 PM

So much spit&polish, so little poop.

---

DanaC Wednesday May 26 06:43 PMverr good

---

axlrosen Wednesday May 26 11:48 PM

This is kind of how I imagined it would be like in Elbonia.

---

Nothing But Net Thursday May 27 12:32 AM

Kinda reminds me of the guy walking down the street with a shopping bag, standing off the tanks headed for Tiananmen Square.

Very brave.

---

wolf Thursday May 27 01:42 AM

I see the photographer also captured a shot of the secret "stealth pigeon" air force.

---

Clock Man Thursday May 27 09:03 AM

Don't cry for me Argentina. (Emphasis on the back ground music)

---

Beestie Thursday May 27 10:18 AM

I, for one, welcome our new pigeon Overlord

---

jaguar Thursday May 27 10:39 AM

people wonder why I like photography so much, this is utter gold.

---

Happy Monkey Thursday May 27 10:48 AM

Hee. They're even color-coordinated.

---

lumberjim Thursday May 27 10:55 AM

beestie, you're a funny sonofabitch.

---

hampor Thursday May 27 07:18 PM

I bet the band was playing

Hail to the Peep

---

richlevy Thursday May 27 09:57 PM

Freebird!



...and the presidential limousine was a coop de ville!

---

OnyxCougar Sunday May 30 01:58 PM

What's that in the upper left corner? Looks like an eel on the soldiers boots or something in the air thrown in General Byrd's direction...

---

jaguar Sunday May 30 02:12 PM

bird, blurred by the apature is my guess.

---

xoxoxoBruce Sunday May 30 02:47 PM

That's the stealth pigeon, wolf reffered to.

---
Your reply here?

The Cellar Image of the Day is just a section of a larger web community: a bunch of interesting folks talking about everything. Add your two cents to IotD by joining the Cellar.