Undertoad Friday May 14 02:27 PM

5/14/2004: Ostrich resists arrest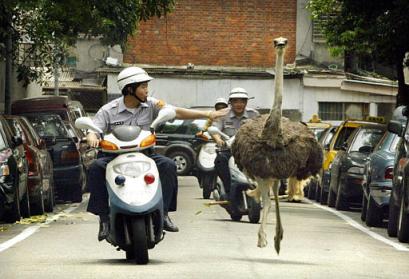 Police on motorscooters attempt to pull over an ostrich who escaped from a children's petting zoo, Sunday, May 9, 2004, in Taipei, Taiwan. The ostrich eluded capture.

---

ladysycamore Friday May 14 02:32 PM

Wow great shot....the person managed to capture the bird's feet leaving the ground...excellent.

Nice angle too.

---

And Friday May 14 03:35 PM

As I looked at this pic, only one thing came to mind...

Roadrunner!
That coyote's after you!
Roadrunner!
If he catches you, you're through!

---

MAdMoNKEY Friday May 14 03:36 PM

Um, whoever took that picture better get the f#@% off the road...

---

Slartibartfast Friday May 14 03:50 PM

Ostriches are fast, maybe those cops need one of these:




The Cops are Chasing Me in a WHAT?

---

glatt Friday May 14 04:02 PM

The cop on the scooter behind the ostritch looks like he has a grin from ear to ear. He realizes the ridiculousness of his situation, and is enjoying every minute of it.

---

xoxoxoBruce Friday May 14 06:23 PM

That's because he knows he's not the one who's going to have to bulldog that thing.

---

YellowBolt Friday May 14 07:18 PM

How the hell are supposed to stop an ostrich anyways?

---

xoxoxoBruce Friday May 14 07:41 PM

Jump aboard, turn off the key and slam on his brakes.

---

wolf Saturday May 15 01:22 AMFreaking cool.

" The Lamborghini will also be used to transport human organs for emergency operations."

One question ... if they arrest someone, what do they do, tie him to the front bumper?

---

jaguar Saturday May 15 01:31 AM

Must be something in the water over here. I've been doing 180kph on the highways here and had people FLY past me in the 250kph range, insane. Only last week there was a major accident on a highway near me during a race between a porche and a ticked out BMW. Of course on average, in Lausanne I see 1-2 high-peformance sports cars a day (Ferrari, Maserati...) so I guess it's simply a numbers game.

---

xoxoxoBruce Saturday May 15 10:16 AM

I'd bet we have more cars capable of those numbers, than any other country. Like you said, it's a numbers game.


Besides, that blue & white is a Ford.

---

jaguar Saturday May 15 11:09 AM

As a percentage Switzerland and particularly lausanne and the 'swiss riviera' must be among the highest in the world, I've seen a ferrari, maserati, lamborghini and porsche at one traffic stop before and passing (or being passed by) 5-10 porsches along a 15min strip of that highway is not uncommon.

Of course there are over 50 private (read 1-10m+ to walk though the door) banks with offices in lausanne, a city of 200,000 people.

---

elSicomoro Saturday May 15 11:44 AM

The Missouri State Police used to use confiscated Corvettes and Camaros to bust speeders on major highways...not sure if they still do, though.

---

jenne Sunday May 16 08:39 AM

In North Carolina, the state police use camaros and other assorted vehicles to pull you over, and I'll tell you, some of those things have serious engine adjustments. *raises hand* Found that out the hard way. On another note, when I lived in N.C., it was right by Camp Lejeune Marine Corps base, so fast cars were the norm around there. (along with ugly fins).

---

CharlieG Monday May 17 08:00 AM

Out in Queens (Part of NYC) the Highway Police have a nicely tricked out Ford Mustang painted like a police car, but the BEST part is the pinstriping/lettering on the C coulums

It says "This car siezed from XXXXXXX for street racing under NYC Code YYYYYYYYY"

AKA, they are rubbing it in

---

chrisinhouston Wednesday May 19 12:33 PM

In Texas the Highway Patrol uses pickup trucks as part of their fleet. I mean it's Texas right, what else would you expect?



---

Clodfobble Wednesday May 19 12:35 PM

I've also seen several police SUVs between Austin and Houston. I think they were Ford Explorers.

---
Your reply here?

The Cellar Image of the Day is just a section of a larger web community: a bunch of interesting folks talking about everything. Add your two cents to IotD by joining the Cellar.