Undertoad Wednesday Apr 28 01:14 PM

4/28/2004: Carved eggshells


Lady Sidhe sent these along and it seems they were sent to her with very little information? But they're interesting bit of craftwork and probably would qualify for our own xoxoxoBruce's dodad collection (as long as they had a good story). That's praise indeed.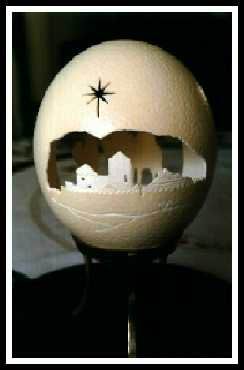 Carved from eggs? Dang, that's some detailed work.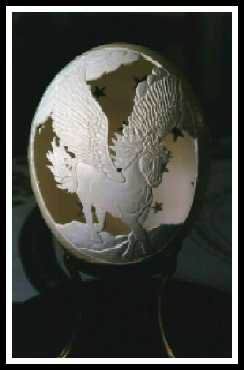 The subject matter they've chosen is a bit kitschy for me, but you still have to be amazed.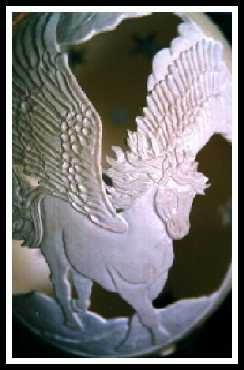 ---

glatt Wednesday Apr 28 01:16 PM

I've seen these before, but can't remember where.

They are amazing. I watched a guy in New Zealand carving designs in bone for use on neclaces. He did some pretty intricate stuff with his dremel syle tool, but nothing like this.

This has got to take a very steady hand. Impressive.

---

pdaoust Wednesday Apr 28 03:07 PM

ohhhhhh, I bet I know how they do it

you know, if you take a good hard look at those eggs, they seem to have the same colour, shape, and texture as ostrich eggs. I imagine ostrich eggs would be much easier to carve than, say, chicken egs.

But they're still spectacular nonetheless.

---

jdbutler Wednesday Apr 28 03:10 PM

Yeah, they're good...but can he fix Humpty?

---

AstroJetson Wednesday Apr 28 03:10 PM

Google is your friend

They have the eggs shown

Another great site

Clearly cases of people with too much time on their hands

---

ladysycamore Wednesday Apr 28 05:50 PM

Wow...that's amazing!!

But, I would imagine that they would have to "harden" the shells a bit to carve without breaking. Just guessing...maybe they didn't. Nice work anyway.

---

Leah Wednesday Apr 28 06:53 PM

Pretty interesting, but not my cup of tea.

---

Happy Monkey Wednesday Apr 28 06:58 PM

For Leah:

---

Leah Wednesday Apr 28 07:02 PM

ha ha ha very funny

---

Pearcie (AUS) Wednesday Apr 28 07:30 PM

Haha, nice 1 HappyMonkey.

I'm with UT on this one, nice work but couldn't they choose a more interesting subject matter, maybe a comic book hero. Yeah, I'd buy one with a big Hulk likeness carved into it.

---

xoxoxoBruce Wednesday Apr 28 09:00 PM

Sounds like a perfect job for a laser.

---

lhand Wednesday Apr 28 09:46 PM

First computer job

Years ago, around 1975 I guess, I was working with IBM 5100 computers (pre-PCs), writing accounting software, and I did some stuff for a company that made micro sand blasters used in IC manufacturing. The owner's wife used to come in and use the machines free-hand to carve eggs like these. I wonder what tools were used to make these ones.

---

Pearcie (AUS) Wednesday Apr 28 09:49 PM

It's similar to a dentists drill apparently. There's some good info in the links from AstroJetson further up the page.

---

Lady Sidhe Wednesday Apr 28 10:22 PM

Actually, my grandfather used to raise Emus, and I have an empty emu shell....they're huge (you can make four STUFFED scrambled-egg sandwiches out of ONE), and they're a beautiful dark green. The shells are pretty thick, so if those ARE ostrich eggs, they probably wouldn't have to harden them before carving.

Sidhe

---

tw Thursday Apr 29 12:11 AM

Same may be possible with a laser cutter.

---

Elspode Thursday Apr 29 12:47 PM

These rock, but I'm thinking you would *really* need to display them under glass, as dusting them would be somewhat problematic.

I think I've found this year's anniversary gift for the Mrs, though...

---
Your reply here?

The Cellar Image of the Day is just a section of a larger web community: a bunch of interesting folks talking about everything. Add your two cents to IotD by joining the Cellar.