Undertoad Saturday Apr 24 11:43 AM

4/24/2004: Persian cat wash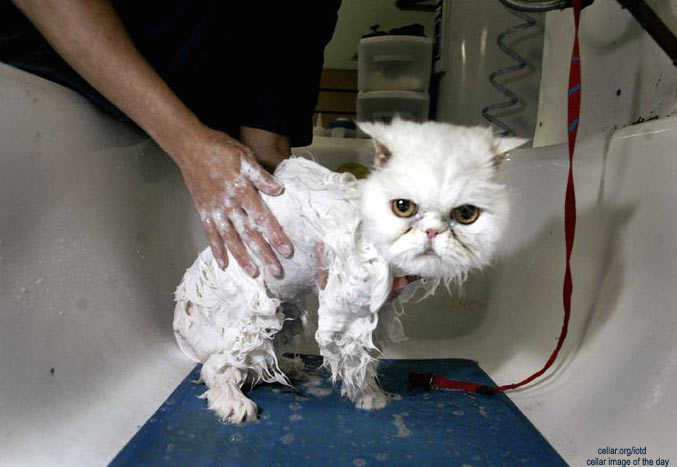 Sometimes a picture is just too wacky.

---

Relisnhoj Saturday Apr 24 11:59 AM

All I have to say is
Damn! That is one pissed-off looking cat!

---

dar512 Saturday Apr 24 01:03 PM

Cute picture, but I'm thinking photoshopped.

---

jaguar Saturday Apr 24 01:09 PM

photoshop.

It looks like an obvious one and anyone that's tried to wash a cat knows it's not going to sit still enough for you to carefully miss it's head like that.

Why do people wash cats anyway, it's like cleaning a dishwasher.

---

xoxoxoBruce Saturday Apr 24 01:27 PM

Could be photoshopped, but it's showing something I've personally witnessed. Showcats, that are washed regularly, will stand for it (but they won't smile), if you keep the soap and water off their head. That really pisses them off.

---

jaguar Saturday Apr 24 01:39 PM

when did UT start watermarking images?

---

Undertoad Saturday Apr 24 02:30 PM

Once in a while I mark one, not watermark but just label it to see where it ends up. It's funny sometimes.

This isn't photoshopped, probably, because it comes from the MSNBC week in pics and I've seen similar ones where the cat's being shaved.

---

funkykule Saturday Apr 24 03:32 PM

I doubt its photoshopped. We had an old english sheepdog (the Dulux dogs) and every summer we'd cut of all his hair because he was way too hot under it all. When dad had all the body finished but the hair on his head was yet to be done, the poor dog looked comical! Also, you realise that even though they look huge and fluffy, they're actually pretty skinny. god- I loved that dog. He had huge blue eye's and they looked uncanilly like human eyes.....*sigh*....I miss him.

---

wolf Saturday Apr 24 04:06 PM

That's done intentionally to long-haired cats. It's called a "line cut" (often mistakenly called a "lion cut" because that's kind of how they come out looking at the end, if the kitty stylist has a sense of humor and leaves a puff on the end of the tail).

---

Happy Monkey Saturday Apr 24 07:18 PM

Lion Cut:

---

Beestie Saturday Apr 24 07:22 PM

I think its photoshopped. If they "switched heads then they also had to modify the shadow of the head. Follow the shadow of the leash through the shadow of the head and something doesn't look right. Plus the bottom of the cat's head is too round - no stray hairs or anything - too smooth an edge.

Just a guess, tho.

---

Nothing But Net Saturday Apr 24 07:55 PM

I always enjoy looking at a wet pussy

---

Slartibartfast Saturday Apr 24 08:03 PM

Quote:

Originally posted by Nothing But Net
I always enjoy looking at a wet pussy

Here's another wet pussy, this one is completely wet. It doesn't look happy

---

Lady Sidhe Saturday Apr 24 10:02 PM

The first picture looks like the tub we used to have at the SPCA at which I worked.

I've also worked in a cattery, and if a cat is bathed from kittenhood, it usually doen't have a problem with water.

Sidhe

edit: as to the cat above, those are the orangest eyes I've ever seen! Wow.

---

mrputter Sunday Apr 25 02:58 AM

Beestie, I don't see anything wrong with the shadows. I suspect that leash isn't where you think it is; look at it in relation to the cat's feet. It ends up being to the right of -- and slightly behind -- the cat's head.

Meaning that if (as appears probable) the light source is off to the left -- and a couple feet forward -- of the picture-taker, then the shadows line up properly.

---

floki Sunday Apr 25 03:31 AM

Some more humanization of cats

As if washing cats wasn't enough: Some people go to the trouble of training their cats to go to the toilet. Pretty convenient for those who shun cleaning the litter box, and let's be honest, who likes those kind of chores. If done well the result looks like this:


---

Crimson Ghost Sunday Apr 25 04:22 AM

That cat in Happy Monkey's post looks EXTREMLY pissed off. He's thinking, "If I had thumbs and a clear shot at yer neck, you would be so dead right now, you rat bastard."

---

jaguar Sunday Apr 25 04:37 AM

I don't get it, you've still got to flush the damn thing afterwards, just let the poor animal go outside.

---

Dusauber Saturday Jul 3 08:36 PM

Sorry, i don't speak english, but i have a Cat!

---

xoxoxoBruce Saturday Jul 3 10:50 PM

Welcome to the Cellar, to you and your cat, Dusauber.

---

BrianR Sunday Jul 4 12:20 AM

I'm sorry, did you say "line cut" or "lion cut"???

Welcome!

---

busterb Wednesday Jul 7 07:29 AM

Why should anyone want a blasted cat?

---

jaguar Wednesday Jul 7 07:34 AM

Because you don't need to train cats not to shit on your carpet. They also don't require constant attention.

---

wolf Wednesday Jul 7 10:58 AM

You clearly haven't had cats, have you?

Okay, to be fair ... cats don't usually shit on the carpet.

They express their disgust by shitting on your pillow.

And some of them are serious attention sluts.

---

xoxoxoBruce Wednesday Jul 7 07:01 PM

Quote:

Why should anyone want a blasted cat?

So the dogs have something to chase.

---

Crimson Ghost Thursday Jul 8 12:16 AM

Quote:

Originally Posted by busterb

Why should anyone want a blasted cat?

Well, how else are the Chinese takeout places gonna stay in business?

---

Bullitt Thursday Jul 8 12:55 AM

cats are the best pets period. mine throw up every now and then, but never on the carpet, just the vynle or hardwoods. meanwhile, my dog slips on the hardwoods scratchin em all to hell and back and barks at anything that moves in my culdesac. even blowing trash.

But i guess every species has its einsteins and stooges.

---
Your reply here?

The Cellar Image of the Day is just a section of a larger web community: a bunch of interesting folks talking about everything. Add your two cents to IotD by joining the Cellar.