What's IotD?

The interesting, amazing, or mind-boggling images of our days.
xoxoxoBruce Saturday Nov 17 11:23 PM

November 18th, 2018: Birth of a Nation

President Thomas Woodrow Wilson was born in Virginia to a slave holding family and spend his youth in GA and SC.
After being President of Princeton, Governor of NJ, and moving to the White House he allowed Federal workplaces to become
segregated again and was still strongly in favor of Jim Crow laws.



Quote:

Thomas Dixon Jr., Wilson's classmate from Johns Hopkins. A film had just been made of Dixon's second novel, "the true story" of the South under Reconstruction. Would the president, he wondered, be interested in viewing it? (He would.) "History written with lightning," Wilson declared of The Clansman, the second film ever to be screened in the White House. It was an endorsement guaranteed to head off resistance from town censor boards charged with shutting down entertainment deemed unsuitable or incendiary to the public.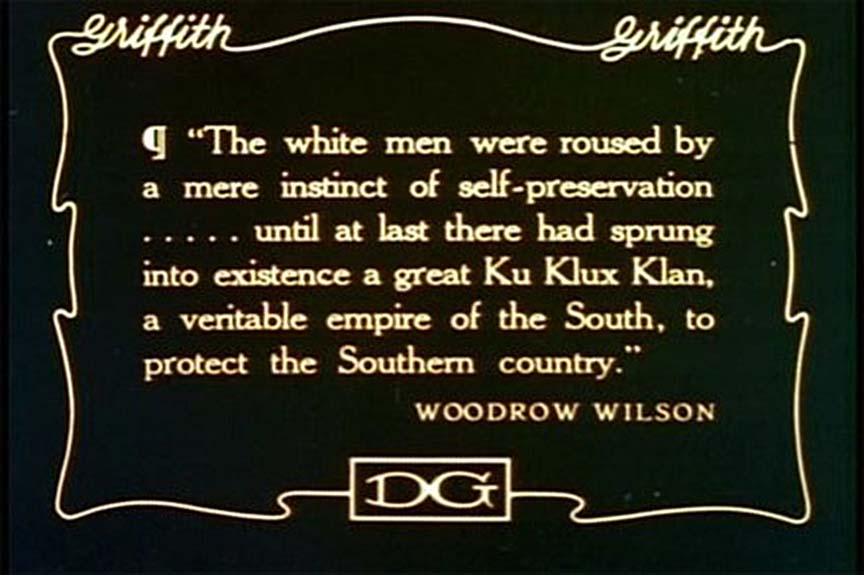 Quote:
The Clansman was a silent movie with title cards. It depicted whites as victims and blacks as villains. Benevolent former masters were denied votes and subjugated by newly freed blacks taking over the country. In an early scene, black legislators sit at desks, shoeless and drunk, too busy stuffing their faces with fried chicken to work. The title card read: "An historical facsimile of the State House of Representatives of South Carolina in 1870." South Carolina had been the first state to elect a majority-black legislature and that the card implied that the apish behavior depicted was historically accurate, too.

Griffith accused protesters of intolerance and violations of freedom of speech. He was, however, persuaded to change the title of his film to the less inflammatory The Birth of a Nation. (The title conveyed the film's underlying theme: former enemies reuniting in defense of "their Aryan birthright.")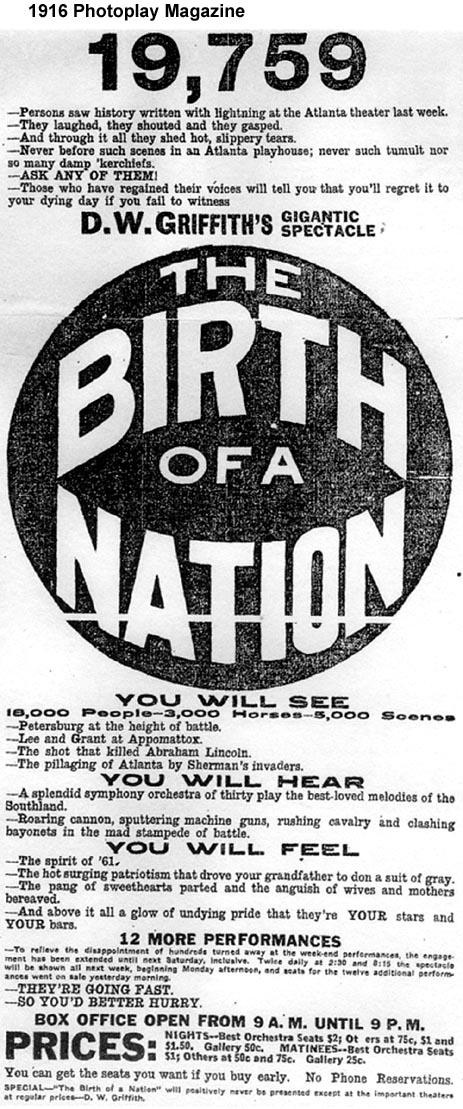 Quote:

By 1915 the Ku Klux Klan had largely disbanded, but now that a movie had made heroes of its members, it revived, adopting the look that had been invented by the film's set designers, who had used 25,000 yards of white muslin to outfit the cast in pointed hoods with eyeholes. Even the horses in The Birth of a Nation wore them.
The movie became a blockbuster, the biggest hit of the silent-film era, spurring merchandisers to hawk Ku Klux hats and kitchen aprons, theater ushers to dress in Klan robes for openings, and New York matrons to host KKK costume balls.
Ten years later, in 1925, a "modern" Ku Klux Klan marched in Washington, parading down Pennsylvania Avenue, thirty thousand strong, wearing the white robes and pointed hoods designed for the movie.

Wilson did a lot of good things but this bullshit set the country back to where we still haven't recovered as far as getting along.

link

---

Griff Sunday Nov 18 09:35 AM

I had a professor in college who really knew the Civil War and American History upside down and backwards but was totally tone-deaf on this.

---

BigV Sunday Nov 25 01:02 PM

I've watched the film, it feels pretty horrifying to my modern sensibilities.

---

Gravdigr Sunday Nov 25 03:36 PM

♪ ♫I wish that♪ ♫
♪ ♫I knew what♪ ♫
♪ ♫I know now♪ ♫
♪ ♫When I was younger♪ ♫

---
Your reply here?

The Cellar Image of the Day is just a section of a larger web community: a bunch of interesting folks talking about everything. Add your two cents to IotD by joining the Cellar.