xoxoxoBruce Tuesday Oct 23 10:47 PM

Oct 24th, 2018 : Maria 120

A lot of strange stories come from New York City, but not many of them get a monument.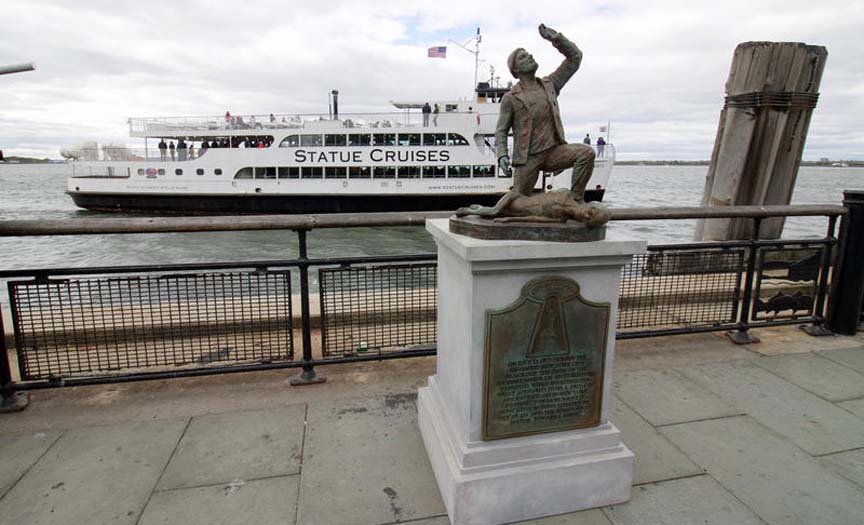 Quote:
July 13, 1977…NYC was in the midst of a brutal heat wave, the city was facing severe financial crisis, and New Yorkers were feeling particularly on edge because of the recent "Son of Sam" murders.

The tugboat "Maria 120" cruised around New York Harbor that evening, on calm waters, seemingly a world away from the buzz of anxiety throughout the city streets, with her crew of six men.

Their shift would go along uneventfully until approximately 9:30pm when all five boroughs of the city lost power and fell into complete darkness. Emergency transmissions came over the boat's radio reporting of the widespread chaos, crime, and looting that erupted.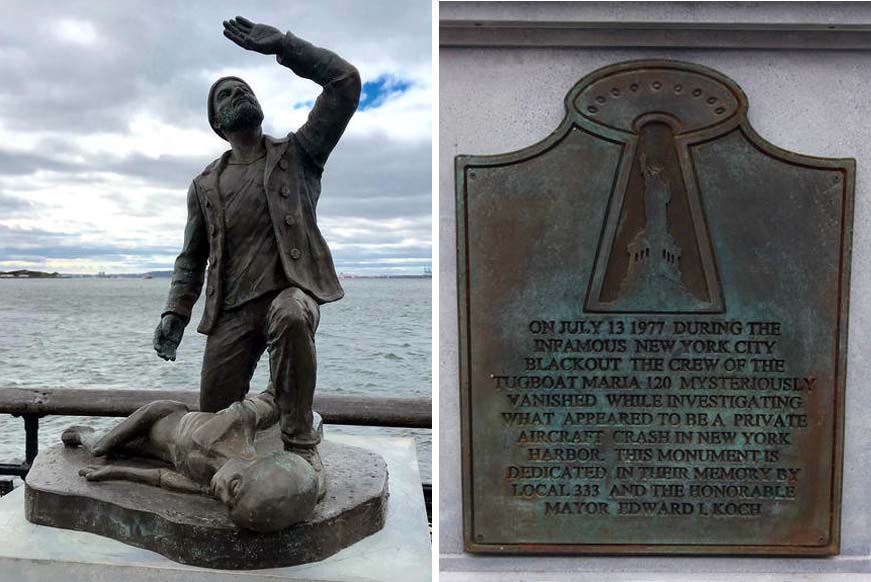 Quote:
As the single screw engine patrolled the waters between Liberty Island and Battery Park in pitch blackness, something even more alarming happened. The crew witnessed a bright streak of light through the night sky and what appeared to be a private aircraft crash into the harbor. They immediately radioed the Coast Guard a distress signal and informed them that they were going to try to tow the crashed vessel to shore.

Shortly thereafter, two Coast Guard boats were on site to aid in the recovery, but what they discovered was far more disturbing than could be imagined…the aircraft that was reported to have crashed into the harbor? Not a trace of it…and the entire crew of the tugboat "Maria 120" was gone…vanished…the boat remained, but not a soul onboard…Many believe that the "private aircraft" was actually a UFO…
We now return control of your computer monitor to you...

link
---

Happy Monkey Wednesday Oct 24 12:36 PM

So... what's the statue supposed to be? An alien body that the guy found just before the streak of light that he is now watching?

---

Gravdigr Wednesday Oct 24 03:06 PM

A Statue Cruises boat in the background of a picture of a statue.

Niiiiice.

---

Diaphone Jim Wednesday Oct 24 06:00 PM

The same artist erected a monument to the Great Staten Island Ferry Octopus Attack.
I think it was a Cellar IOTD in the past but I can't find it.
How about you?

---

xoxoxoBruce Wednesday Oct 24 06:58 PM

Where did you see the name of the artist?

---

Diaphone Jim Wednesday Oct 24 08:02 PM

Joe Reginella

https://untappedcities.com/2018/10/2...n-the-battery/

http://gothamist.com/2016/09/25/arti...th_elabora.php

---

xoxoxoBruce Wednesday Oct 24 08:35 PM

OK, you worked backward from the ferry attack to get his name, I was wondering because I didn't see it anywhere.
The untapped cities site says the tug as well as the crew disappeared.
Good find, Jim.

---

Griff Thursday Oct 25 07:12 AM

So apparently the blackout was cover for an alien abduction. They play the long game these little grey fiends.

---

Diaphone Jim Thursday Oct 25 12:20 PM

Here are some pics of the octopus sculpture.
Am I wrong about an IOTD appearance?

https://www.facebook.com/sioctopusdisaster/

Why do you suppose the bowing smiley is "

" when one assumes the message is "noteworthy?"

---

Diaphone Jim Thursday Oct 25 12:21 PM

Well I wrote "notworthy" and got the icon.

---

xoxoxoBruce Thursday Oct 25 02:18 PM

signifies the poster (me) to be not worthy of your noteworthy effort/results.

---

Gravdigr Thursday Oct 25 03:50 PM

[/wayne'sworld]

---

sexobon Thursday Oct 25 05:38 PMIOTD - Nov 13th, 2017: Disaster Memorials


---

Diaphone Jim Thursday Oct 25 06:44 PM

Hell, that wasn't even a year ago.

---

xoxoxoBruce Thursday Oct 25 10:36 PM

Right, I knew what you were talking about, but that was well over 300 IOtDs ago, which is over 600 hours of preparation, and hidden in a post about bunch of his projects.

---

Diaphone Jim Saturday Oct 27 01:08 PM

I was lamenting my memory, not yours.

---
Your reply here?

The Cellar Image of the Day is just a section of a larger web community: a bunch of interesting folks talking about everything. Add your two cents to IotD by joining the Cellar.