xoxoxoBruce Saturday Oct 20 10:01 PM

Oct 21st, 2018: Travel Log

Vaudeville performer Charles Kellogg could whistle/sing like any bird he ever heard, with a professed range of twelve-and-a-half octaves .
While he impressed his audience and producers, he himself was impressed by the Humboldt County Redwood trees.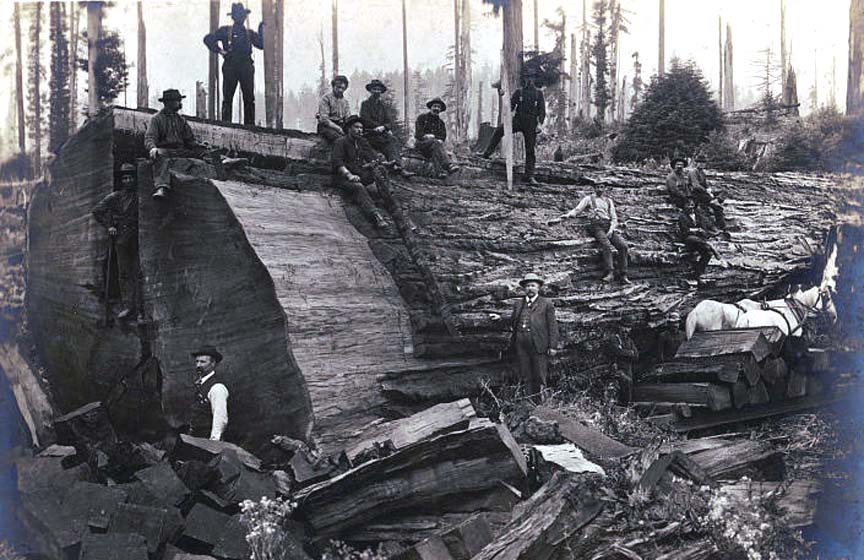 Quote:
In the mid-1910s, a few years into a big-ticket record contract with Victor Records, Kellogg made a pivotal trip to Humboldt County, California. This spot, some 250 miles north of San Francisco, has the largest remaining contiguous old-growth forest of coast redwoods in the world. They are trees so large it's hard to get a handle on their scale, with girthy trunks that stretch up into foliage so far away it looks like parsley.

In his autobiography, he describes how he found himself wondering how to show people the trees' value, and "how to take the forest out to the world [since] the world could not come out to the forests." In 1917, with the support of Sunset magazine, Nash Motors, and the Pacific Lumber Company, Kellogg came up with a solution. He could not take the entire redwood forest out to the world, perhaps, but there was another tangible way to communicate their tremendous size—by taking one tree on tour.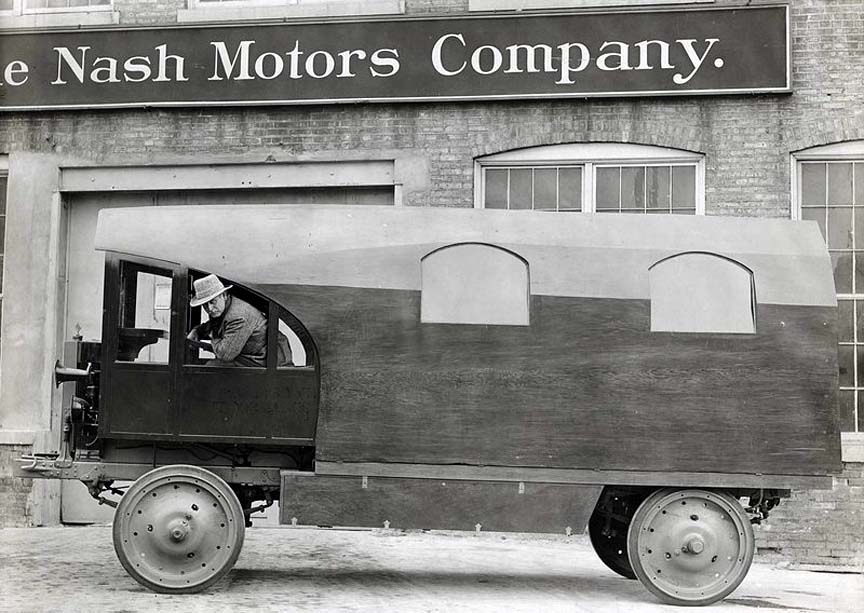 Quote:
Kellogg built a mobile home out of a truck and a 22-foot section of a fallen tree that had once stood 360 feet high. A 1921 Automobile Journal article describes how the tree first stripped of its bark, then hollowed out. "The preparation of this log took weeks of time," journalist Albert Marple wrote. "The car was fitted with windows and doors, and, inside, it was equipped with beds, kitchenette, closets, electric lights, and many other features that would add to the comfort of the travelers." Finally, the "Travel Log" was varnished and polished, and set out on the road. For the next two years, Kellogg and his wife all but lived in the tree, traveling from California to New York with it to, as he put it, "awaken public sentiment … all over the United States."

It's hard to say how much impact Kellogg's travels had—certainly, coverage of the vehicle from the time seems to focus more on its strangeness than its message. But the redwood preservation movement that had inspired him continued to grow, eventually attracting the attention of the then-National Park Director, Stephen Mather. There was little money to be had from D.C., but media attention from such titles as National Geographic and the Saturday Evening Post found yet another way to "take the forest out to the world," as Kellogg had done. Eventually, private donations from people including the Rockefeller family helped to secure their future: By the early 1940s, thousands of acres had been secured and safeguarded.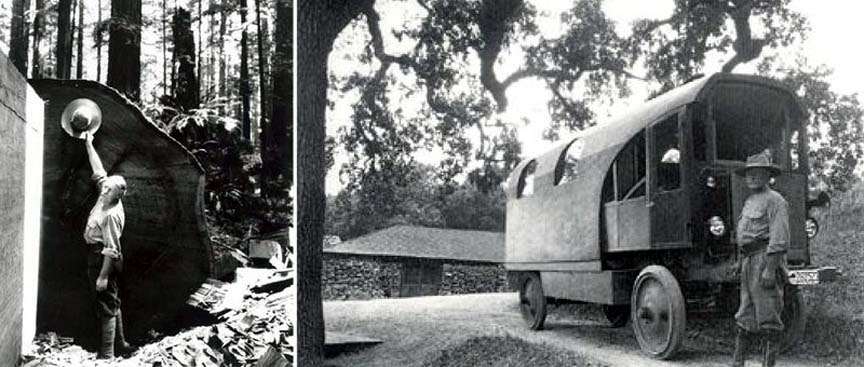 Quote:
As for the Travel Log, it retired when Kellogg did, in the 1920s, and spent the next 75 years tucked away in storage. Eventually, it was restored by the Humboldt Redwoods Interpretive Association, and put on show for all to see in the Humboldt State Park's Visitor Center. It stands proudly in a room dedicated to Kellogg, his life, and his work—not even three miles from where it once grew for hundreds of years.
link
---

fargon Sunday Oct 21 09:20 AM

I found a link with pictures of the interior and better pictures of the machine.
https://www.mnn.com/green-tech/trans...from-a-redwood

---

xoxoxoBruce Sunday Oct 21 10:19 AM

That's a good find, thanks.

---

Griff Sunday Oct 21 12:39 PM

Nice work guys, very cool.

---

Diaphone Jim Sunday Oct 21 12:51 PM

I had to read this great story twice since the first time I was thinking it was one of the Kellogg brothers of cereal fame.
One of the photo captions says "The Travel Log could reach 15 mpg, but probably only downhill. (Photo: Humboldt Redwoods State Park Museum)"
I can't be sure if that is a misprint.

---

xoxoxoBruce Sunday Oct 21 05:21 PM

The quad had 4 wheel drive, 4 wheel brakes, and 4 wheel steering to go anywhere, but not quickly.

---

Happy Monkey Monday Oct 22 11:30 AM

It seems to defeat his purpose a bit for it to look so little like it was from one log. But I guess if it had kept its original shape and size, it probably wouldn't fit on some roads.

---
Your reply here?

The Cellar Image of the Day is just a section of a larger web community: a bunch of interesting folks talking about everything. Add your two cents to IotD by joining the Cellar.