xoxoxoBruce Saturday Oct 13 10:18 PM

Oct 14th, 2018: Whole World In Your Hands

No not the real world, nobody's gonna trust your clumsy ass with that.
More like print and assemble your own world with a hint of Happy Monkey.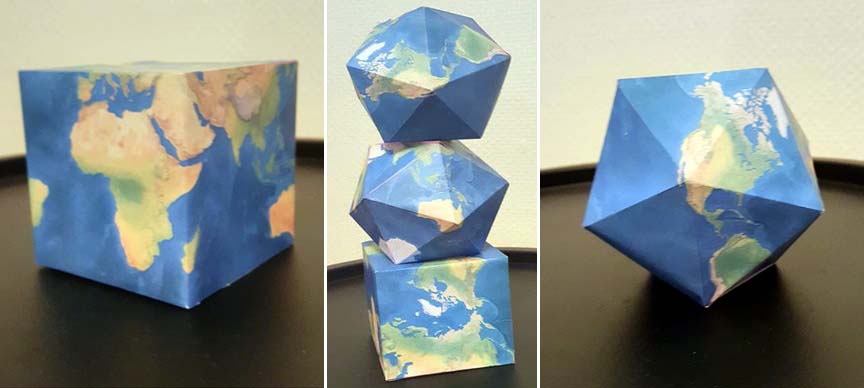 But you donít have to be smart and talented like HM because Mapscaping has done the hard part.
Just go to the folding paper globes page and click on what blows your skirt up... they're free.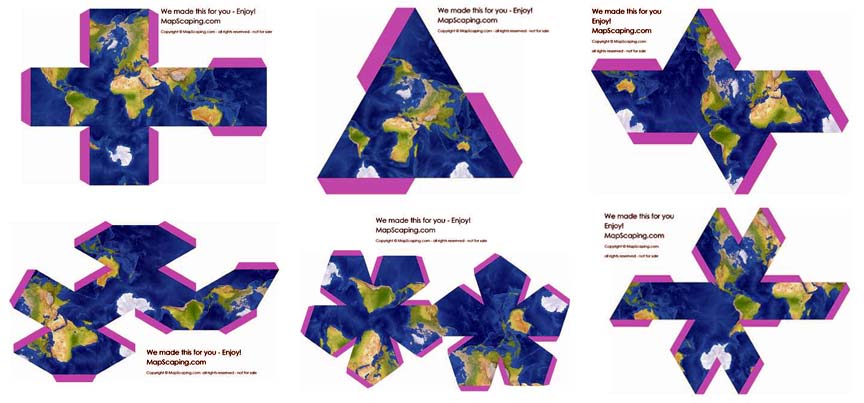 Quote:

You will redirected to printable a PDF file of that image
Take a colored printout on size A3 paper. (A4 works too, but it isnít as much fun Ė especially with, well, big fingers)
You will find that each fold has been marked with a thin black line
Thatís it. Get folding!
Pro tip: For more complicated designs, you can use a ruler to make sure you are getting a clean and precise fold.

A3 Ė 297 x 420 mm - 11.7 x 16.5 in
A4 Ė 210 x 297 mm - 8.3 x 11.7 in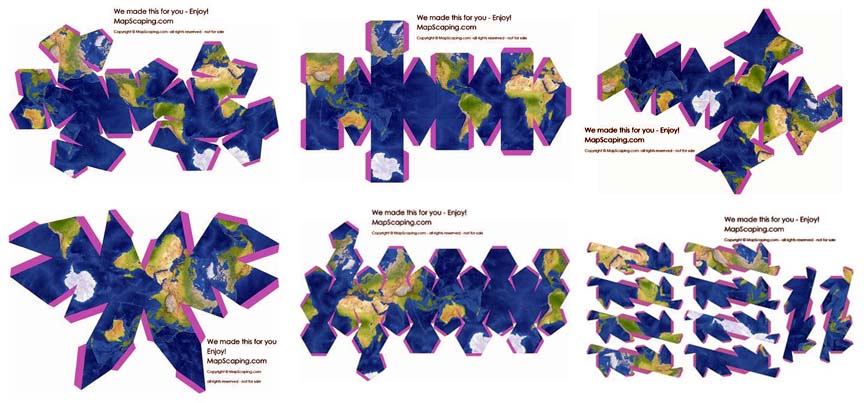 If you get carried away and make too many just fill them with candy and give them to the roving terrors on Halloween.

link
---

Happy Monkey Monday Oct 15 11:50 AM

That's cool. I am curious about the last one.

---

Gravdigr Monday Oct 15 04:50 PM

Hint?



I prefer healthy dollups o'Happy Monkey.

---

xoxoxoBruce Monday Oct 15 05:46 PM

---

Clodfobble Monday Oct 15 06:19 PM

I suspect each one is a vertical slice from the north pole to the south pole, like orange wedges.

---

xoxoxoBruce Monday Oct 15 06:41 PM

That may be but I can't see how they would fit together. They are the same shape and seem to have the same fold lines.

y

---

Happy Monkey Monday Oct 15 07:01 PM

I suspect it's five make the northern hemisphere and five make the southern, and the pieces spiral a bit from the equator to the pole. But I don't have an intuition how those notches in the triangles affect how they go together.

---

Happy Monkey Monday Oct 15 07:11 PM

The long sides without notches puzzle me; if they were attached to each other, the resulting corner would lay flat. So I think the edges without notches each actually line up with two of the shorter sides.

---

Happy Monkey Monday Oct 15 09:37 PM

Is there a non-faded-out PDF?

---

xoxoxoBruce Monday Oct 15 10:31 PM

Yes, at the link in the first post there's this link to the page of pdfs.

---

Happy Monkey Monday Oct 15 11:49 PM

Those are all pale, like in post #6. I was hoping for the darker colors like in the small pics.

---

xoxoxoBruce Tuesday Oct 16 08:01 AM

No, I darkened the small ones when I shrunk them so they would show up better.

---

Happy Monkey Tuesday Oct 16 11:26 AM

Oh, well, I suspected that, but hoped there was a darker set. Anyway, I did print it out and start assembling it. Turns out I was wrong about how it attaches. It's not going to be a globe at all, but a spiky ball, like the green one in this picture (not like my favorite spiky ball shape).


I was confused for a while, trying to piece it together, but all of Antarctica is on the third piece down in the second column, and there was only one way to get those pieces of white to touch.

---

xoxoxoBruce Tuesday Oct 16 05:38 PM

figured all the plans use the same picture/map, and the simpler ones like the square show a big white antarctica and small white arctic. We know they have to be at the top and bottom.

---

Happy Monkey Tuesday Oct 16 06:01 PM

That's how I figured it out; I actually printed out and made the cube one, to look for matching features.

---

Happy Monkey Saturday Oct 20 04:41 PM

No longer curious. I'm pretty sure they didn't actually put it together. The tip of India and top of Malaysia have the wrong tabs to join Asia.

---

xoxoxoBruce Saturday Oct 20 08:50 PM

How about a picture of what you ended up with?

---

Happy Monkey Sunday Oct 21 09:42 AM
---

xoxoxoBruce Sunday Oct 21 10:10 AM

Wow, what a clusterfuck that is. Thanks.

---
Your reply here?

The Cellar Image of the Day is just a section of a larger web community: a bunch of interesting folks talking about everything. Add your two cents to IotD by joining the Cellar.