What's IotD?

The interesting, amazing, or mind-boggling images of our days.
xoxoxoBruce Sunday Nov 12 12:49 AM

Nov 12th, 2017: Strange Jazz

Quiz – Which picture is Philly jazz artist Rufus Harley?





But, but, those are all pipers. Yup, jazz on the pipes.


Quote:
Like most Americans alive at time, Rufus Harley was transfixed by the November 25, 1963 reporting from John F. Kennedy's funeral. America had lost its leader, and with ears pressed to radios or eyes turned to television screens, each person witnessed the end of a tragic turn of events. In the background, Harley heard a low sound. A deep droning echoing over the sadness. Harley, a Philadelphia jazz musician who at that point had been playing the flute and saxophone, felt something stir in him. It wasn't just the sadness of the day, it was that sound.
Those low moaning notes falling over the procession were the exact sounds he had been trying to capture in his music. "When I heard and saw the Black Watch Bagpipe Band marching across the funeral grounds," Harley said in a 1982 interview, "I was very impressed with the sound of the instrument. I could understand it."
Understand it? Sure. Reproduce it? Well. He tried to make his horn produce that sound. Tried and failed. There's nothing like the real thing, and so that winter, Harley bought a set of bagpipes for $120 from a pawn shop, making him the first jazz musician to make the Great Highland bagpipes his primary instrument.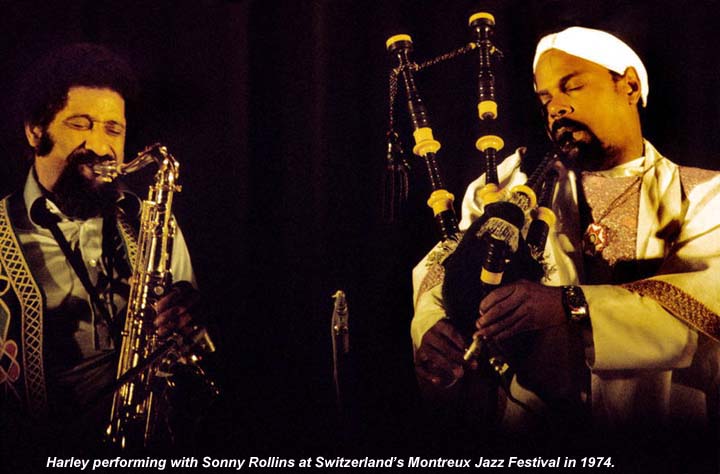 Quote:
Adapting the bagpipes for jazz meant that Harley would have to approach the instrument unconventionally. As author Daniel Goldmark explained in his essay"Slightly Left of Center," Harley tuned his drones—the pipes that produce harmonizing notes—to F and B-flat, a switch from the instrument's more common tuning, so that he'd be able to play with other jazz musicians. The bagpipes' chanter also presented a problem. This pipe, played with two hands, provides the melody but it only plays nine notes. Probably not the ideal set-up if you're trying to get on stage with someone like John Coltrane, considering Coltrane wielding a tenor sax could play over 30 notes. Add a trumpet player to the mix, and that player gets over 40 notes of his own to play around with. Those nine notes need to do a lot of work.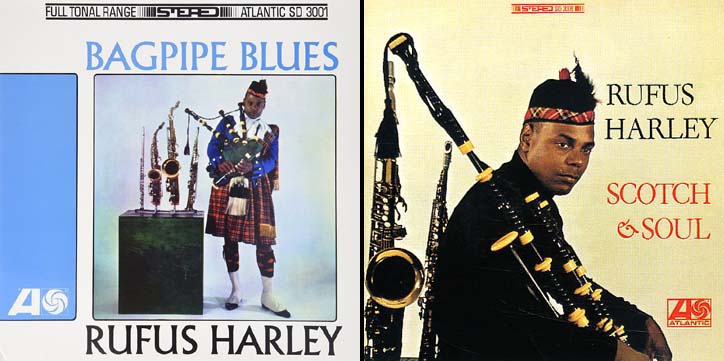 In my youth Melha Shrine Temple in Springfield, MA, had a bunch of parade units. Various bands, mini-cars,
scooters, clowns, and The Highlanders pipe band. The various units would perform at different parades and
functions, earning money for the Shrine Hospital for Crippled Children.
My little town of 2,000 had a Memorial Day parade which the town fathers budgeted $500 for.
Since the parade was boy/girl/cub/brownie scouts, VFW color guard, fire department, 4-H clubs, etc, they
used the $500 to lure the Highlanders. They would arrive in a school bus then after the ceremony, vets firing
a mismash of rifles and scouts throwing flowers in the river, the Highlanders would retire to my Dads or one
of the other dozen Shriners in town for a BBQ. The bands wives and all the Shriners+families in town came too.
Alcohol, BBQ, alcohol, snacks, alcohol, Bocce, alcohol, swimming, alcohol, and much laughter. Every so often
some or all of them would decide to play a song or two. The later it got the more often Amazing Grace was in
the mix. Out in the sticks the pipes carry long distances, but up close they vibrate your organs. I like it.


link
---
Your reply here?

The Cellar Image of the Day is just a section of a larger web community: a bunch of interesting folks talking about everything. Add your two cents to IotD by joining the Cellar.