xoxoxoBruce Monday Nov 6 10:39 PM

Nov 7th, 2017: Tiny Home

And I mean tiny, about 550 sq ft, but it seems bigger because itís got headroom galore.
I could live there comfortably with a maid that stopped in twice a week, once to clean and once for Ö uh, odds and ends.



Quote:
This fantasy cottage is guaranteed to take your breath away. Masterfully constructed, this small home which is located on the shores of Vancouver Island , British Columbia truly looks as though it belongs in a storybook.
-skip-
Despite the undeniable allure of the home itself, itís impossible not to notice the incredible location of the cottage, which is situated directly on an ocean inlet. From this location, Bruce is able to watch the world go by, and even see whales and seals play.

The skill that went into crafting this home is evident everywhere you look. Cedar shakes which make up the roof were painstakingly hand-made and shaped to be able to fit the unique curves of the roof.

Quote:
In true tiny house style, no inch of the homes space has been wasted, and the organically shaped stairs which lead into the sleeping loft also provide storage space for all the homes electronics as well as the water heater.

Upstairs, the loft has been kept simple, yet provides a welcoming place to rest your head at night. The dramatic pitch of the roof adds a certain sense of grandeur to the space, which remains open to the living room below.


He said it cost him about $175,000 CDN.

link

video - https://www.youtube.com/watch?time_c...&v=avn7brkxmmo

---

Griff Tuesday Nov 7 07:10 AM

That's lovely.

---

glatt Tuesday Nov 7 08:05 AM

Very nicely done.

I notice the reality of how much easier it is to work with straight lines and right angles. Even with that free flowing and organic exterior and shell, pretty much everything inside is made from straight boards. Stair treads excluded. So much easier to do it that way.

---

blueboy56 Tuesday Nov 7 10:09 PM

I love the elegance of design and appearance, however, being of the mature years, I wonder what happens when the owner develops injury or pain that precludes easily climbing up and down the stairs.

---

xoxoxoBruce Tuesday Nov 7 11:12 PM

The open balcony at the head of the bed, looking down on the living room, gets an elevator.

---

blueboy56 Wednesday Nov 8 11:33 PM

Da' oh. But of course. Thank you .

---

xoxoxoBruce Wednesday Nov 8 11:54 PM

Or helium balloons and parachutes.


I understand your concern though because I have the same issue. If there were 9 naked hookers in the attic, it wouldn't do me any good.

---

xoxoxoBruce Thursday Nov 9 12:06 AM

Nov 9th, 2017: Monarchs

Gilberto Ruiz Parra was hanging with some bros in San Luis de los Agustinos, Mexico, when they saw a herd
of Monarch Butterflies fly over headed for the safe zone in San Agustinos Sierra.
He said (in Mexican), címon guys, grab your cameras and letís go photograph and document these Gringos.
Maybe be we can convince the government to offer to pay for the wall.
But they were stumped because all those Monarchs look alike, so proving they were Gringo Monarchs would
be darn near impossible. Then Gilberto, with the Lordís guidance found one of the Monarchs who forgot to
take off itís license plate. Proof at last, proof at last, thank God Almighty I've proof at Last.
Short lived happy dance because it was a Canadian plate.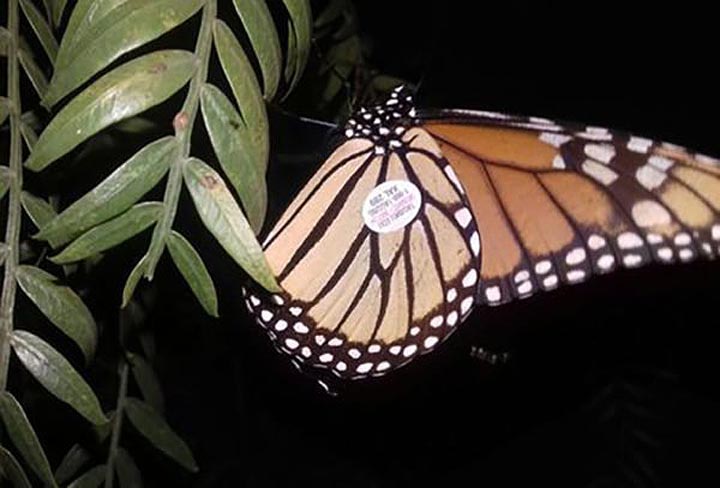 Quote:

Ruiz reported the monarchís label number, XAL289, to staff at the Institute of Ecology of Guanajuato State (IEE), who in turn notified the National Commission of Natural Protected Areas and the United States-based non-governmental organization Monarch Watch, to reveal the insectís journey.

Quote:

The tale of Gilberto Ruiz Parraís lucky strike starts on September 3, when Canadian Betty McCulloch tagged a female monarch butterfly at the Rosetta McClain Gardens in Toronto.
Sixty-one days and over 3,900 kilometres (over 2400 miles) later, the same butterfly was sighted in the natural protected area of the San Agustinos Sierra, in the Guanajuato municipality of AcŠmbaro.

Thatís like 41 miles a day including stops for gas and junk food. Donít forget during this time frame were
Irma, Cindy, Emily, Franklin, Katia, and Harvey, giving blow jobs along the route.

---
Your reply here?

The Cellar Image of the Day is just a section of a larger web community: a bunch of interesting folks talking about everything. Add your two cents to IotD by joining the Cellar.