xoxoxoBruce Tuesday Oct 24 12:52 AM

Oct 24th, 2017: Krummholz

Krummholz is German for Crooked Wood. No, not a politician's boner, trees, crooked trees.


Quote:

Krummholz is the original bonsai. Stunted and gnarled, it grows in rugged environments: cliffs, mountaintops, canyon walls. Often very old, it inspires us with its tenacity in the face of harsh conditions.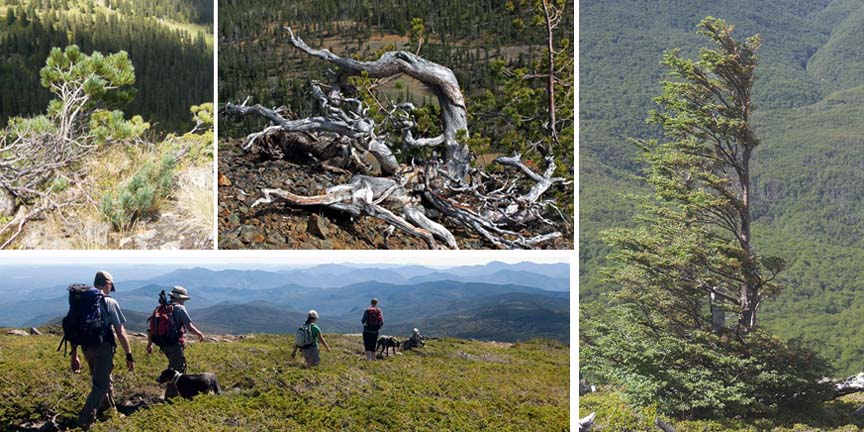 Quote:

In the Northeast, when we speak of krummholz, we're talking about the matted, dwarfed trees that circle the tops of some mountains, separating lower elevation full-size forests and true alpine areas. Balsam fir, black spruce, and heartleaf birch are the dominant species, standing no more than eight feet high. Sometimes they're only knee high. Sometimes only ankle high.

Kimball noted that in the Alps, forest line begins well above 6,000 feet, even though this European mountain range is more northerly in latitude than New England. In the Rockies, the tree line also starts much higher. Even within the Presidential Range of New Hampshire, the forest-alpine boundary varies significantly, from 3,400 to over 5,000 feet.

Despite its size, krummholz is often very old, older than the same type of trees growing in more hospitable environments. "It depends on the species," said Sperduto. "But balsam fir krummholz can be at least 150 years old, which is about twice the age it normally gets to. Black spruce can approach at least 200 years."

There are prices to pay for living large, and pluses to growing slowly and keeping your head down.

Hah, take that Randy Newman.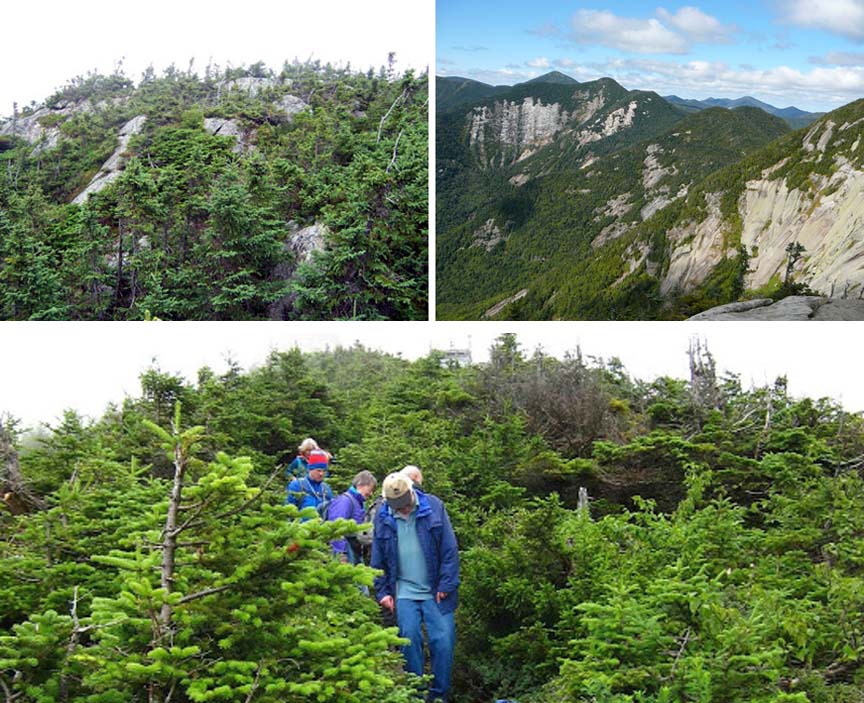 The Adirondacks, the domain of King Griff, they claim there are 46 peaks over 4000 ft high, climbing out of 1500 ft valleys.
The highest of the 46 being Mt Marcy at 5344 ft. Newer surveys show there are only 42, with 2 missing by 40 ft, the other 2
missed by 105, and 180 ft. Hey, close enough for hand grenades and mountains.
Although none sound as impressive as the 12000 ft and 20000 ft mountains, don't be fooled, there's a reason the Krummholz
zone in the Adirondacks is so much lower, namely severe terrain plus badass weather.

I groan at a flight of stairs.

link
link
---

Gravdigr Tuesday Oct 24 12:47 PM

[Drift]

What's the name of the wave type that sounds/looks a lot like 'krummholz'? Plz, it's driving me nutz.

[drift/]

---

xoxoxoBruce Tuesday Oct 24 06:12 PM

Crumbly?

---

Gravdigr Wednesday Oct 25 02:26 AM

Actually, I might be thinking of a cloud, not a wave.

Or a cloud that looks like a wave, maybe.

I'm not sure I even know wth I'm talking about.

I'm quite drunk, you see.

---

Glinda Wednesday Oct 25 02:58 PM

Are you drunk-thinking of krugerrands?

---

fargon Wednesday Oct 25 04:38 PM

I'm Stoned to the Bone.

---

Flint Wednesday Oct 25 04:39 PM

A helmholtz resonator converts air pressure inside a speaker enclosure into reversed-phase sound waves, converting the speaker's back-wave into an in-phase addition to the speaker's front-wave output. Commonly referred to as as a port.

---

fargon Wednesday Oct 25 04:42 PM

WOW You're Smart.

---

Flint Wednesday Oct 25 04:53 PM

Nah, I just built a subwoofer enclosure for my car. I did use WinISD to calculate enclosure volume and port length/diameter based on the driver's Thiele/Small parameters, but all of that was just because I wanted them to sound good.

anyways... Helmholtz, Krummholz, "waves" ??

---

Gravdigr Thursday Oct 26 01:51 AM

Helmholtz clouds! That's it, damn yer eyes!

---

xoxoxoBruce Thursday Oct 26 01:57 AM

Well they look like waves, that's probably tripped you up.

---

Flint Thursday Oct 26 11:59 AM

---

Glinda Thursday Oct 26 03:48 PM


Helmholtz clouds

Coolio! Thanks for learning me something today.

---

Griff Friday Oct 27 07:28 AM

ooo... neat

---
Your reply here?

The Cellar Image of the Day is just a section of a larger web community: a bunch of interesting folks talking about everything. Add your two cents to IotD by joining the Cellar.