What's IotD?

The interesting, amazing, or mind-boggling images of our days.
xoxoxoBruce Saturday Oct 14 11:39 PM

Oct 15th, 2017: Station Dog (Jim Dog)

Jim Dog resides at platform #5 of London bound Slough station. Don't offer him a treat, he's stuffed.
Has been since 1896. But there's a slot under Jim Dog's window to make charity donations, because that
was his bag… er, box.



Quote:

This is Station Jim, or Dog Jim sometimes, who was a charity collection dog who would walk around the station with a small wooden box for people to put money in.
The money he raised was given to the Great Western Railway Widows' and Orphans' Fund, and although he only worked for two years, he managed to collect the astonishing amount of £40 – that's about £5,000 ($6643 in real money) in today's money.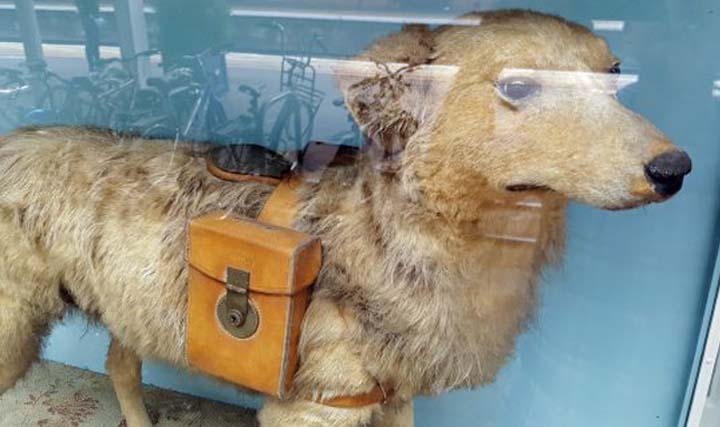 Quote:

He was taught to bark whenever he received a coin, and on one Sunday during the summer of 1896, a hospital parade was organised at Southall, and his trainer was asked to take him up there to collect. The result was that when his boxes were opened by the Treasurer 265 coins were in them. There were only about five pieces of silver, but when it is remembered that he barked for each coin given him, this must be regarded as a good afternoon's work.

He sure would have been a major asset to a panhandler.


Quote:

He knew a great many tricks. He would sit up and beg, or lie down and "die"; he could make a bow when asked, or stand up on his hind legs. He would get up and sit in a chair and look quite at home with a pipe in his mouth and cap on his head. He would express his feelings in a very noisy manner when he heard any music. If anyone threw a lighted match or a piece of lighted paper on the ground he would extinguish it with a growl.
He died suddenly, still wearing his coin collecting harness on the platform on the evening of November 19th 1896. Being much loved by passengers, a collection was made and he was stuffed and put on display on Platform 5.

I'm sure they loved him because at the time the only other entertainment was the newspaper or a book.
No radio, no phone, no internet, and Jim beat staring out the window, even if it was clean enough to do so.

link

---

sexobon Sunday Oct 15 10:46 AM

Alas, poor Jim Dog! They knew him, Dwellars: a canine
of infinite tricks, of most excellent charity: he hath
borne a pack on his back a thousand times; and now, how
abhorred in our imagination it is! the gorge rims at
it. There hangs those boxes that they had filled I know
not how oft. Where be his barks now?
his growls? his howls? his wags of merriment,
that were wont to set the platform on a roar? Not one
now, to mock your own licking? quite tail-droopin'?
Now get you to your window, and tell them, let
them fill the slot with donations, to your calling they must
come; make them laugh at that. Prithee, Dwellars, tell
me one thing ... Who's a good boy!

---

Undertoad Sunday Oct 15 11:36 AM

---

glatt Sunday Oct 15 07:57 PM

Well done, sexobon.

---

SPUCK Monday Oct 23 10:00 PM

I'm amazed. Lovely poem.

---
Your reply here?

The Cellar Image of the Day is just a section of a larger web community: a bunch of interesting folks talking about everything. Add your two cents to IotD by joining the Cellar.